Last updated on October 4th, 2023 at 09:55 pm
All companies are concerned about their data, and they all have silos. Every business is free to operate in its own way. But the smooth transfer of information between different departments in the companies feels challenging. Trust and disbelief have to be faced again and again. In addition, inappropriate enterprise resource planning leads to the loss of valuable time. Today in this guide I will review the 9 best ERP software..
Using the Best ERP Software Of 2023 means promoting your business quickly. Like promoting efficiency, reducing error, controlling time, preventing wrong expenditure, etc., there are many benefits, the simple thing is that the company is able to fly like a rocket.
Enterprise Resource Planning (ERP) Means., is a comprehensive form of business process management. Which works to streamline your system and software. The Best ERP system holds the departments of the company together.
There are many new ways Best ERP Software range in the markets, making it difficult to choose the best new technology. But here we have included the Top 9 ERP software in the list. Which gives a step-by-step look at the process based on your requirements.
Disclaimer: Please note, if you purchase a paid plan I may receive affiliate compensation at no charge to you for some of the links below. However, these are the best tools when it comes to Best ERP software. Which I completely recommend. You can read my affiliate disclosure in my Privacy Policy.
What is the Best ERP Software?
Here are my picks for the best ERP Software to use this year.
1. Oracle NetSuite.
NetSuite Best ERP Softwareis an all-in-cloud business management software. This software includes ERP applications, CRM, eCommerce, and financial for more satisfied customers.
This tool is an all-in-one cloud business management solution. It helps organizations operate more effectively by automating key processes and providing real-time visibility into operational and financial performance. With a single, integrated suite of applications for managing order processing, inventory management, supply chain, accounting, production, and warehouse operations, NetSuite ERP gives companies clear visibility into their data and tighter control over their businesses.
An integrated business management suite, including ERP/financials, CRM, and eCommerce for over 28,000 clients. However, these centers are present in India.
Key Features:
Financial Management: Accelerate daily financial transactions, accelerate financial close processes and ensure compliance. Get a complete, real-time view of your business's financial performance, from aggregated levels to individual transactions.
Global Business Management: NetSuite OneWorld helps companies manage global operations, including multiple currencies, taxation rules, and reporting requirements while providing real-time financial consolidation and visibility.
Inventory Management: You automate the management of your inventory. Keep inventory costs low while meeting customer delivery expectations. and distributes tools for reordering points, managing replenishment, and optimizing safety stock.
Order Management: Streamlining order processing by eliminating manual bottlenecks, preventing errors, and establishing a smooth flow from sales quotation to order fulfillment.
Warehouse Management: Optimize warehouse operations with RF-device-guided putaway and picking functions powered by user-defined strategies and advanced capabilities such as waveform management, cycle count planning, cartonization, real-time inventory updates, and shipping system integration.
Pros:
It has strong functionality and high scalability.
A digital dashboard is available.
It provides automation on a large scale
This tool is applicable to all businesses. Be it small or big business.
It is highly flexible and customizable.
Comes with security protocols.
Supports many languages of the world.
Provides excellent customer support
ERP software is upgraded 6 – 6 months.
Cons:
Upgrading the product seems a bit daunting.
Their plans are quote-based and are tailor-made and personalized to individual needs.
Receive complaints about non-customer support
Doesn't offer an on-premises version
Pricing Plans:
Pricing depends on the integrations required, add-ons available, etc. The base license costs $999 per month and access costs $99 per user per month.
2. Sage 300.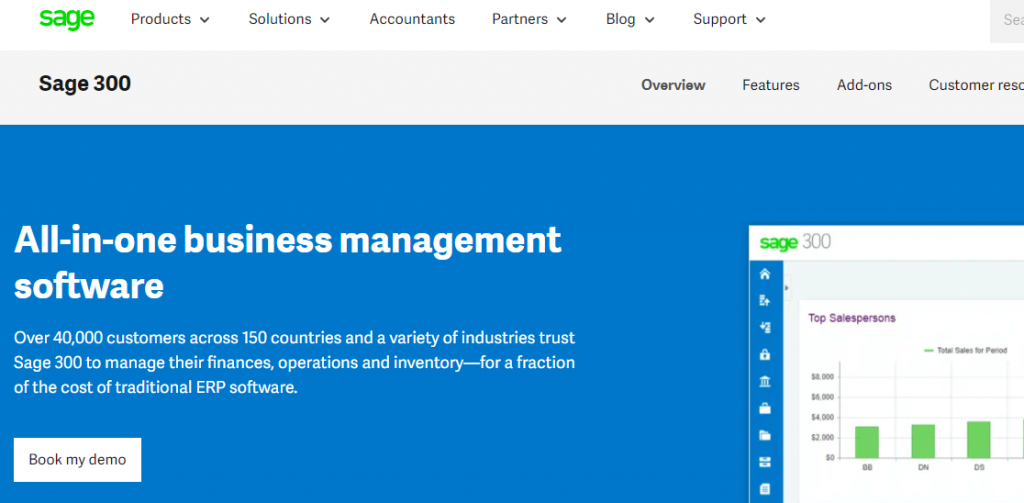 Sage 300 is an all-in-one business management software. Which is this Windows-based ERP system. The company's more than 40,000 customers in 150 countries and a variety of industries rely on Sage 300 to manage their finances, operations, and inventory for a fraction of the cost of traditional Best ERP software.
Key Features:
Finance Tools: This is the best-in-class, cloud-enabled financial tool for multiple entities and companies with multiple locations, and it comes with a multi-currency, multilingual interface.
Sales Order Management: It can manage transactions throughout the sales cycle, and automate your purchase order processes directly in Sage 300. Manage contractor and subcontractor time and expenses and add stakeholders to an account or project.
Integrate with Outlook so you can easily access and manage contacts anywhere in Sage 300.
Inventory Tool: It has detailed inventory records and auto-generated serial and multiple items for complete visibility and stock control.
Integrated Payments: Process credit and debit transactions directly in SEZ 300. PayPal, Stripe, and Paya allow us to provide a seamless checkout experience for our customers.
Pros:
Customer support with phone and live chat.
Services can provide a solution to a wide range of industries such as construction, chemical, beverage, distributor, professional services, and non-profit organizations.
It visualizes the KPI dashboard.
Applications like Magento, Salesforce, Amazon, Shopify, and more can be easily integrated.
Comes in all languages ​​like English, French, and Spanish.
It provides support in many ways such as 24/7, updated production documentation, support articles, and much more.
Pricing Plans:
Pricing is individual and quote-based. This depends on a variety of factors, such as support needs, user numbers, functionality, and more.
3. Microsoft Dynamics.
Microsoft Dynamics GP This is a mid-market business account and enterprise resource planning (ERP) software package. And optimize and innovate with a hyperconnected business—providing insight and freedom to everyone by connecting your data, processes, and teams with intelligent business applications.
Microsoft Dynamics It is an (ERP) and Customer Relationship Management (CRM) software system. Which is the right step to building industries like retail and finance. With the latest Dynamics 365 innovations unveiled at Microsoft Ignite, find out how to build a hyperconnected business that's ready to go.
Key Features:
Any third can be easily integrated. For example, can be integrated with many applications like Lynx, SharePoint, and Outlook.
This makes for a great marketing system. Which can be easily tracked for marketing campaigns.
This software can provide an ERP layout based on its Adobe Marketing Cloud and Dynamics 365.
Healthcare: Provide better experiences and care by connecting people, data, and processes.
Manufacturing: Build a more resilient and sustainable future by driving innovation.
Financial Services: Drive business growth and productivity while delighting your customers.
Retail: Create rich, connected experiences throughout the entire shopping journey.
Pros:
Here you can feel safe about your data. Whose server then gives authentication to the server. completely safe
It comes with compatibility with multiple platforms including Android and iOS.
Here comes customer support. (phone and live chat)
It is highly customizable and scalable ERP software.
Cons:
This does not allow the equipment to be tested for free.
Pricing Plans:
Go to this page of Microsoft Dynamics Pricing Plans!
4. SAP Business One.
SAP Business One This is a robust tool for small to large businesses. It's the single cost-effective solution in the world for managing your business from accounting and finance, inventory, purchasing, and customer relationships to reporting and analysis.
The great thing is, you can get more control over your business or subsidiary with this tool. And streamline key processes, gain greater insight into your business, and make decisions based on real-time information – so you can drive profitable growth.
Key Features:
On-premises or cloud deployment
integrated business intelligence
Integration with SAP HANA Platform
quick deployment
Increase your productivity with SAP Business One 10.0 Enhancements
Take advantage of Microsoft Office 365 integration with easy document layout management
Pros:
GDPR-compliant (General Data Protection Regulation)
It comes with in-built business analytics.
Compatible with Windows, Android, Linux, Mac, and iOS
The Integrations with Hybris Cloud, Dell Boomi, Mulesoft, and more.
The on-premises, cloud, and mobile options.
Comes with 24/7 phone and online customer support.
It allows extensibility options such as application extension, self-service customization, service layer development
Cons:
This software is more expensive than the market.
A little hard to get used to in the beginning. But can easily be learned quickly.
Pricing Plans:
For a Professional license, the price is $94 per user, per month.
For a limited license, the price is $54 per user per month.
And moreover, to get accurate quotes, you need to get in touch with their sales reps directly.
5. Odoo.
Odoo is an ERP software all-in-one business solution. The one and only platform you will ever need to help you run your business. And it's integrated apps were kept simple, and have garnered millions of happy users.
Key Features:
Among Odoo apps and thousands of community apps, there's a single, affordable one.
Modular solutions include a lot to help you meet all your business needs.
This same representative supports different technology.
Odoo apps are fully integrated with each other, allowing you to fully automate your business processes. You can get savings and benefits.
Our family of apps works seamlessly together
Gives you the ability to automate and track everything you do – centralized, online, and accessible from anywhere with any device.
Pros:
Usability improvements made to Odoo will be automatically applied to all of our integrated apps.
Lastly, Odoo develops much faster than any other solution, with regular annual releases.
With a modern and elegant technical design, Odoo's framework is unique.
The community allows developers to deliver the highest usability that scales across all apps.
Odoo's open-source development model has allowed us to take advantage of thousands of developers and business experts to build the world's largest ecosystem of fully integrated business apps.
Cons:
There is no 24/7 customer support available. (Available Monday through Friday.)
Customer support is only available Monday through Friday (not available 24/7)
Pricing Plans:
The 'Odoo Enterprise' plan comes with 15 days of free trial to get started with Odoo. After that $24 per month will have to be paid annually. In addition, the Odoo Community plan can be used for free.
6. Workday.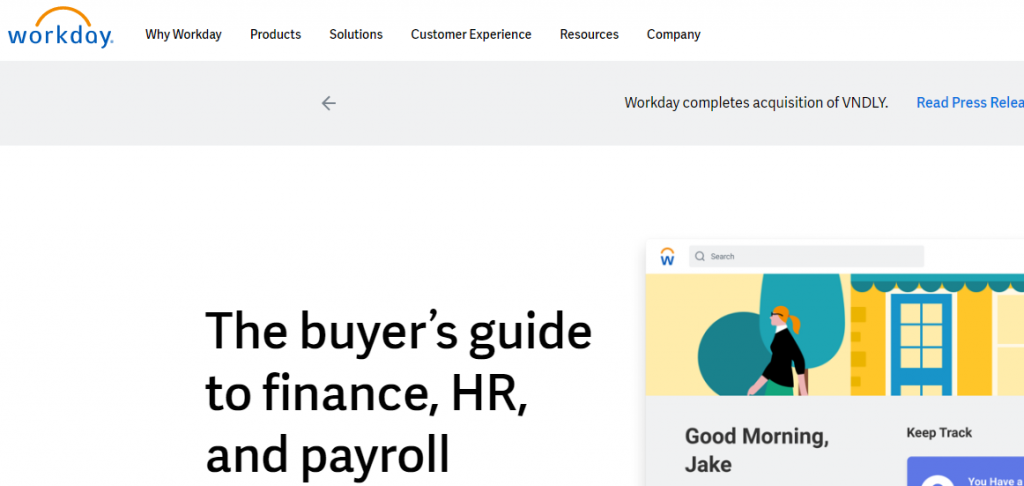 Workday It is one of the greatest tools of human capital and finance management. It is one of the best cloud, integrated SaaS software systems for planning, project management, analytics, professional services automation, and business intelligence.
The great thing about Workday is that it is able to fully help you solve even the biggest business challenges as they arise.
Key Features:
Business Plan: Provides comprehensive financial and workforce planning to help businesses become adaptable and resilient.
Financial Management: Provides holistic management like accounting, finance, auditing, and internal control, financial planning, expenditure, inventory, and much more.
Human Capital Management: It provides a comprehensive set of functions such as talent management, workforce planning, payroll management, people experience, recruitment, compensation, and much more.
Analytics: The in-built analytics module aids in data-driven decision-making.
Pros:
The allows third-party integrations.
The is very well designed for the new user.
The comes with email, phone, and online customer support.
The is compatible with Android and iOS mobile devices.
Cons:
It is not used cloud-based by on-premises users.
It does not allow a free trial period.
Pricing Plans:
Weekday pricing is not available on their official website. Instead, contact them directly.
7. ERPNext.
ERPNext It is an open-source business system. It can manage e-commerce requirements. Which is very easy and possible for start-up beginners. And it provides comprehensive processes to streamline retail management, track inventory, manage customers and increase ROI. It has a multilingual website builder.
Key Features:
Financial Accounting: Get a real-time view of your cash flow. Complete accounting module covering every aspect of bookkeeping.
Order Management: Increase productivity and reduce costs by managing your sales and purchase cycles, from purchases to sales orders
HR & Payroll: Manage the entire employee life cycle from onboarding, payroll, attendance, expense claims, assets to separation.
Production: Effectively create and manage multilevel bills of materials, production planning, job cards, and inventory.
CRM: Win and retain more customers by optimizing the sales process. Track leads, opportunities and send quotes on the go.
Projects: Deliver both internal and external projects on time, on budget, and to profitability. Track tasks, timesheets, and issues by project.
Help Center: Provide a superior service experience with an intuitive issue tracker and an integrated knowledge base.
Asset Management: Maintain and manage details of assets, their movement, price adjustments, and depreciation.
Website: ERPNext comes with fully-featured content management with blogs, web pages, and forms.
Pros:
It is an open-source business system
It offers built-in integration with Google, Slack, PayPal, Shopify, and more to centralize business operations
can be hosted on the server
Users can deploy in the cloud or on-premises.
Mobile application, which users can access on the go.
Can manage e-commerce requirements
Cons:
Customer support with Live and phone does not work. (Support by email only.)
Pricing Plans:
You can host it yourself and then use it for free. If when you go with their payment. So are the managed hosting plans starting from $10.09 with micro-billing and cloud hosting with optional support.
8. Acumatica.
The integrated workflow of Acumatica Best Cloud ERP Software includes a full suite of business management applications, from project accounting, financial, and inventory management to CRM. And the platform's specific industry solutions include manufacturing version, distribution version, manufacturing version, and retail-commerce version.
The great thing about Acumatica is that these customers can deploy Acumatica Cloud ERP on-premises, host it on virtual or dedicated servers and run on cloud computing environment as per your business needs.
Key Features:
Acumatica is born in the cloud, built to meet the ever-evolving needs of midmarket companies and their customers.
Empower collaboration with modern, cross-module workflows
Access your data from any device.
Easily integrate the tools and systems used
Personalize in a low-code/no-code environment.
Can scale users and resources as needed.
Improve efficiency with an intuitive, award-winning UI
Pros:
The Solutions That Add to Your Business and Add Value
Intelligent, industry-focused business functionality that helps growing companies see and connect every aspect of their business in the cloud.
Simplify and synchronize automation across multiple workflows
Flexible licensing ensures that you'll never be penalized for moving on.
Get real-time business information from a single source of truth.
Get a coherent, coordinated view of current accounts.
Maintain compliance while reducing overhead (includes SoC Type 1 & 2, GDPR, PCI DSS, and more)
Customers and our Partners (VARs) have 24/7 access to direct support from Acumatica experts.
Pricing Plans:
Accumatica doesn't show the pricing plan option on the official website. For this, you can get pricing according to your use. This your Acumatica partner will work with you to understand your specific needs, determine the appropriate resources and modules for your company, and provide you with an accurate price for your license.
9. Syspro.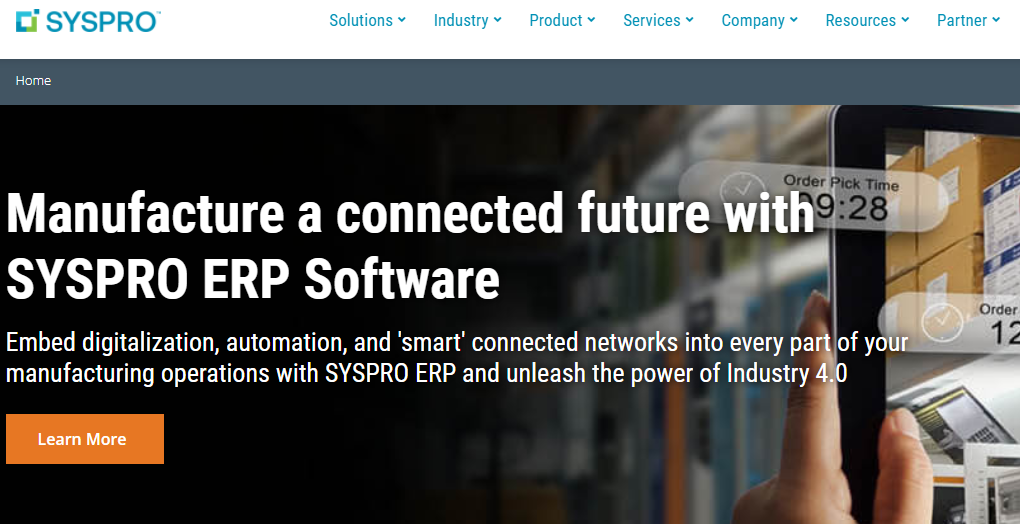 Syspro This is ERP business software for manufacturing and distribution in Asia. This is a big part of your growing business game plan, and how should you manage and streamline all the important business areas? With SYSPRO Enterprise Resource Planning (ERP) you get a complete view of all business activities in your supply chain and business operations, including financial, warehouse, and inventory management.
Key Features:
With SYSPRO Enterprise Resource Planning (ERP) you get a complete view of all business activities in your supply chain and business operations, including financial, warehouse, and inventory management.
SYSPRO ERP provides solutions, processes, and tools to help you manage your data and gain insight into your business.
Four-pronged security management takes care of access levels, visualization, control monitoring, and auditing.
Pros:
This allows the automation of unnecessary steps in the use of bot agents.
With this tool, you do not need to have any IT support system.
Digital Dashboard comes with a built-in and real-time predictive analytics module.
Fast, intuitive, attractive, flexible, and user-friendly.
Deploy the data to the cloud.
APIs and services allow for better third-party integration.
Pricing Plans:
Syspro does not display the pricing plan option on the official website. You will need to contact the company directly to get a personalized quote.
Executive Summary.
I hope this article gives you an idea of ​​screencast and screen recorder software easily.
using ERP software means promoting your business quickly. such as promoting efficiency, minimizing error, controlling time, preventing wrongful expenditure, etc.
There are many innovative methods of ERP systems in the markets, making it difficult to select the best new technology. but ERP software is on the list. Which should take a step-by-step look at the process depending on your needs. I, say this because every business has different work requirements.
ERP is mostly an all-in-cloud business management software. This software includes ERP applications, CRM, eCommerce, and financial for more satisfied customers.
If you have any kind of questions, then you must comment on us in the comment box below. so that we can be happy.
ERP Software – FAQ.
1. What is ERP software, and what does it stand for?
ERP stands for Enterprise Resource Planning. ERP software is a suite of integrated applications that helps businesses manage and automate various aspects of their operations, including finance, HR, manufacturing, supply chain, and more.
2. What are the key components of ERP software?
ERP software typically includes modules for accounting, human resources, inventory management, customer relationship management (CRM), procurement, production, and sales.
3. How does ERP software benefit businesses?
ERP software streamlines processes, improves data accuracy, enhances collaboration, provides real-time insights, and helps organizations make informed decisions. It also promotes efficiency and cost reduction.
4. Is ERP software suitable for small businesses, or is it primarily for large enterprises?
ERP software is available for businesses of all sizes. There are ERP solutions designed specifically for small and medium-sized enterprises (SMEs) that offer scalability as a business grows.
5. Can ERP software be customized to fit the specific needs of a business?
Yes, ERP software can often be customized to align with a business's unique requirements. Customization may involve configuring settings, adding custom fields, or developing bespoke modules.
6. Are there cloud-based ERP software options available?
Yes, cloud-based ERP solutions, also known as ERP in the cloud or SaaS (Software as a Service) ERP, are increasingly popular. They offer flexibility, scalability, and accessibility from anywhere with an internet connection.
7. What is the implementation process for ERP software, and how long does it take?
ERP implementation involves planning, data migration, training, and testing. The timeline varies depending on the complexity of the ERP system and the organization's size but can range from several months to over a year.
8. Can ERP software integrate with other business applications?
Yes, many ERP systems offer integration capabilities with other software applications, such as CRM software, e-commerce platforms, and analytics tools, to create a unified business ecosystem.
9. What is the difference between on-premises and cloud-based ERP software?
On-premises ERP software is installed and maintained on the company's servers and infrastructure, while cloud-based ERP is hosted on the provider's servers and accessed via the internet. Cloud-based ERP offers easier scalability and reduced IT overhead.
10. How does ERP software handle security and data privacy?
ERP software providers prioritize security and data privacy. They implement measures like encryption, user authentication, role-based access control, and compliance with industry standards like GDPR.
11. Can ERP software be accessed remotely or via mobile devices?
Yes, many modern ERP systems offer remote access through web-based interfaces or mobile apps, allowing users to manage their tasks and access data while on the go.
12. Is ERP software only for manufacturing companies, or can it be used in other industries?
ERP software is used in various industries, including manufacturing, retail, healthcare, finance, education, and services. It can be adapted to meet the specific needs of different sectors.
13. Can ERP software help with financial management and reporting?
Yes, ERP software typically includes financial modules for accounting, budgeting, expense management, and financial reporting to provide a comprehensive view of an organization's financial health.
14. How do I choose the right ERP software for my business?
Consider factors such as your industry, business size, specific needs, budget, scalability, and the level of support and training offered by ERP vendors when selecting the right software for your organization.
15. What is the cost associated with implementing ERP software?
ERP software costs vary widely based on factors like the size of the organization, the complexity of the ERP system, customization requirements, and ongoing maintenance. Costs may include licensing fees, implementation costs, and recurring subscription fees for cloud-based ERP.
ERP software serves as the backbone of many organizations, helping them streamline operations and improve efficiency. When selecting an ERP solution, it's essential to conduct thorough research, assess your business's needs, and plan for a successful implementation to maximize the benefits of ERP.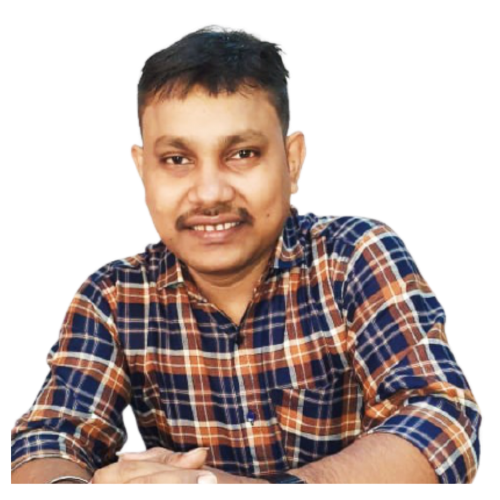 I have completed Study IT. I am a passionate blogger, sharing tips on Blogging, SEO, Business Start-up, SaaS Software Review, Google Ranking, Digital Marketing, Passive Income, Consultant, And Online Business Startup. And I work in the digital field for more than 5 years. Read my short story.