Last updated on October 4th, 2023 at 07:02 am
Make Money Blogging can be done with the help of a laptop and internet connection from any one corner of the world if you want. Do you believe it – Yes?
Of course, you will also be interested in blogging. How to Make Money Blogging For Beginners 2023
It is necessary to have good skills for blogging. Perhaps you will also have skills but do not move forward. Then we will discuss it with you fully. And this guide will help you in your Make Money blogging career.
I would like to tell the article before starting. If you really want to do blogging, then for that you need to have good skills, domain, and web hosting, and you must have patience and hard work.
"A Blogger Expert" gives you a bit of general advice such as creating passion inside you, skills, being consistent, building good writing habits and creating great content, and always keep learning.
I started my blogging career in December – 2019. I did not have any skills at that time. But I started blogging. If I did research after exactly 2 months, then I found something that most people were unsuccessful in their blogging career. And who is the old blogger? Those who are making money till today.
To build my blogging career, I sold my dream, not only that, I used to work during the day and blogging at night. And I never let my courage and hard work break down.
I have small made $ 343 a month from these three programs with Google AdSense, Affiliate Marketing, and Product Promotions with the help of my blog website. Even more, than this, bloggers are earning big money online, you can see this income report.
My first income is made 10 months after starting the blog. But how have I done everything? For this, I will discuss with you my entire experience. But keep in mind this article will give you a hint, which will make it easier for you to start your blogging career. For this, I need 15 minutes of your time. are you ready? "Yes"
How to Make Money Blogging for Beginners
This Make Money blogging Fast-start guide will provide
you with an easy checklist to launch your
Blog in One Week.
this guide may take longer than One Week to complete.
However, bookmark this guide and come back to it when you are ready to get started with a very profitable Motivation your self blog.
Download an ebook – One Week WordPress Blog Launch Checklist
Let's start …
1. Choose the Right Blogging Niche (High Best Profitable).
Come, how do we choose the right niche?
If you start blogging on any niche. So we get two options. Do you believe the first was successful and the second unsuccessful? "Yes", if we look at any niche without doing any research, or else, we make a decision on the niche. So that happens for some time.
There are two types of niches. First, earning for some time and second earning for a long time? Decide from these two, you have to do it. This thing must have been bitter. But this is absolutely true.
But the only question that arises on your tongue is, which niche should we choose ?, which we can stay in the market, and which will make our blog rank Google search engine, and continue to make Money Blogging?
As we run our blog website today, all that content is in Google. But we separate it from the best words. And the website matching our niche is available in the markets. Something is already there. And something came after me. But we were very interested in our content, had the experience and skill of the market, and tried our best. Serves direct answers to its user.
I think you are coming close to some niche. But before this, seven questions are mentioned below. To whom you have to answer honestly. Take a book and write the answer.
What studies have you done?
What are you interested in?
Do you have the skill for the work you are interested in?
The work you are interested in. So how much is the demand in the market during that time?
There are so many searches on the Internet.
What is the response of the user?
If the content that matches your interest is available on the Internet. So read it, and then think what can I do to make it better? "Yes", then how can I? And apply it in your notebook for 1 to 2 days.
This is a fact if you answer all the questions. So you have decided on the right niche.
2. Improve Your Blog Content Skills.
How to improve your blog content?
This question seems very challenging for a new blogger, but it is absolutely true. But instead of removing it from you, try to stick to it. Because as much as you will learn on the basis of your niche and will also include new material. The more your blog content will improve. But thinking this seems a bit difficult. I will explain from Practical Zero Ground.
However, most new bloggers think a lot. Like "I have written so much content, now which post should I write? Or which post will get more CPC, and on which post we will get ranking? Or I have written so many posts when I get income, then I will write new content. Kind ideas for the content of your blog website.
But the truth is, if you are on the basis of your niche, you do not think much of moving any blog article to traffic, but in the same way blog posts have to be written keeping SEO in mind. You have to brand your content articles.
Do you know? Which blog post is popular in your niche? Which one particular content do you write? If you succeeded in making your blog content more popular, it simply means that you won a lot of war. That is, your content is providing more value to your consumer than any other website.
You must have heard a lot of pain when you hear this. And how will all this happen?
Before I started my blog website, I used to visit the website very much, and tried to write it i.e. improve it, and besides that, I wrote articles on the blog site.
3. Choose a Traffic Source (Google Search or Facebook, Instagram).
How do choose traffic sources like Google search engine and Facebook page?
This question is very easy to hear, if you start climbing their ladder, then you get confused by yourself, which people? "Newbie people"
You might know that people are promoting their Facebook page, and Instagram, leaving comments, getting questions and answers on Quora, joining groups, and uploading videos to YouTube, all these podcasts are actually very popular platforms are blog promotion with your words.
But you will know all these things, and every time you will hear this.
Do you know who gets the most traffic on Google and social media, then both of them have the same answer "Google", but not me, because some traffic sources compete with both of them. Don't get close to
But you have to bring traffic to your blog website, and you want to, but you should know that most things are not available without money. Is it true "yes"? If you want to get something, you have to take steps.
If you go to the crowd of a popular blogger, then the question arises in your mind why am I not involved in these skirmishes? Then you will feel yourself running in the opposite direction.
This simply means that you are running away from your opponents, and for this, you will have to study. How are they driving traffic to their blog website in search engines? And how are they writing their content, because their audience is so interested in them? But you might find it complicated, but the work is not complicated.
SEO is not only everything to bring ranking to your blog website, along with it the content of your blog is also very important.
A keyword doesn't matter much to rank your blog's website in search engines, rather you serve the content of your blog to your consumer's demand and their beneficial content.
If you stand on the battlefield, it will be a lot of fun, because who will lose and who will win, we will not know you.
I personally say clearly, that you write your blog content well which will benefit your user, and write all the necessary articles in the place where you are working so that you and your blog website can become a brand.
4. Choose a Domain Name as Per Niche + Web Hosting.
The smaller the question, the bigger it is the main element of your website. It can make you or break you. Hence choosing a domain name that works for your business becomes very important. Because your visitor's first glimpse and recognition are on your URL.
Consider using "niche" keywords that represent your website. As our website is mainly "How to set up a business fast. That's what we want to help people.) Then I searched for the domain name that shows all this – "Business". Obviously, business. com (or com.org, .net) was no longer available, so we simply selected "ibusinessmotivation.com".
A good domain name can make a positive and lasting impression, while a bad domain name can send visitors. And it affects SEO. Although exact match domains (ITCs) are no longer a requirement, the keywords in your domain name can help with your SEO ranking. But it defines your brand. We'll talk about that in a minute – your domain name is a branding opportunity!
If you choose to use keywords, put the keywords at the beginning of your domain. That's where they're most powerful for your ranking.
You can find keywords with tools like Google Keyword Planner and Keywordtool.io.
WordPress Statistics 2023 (Succulent Only)
WordPress is the world's most popular content management system that powers 35% of all websites on the Internet.
WooCommerce powers 22% of the world's top 1 million eCommerce sites
WordPress has a 64.7% market share in the CMS market
501+ sites are created each day using WordPress, while per
Days 61-81 are created only on platforms like Shopify and Squarespace.
WordPress Plugin Directory Contains 55,001+ Plugins
How to Get a Free Domain Name Using Bluehost
I like the service of Bluehost very much. Because WordPress makes it very easy to set up a website. as well as their support resources. We maintain a vast knowledge base full of our client's frequently asked articles, guides, how-to's, instructions, and answers.
First, you have to go to the Bluehost website, then click on the interface "Get Started" given below. And (Important Note: You don't have to click any menu navigation option. If you do, you won't get a domain for free.) If you go as I told. So you will get a free domain directly.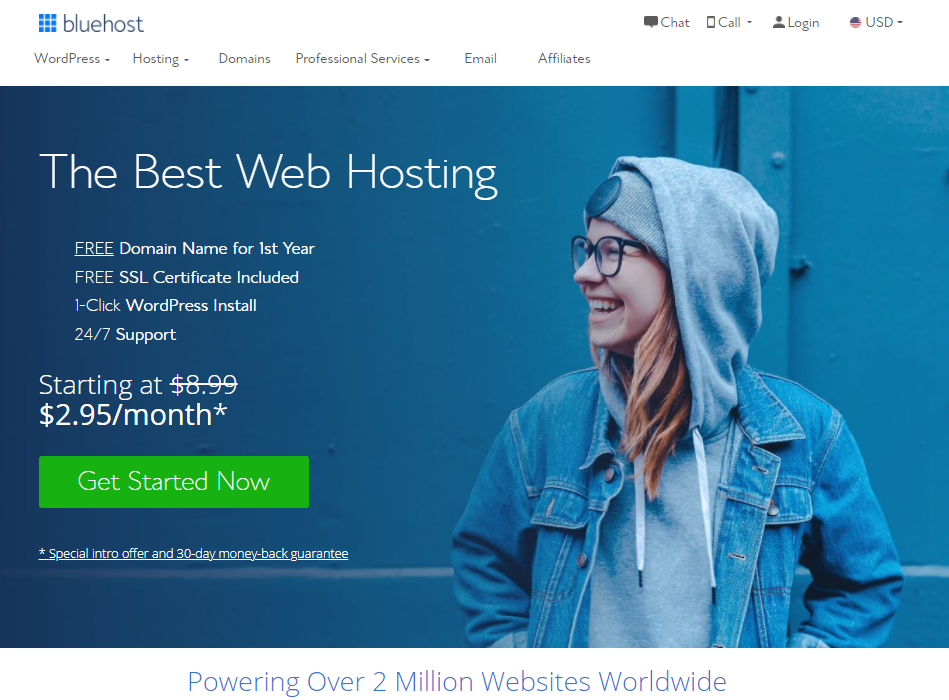 2. Step: Select a Web Hosting Plan.
Bluehost offers three different types of web hosting.
Shared Hosting
VPS hosting
Dedicated Hosting
All of these come with a free domain for one year.
Out of the above-given web hosting, we have to consider shared hosting. Because if you're just starting out. Then shared hosting is the best option for you. And it's true. If you are starting a website from scratch. And hosting types are much more expensive than that. Which you don't need right now.
We understand very well about shared hosting plans. There are different costs for shared hosting plans. Which we will look at one by one. Come on!
I'll take a look at each of the plans and features to help you out completely here. Which will best fit your blog website or website?
Basic
1 Domain
Unmetered Bandwidth
Host a website with 50 GB of storage.
Five parked domains and 25 subdomains.
Free SSL Certificate.
Plus
Unlimited domains, parked domains, and subdomains.
Office 365 mailbox is free for 30 days.
Host unlimited websites with unlimited storage.
Spam Expert.
Choice Plus
Unlimited domains, parked domains, and subdomains.
Site Backup – CodeGuard Basic.
Unlimited websites and unlimited storage.
Domain privacy and security.
Free Automated Backup – 1.
PRO
2 Spam Experts.
Unlimited sites and storage.
Dedicated IP.
High performance.
Free Automated Backup.
I think this basic plan is enough for most, and you are free to consider any plan.
You leave this worry. If I choose the "Basic" plan, then how will I choose the "Plus" plan? Because you can get the upgrade done at any time.
Again, regardless of the plan you choose, you'll receive a free domain name for one year.
3. Step: Choose a Domain Name.
After selecting the hosting plan, you will see an interface like this. You will have three options.
Create a new domain (free for 1 year.)
Use an existing domain (that you already own)
Create domain later
If you already know the domain you want? Either that or find it in the box on the left side of the screen.
This Bluehost offers domains with various extensions. Which includes everything below.
.com, .net, .blog, .biz, .info, .co, .us, .club, .tech, .store, .org, .online, .site, .webspace, .space
In most cases, the .com domain is used. And which I recommend. There are two reasons to get this .com domain, price and availability.
But it is cheaper than .com, like .tech or .site.
If you consider optional extensions, and. The .com domain is unavailable. For example, if you try to create a domain using ibusinessmotivation.com, Bluehost will give you this alert.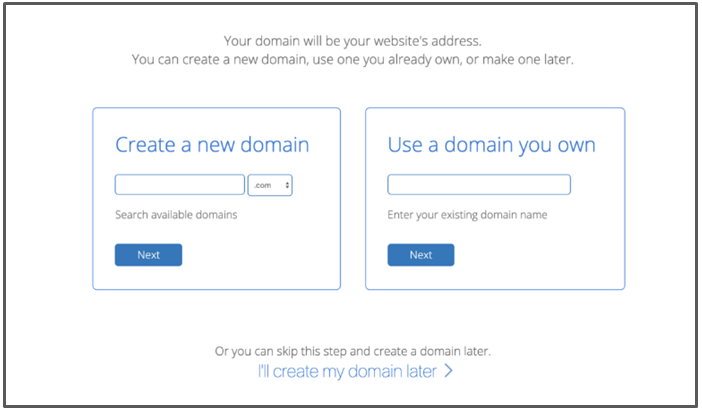 4. Step: Create Your Account.
Select an available domain. And then create a Bluehost account.
If so, you can even skip the domain registration for now, and you can go straight to the step. You'll still get a free domain when you finally register it.
Fill in your information on it. and create an account!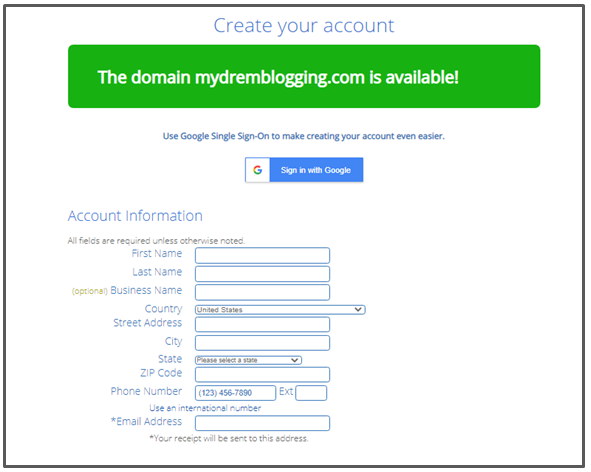 5. Step: Choose Your Billing Terms.
Bluehost offers web hosting for 12, 24- and 36-month contracts. The prices vary depending on the length of your tenure.
Basic Pricing Plans in Shared Hosting
These rates are only valid for your first contract. Which upgrades to Bluehost Basic at $2.95 per month. What you're happy to pay extra today for the best deal in three years.
Fill in the payment information and submit it.
Best WordPress Plugins for Blogs in 2023 (Most are FREE)
1. Yoast SEO.
I use Yoast SEO to manage my sitemaps, robots.txt, page titles, and meta descriptions. You can also beat your competitors.
Key Features:
You can get more visitors from Google and Bing.
You can increase the engagement of your readers.
Social media can attract more visitors.
>>Learn more, Downloads & Details
2. Sucuri SecurityAuditing.
I use Sucuri Security Auditing Malware Scanner and Hardening. So that I can health check my website, and I can improve. And protects the website from malware. for example,
Key Features:
Scan Website For Malware & Viruses.
Check Website Blacklist Status.
Find Out-of-Date Software & Plugins.
Detect Website Security Issues.
>>Learn more, Downloads & Details
3. WPForms.
I use WPForms. So that a beautiful room can be made easily, that too with the easy drag-and-drop.
Key Features:
Drag & Drop Form Builder
Responsive Mobile Friendly
Form Templates
Marketing & Subscriptions
Spam Protection
Instant Notifications
Easy to Embed
>>Learn more, Downloads & Details
4. Elementor.
I use Elementor. I love designing websites, and I design multiple pages, even with easy drag-and-drop. even all in the below free features.
Key Features:
Drag & Drop Editor
300+ Designer Made Templates
90+ Widgets
Landing Pages
Rating Star Widget
Easy to customize
Title HTML Tag
Responsive Editing
Navigator
Global Fonts
Global Colors
One-Page Websites
Theme Style
Icons Library
The Elementor Website Builder has it all: drag and drops page builder, pixel-perfect design, mobile responsive editing, and more. Get started now!
>>Learn more, Downloads & Details
5. WPS Hide Login.
I use WPS Hide Login. Lets you easily and securely change the URL of your login form page to anything you want.
Key Features:
WPS limits login to prevent brute-force attacks.
WPS Bidouille to optimize your WordPress and stock information.
WPS Cleaner to clean your WordPress site.
>>Learn more, Downloads & Details
6. ShortPixel Image Optimizer.
I use WPS Hide Login. Lets you easily and securely change the URL of your login form page to anything you want.
Key Features:
WP plugin compatible with most popular plugins
Increased SEO Ranking, Smaller Images, Faster Website
never alone, 24/7 support
One account for unlimited websites
Errors allowed, one-click restore
>>Learn more, Downloads & Details
7. Insert Headers and Footers.
I use Insert Headers and Footers. When I started the blog website, I did not know how to paste the coding correctly. Still, I still use it. Which is very helpful for a beginner.
Key Features:
Quick to set up.
Insert any code or script, including HTML and Javascript.
Simple to insert scripts.
Add Google Analytics code to any theme.
Insert Facebook pixel code.
Insert header code and/or footer code.
Add custom CSS across themes.
>>Learn more, Downloads & Details
I use Akismet Anti-Spam. This is my dearest plugin. Joe Akismet filters millions of spam comments from the web every day, and adding Akismet to the site doesn't make me worry about spam.
Key Features:
Akismet is fully capable of filtering your comment spam for you.
Akismet does not allow its enemy to come near it.
Help us make the web better.
>>Learn more, Downloads & Details
9. W3 Total Cache.
I use W3 Total Cache. This Top Caching Plugin for Blogger, In order, improves search engine results page ranking, especially mobile-friendly websites, Reduced page load time, Improved web server performance, and Up to 80% bandwidth savings when you minify HTML, minify CSS and minify JS files.
Key Features:
Accelerated Mobile Pages (AMP) support.
Transparent content delivery network (CDN) management with Media Library, theme files, and WordPress itself.
Caching of objects in memory or on disk.
Defer offscreen images using Lazy Load to improve the user experience.
Caching of feeds (site, categories, tags, comments, search results) in memory or on disk or on CDN.
>>Learn more, Downloads & Details
10. AddToAny any Share Buttons.
I use AddToAny Share Buttons. It allows any incoming visitors to easily share their blog posts, not only that, you can add a custom color to it. One can add more buttons. And AddToAny gets people to the right destination to share or save your content, whether in a native app or on the web.
Key Features:
Including AddToAny's universal sharing button, Facebook, Twitter, Linked In, Pinterest, WhatsApp, and many more.
Share Anywhere.
Mobile & Responsive.
Perfect Icons.
Built For Good.
Google Analytics Integrated.
Share Counters.
Floating Share Bars.
Highly Customizable.
Plugins That Delight.
>>Learn more, Downloads & Details
11. Fixed Widget.
I use Fixed Widgets. The WordPress plugin creates sticky widgets, so that when the user scrolls the website. So those Sticky Widgets are seen by visitors and can achieve significantly higher click-through rates.
Key Features:
Easy to fix all widgets.
The placement of widgets doesn't matter.
You can enable 'Fixed Widgets' for each option.
>>Learn more, Downloads & Details
12. Pretty Links
I use Pretty Links. Which makes it easy to track affiliate links. How many clicks on the affiliate link? And I can see the performance report.
Key Features:
Shareable, Branded Affiliate Links for Email, Podcasts, YouTube & More added.
Promote Your Long-Form Content.
Share an Exclusive Discount.
Add a Call to Action (CTA).
Shrink, track and share any URL using your website and brand!
>>Learn more, Downloads & Details
13. Ultimate Addons for Gutenberg.
I use Ultimate Addons for Gutenberg. The Ultimate Addons for Gutenberg extends the Gutenberg functionality with several unique and feature-rich blocks that help build websites faster.
Key Features:
All-in-One Library
Page-building Blocks
No Coding Required
Info Box
Multi Buttons
Advanced Heading
Post Layout
Price List
Social Share
Testimonial
>>Learn more, Downloads & Details
14. OptinMonster.
I use OptinMonster. Best Lead Generation Plugin, Instantly grow your email list, get more leads and increase sales with the #1 most powerful conversion optimization toolkit in the world, and Choose an easily pre-built template designed for maximum conversions. can choose easily.
Key Features:
Beautiful Lead Capture Forms
A/B Testing Made Easy
Multiple Form Types
Page-Level Targeting
Advanced Traffic Redirection
Analytics and Insights
Onsite Retargeting and Personalization
>>Learn more, Downloads & Details
15. Easy Table of Contents.
I use Easy Table of Contents. A user-friendly, featured-focused plugin that allows you to insert a table of contents into your posts, pages, and custom post types.
Key Features:
Automatically generate a table of contents for your posts, pages, and custom post types by parsing its contents for headers.
Works with the Classic Editor, Gutenberg, Divi, Elementor, WPBakery Page Builder, and Visual Composer page editors.
Choose which headings are used to generate the table of contents.
The widget auto-highlights the sections currently visible on the page. The highlight color is configurable.
Selectively enable or disable the table of contents on a post-by-post basis.
>>Learn more, Downloads & Details
How to SEO Your Blog Post
Think before you write!
Before writing a post, think about what do you want to tell your readers. like do you want to answer the question? What is the purpose of writing the article? When you think once, search for that keyword in that relevant search engine, is it included in the search? Maybe, someone has those things involved in the search. If so, what better way can you give to your readers? Who can easily see it in the results with the help of this search?
Plan your content with proper keyword research.
Your guesses make it difficult to truly search for any keyword. You need to know, what are people searching for. in which users are interested.
Keyword research is a technique used by content creators and SEO experts to help your users find the topics your users are interested in based on search engine results.
On-page SEO vs Off-page SEO.
Blog Website Perfect SEO How to Rank? here Understing, How to do cleanliness inside and outside your house. Meaning, on-page means indoors and off-page. We live in a house. And our mother, sister, your wife, brother and you clean your house inside and outside every day.
The means are similar to the articles on our website. Cleansing the inside and out adds to the "immunity" of their blog. Let us take a step-by-step to highlight the important topic.
"On-page SEO" concerns all of Google's ranking factors when they try to directly view the page you are in the headlines, such as your headline, content, and page structure.
"Off-page SEO" refers to all the variables that Google sees, and they are not specified in your hands. They depend on other sources, such as social networks, other blogs in your industry, and the personal history of the searcher.
Google's algorithms have come a long way over the past decade, and today, they seem surprisingly good at deciphering the meaning behind words. However, if you want to rank for a certain keyword, you have to use it, even showing Google that the word is central to what you're writing.
You can do this by including keywords in it:
Headers (H1, H2, and H3)
Image and video files
Meta Description
page content
Alt text
URL
Link internally when possible.
Inbound links to your content help show the legitimacy or relevance of your content to search engines. And the same goes for internal linking to other pages on your website. If you have written about a topic that you have mentioned in your blog post on another page, it is best practice to link to that page.
Optimize your blog content.
You can incorporate each of these SEO best practices into your content strategy right away. But, as your website grows, so should your goals on search engines. Because you will be able to do some link-building to link other websites to your blog.
Use Our Yoast SEO Plugin
If you work on WordPress then you must have heard that Yoast SEO is the best plugin for SEO. And it acts as a kind of "robot". If you use its premium version. So fully supports in terms of SEO on your website. If you use it for free. Even then you will give your website an SEO framework.
If you want to learn about SEO, read my guide!
Blogging Platform to Generated Money
Ad Networks: (Beginners)
These are ad networks that are the easiest way to monetize any blog. Which is the way it's grown up.
The two most popular ad networks are:
Google Adsense (offered by Google)
media.net
Which automatically shows ads based on your article's context and user interest.
Affiliate Marketing: (Most Profitable Method): Intermediate + Advanced
Affiliate ads are one of the best ways to make money, as this single sale will earn you a lot more money than a single click on a relevant ad.
Here are some popular affiliate marketing marketplaces you can join:
Commission Junction
Shareasale
Impactradius
Partnerstack
Amazon Affiliate Program
Executive Summary.
Can you make a living blogging?
Absolutely yes, you can make a living blogging, but bloggers are not able to make enough money. This is the bitter truth, I launched my blog in Dec 2019, and I earn $300 more every month.
How do beginner bloggers make money?
If you are starting out, people initially focus mostly on their content, as well as provide counseling and coaching services to earn high income in return for their time. Because initially there is less traffic on the website.
As I mentioned earlier, there 5 popular ways to make money blogging:
Affiliate marketing (recommending products and services in Offering online courses and workshops Writing books and eBooks exchange for a commission)
Blog ads
Speaking at conferences
Offering your expertise as a consultant or coach
Selling freelance services such as writing, designing, and programming.
What are the most popular blogging platforms?
WordPress is by far the most popular.
Many types of web design programs are necessary to make a website. It also takes money to make it. While a blog is a free service that needs a website to create. With the help of a blogger, WordPress, Tumblr., Medium, and Weebly such a person can make a very easy and very soon.
How do beginner bloggers make money?
Absolutely yes,
when you treat it like a passion and a business, and you like writing, then there can be no better platform than this. If you start, then at the same time there will be popular among the people, whether you are doing a job, then you can do it part-time.
you start, then gradually you can set up, if I talk to me, I do part-time blogging, and also do a job, but I run my blog website with a business. And I love helping people, Blogging was not my one money reason, my reason was that I wanted to make popularity among people, and wanted to help others.
I don't think there is anything better than this.
Make Money Blogging – FAQ
1. What is blogging, and how can I make money from it?
Blogging is the act of regularly creating and publishing content on a website, typically in the form of articles or blog posts. To make money blogging, you can monetize your blog through methods like advertising, affiliate marketing, sponsored content, selling digital products or services, and more.
2. Do I need a specific niche to make money blogging?
While having a niche can help you target a specific audience, it's not always necessary. Some successful bloggers cover a wide range of topics. What's essential is producing high-quality, valuable content that resonates with your target audience.
3. How can I drive traffic to my blog?
Driving traffic involves various strategies, including search engine optimization (SEO), social media promotion, email marketing, and guest posting on other blogs. Consistency and producing shareable content are key to attracting readers.
4. What is affiliate marketing, and how does it work for bloggers?
Affiliate marketing is a partnership between a blogger and a company where the blogger promotes the company's products or services. When readers click on affiliate links and make purchases, the blogger earns a commission.
5. Are there any upfront costs to start a money-making blog?
Yes, there can be some upfront costs, such as purchasing a domain name, web hosting, and potentially premium themes or plugins. However, these costs are relatively low compared to other business ventures.
6. How long does it take to start making money from a blog?
It varies widely based on your niche, content quality, and promotion efforts. Some bloggers see income within a few months, while others may take a year or more. Patience and consistent effort are crucial.
7. Can I make a full-time income from blogging?
Yes, many bloggers have turned their blogs into full-time businesses. However, it often takes time and dedication to reach that level. Building multiple income streams, like ads, affiliate marketing, and product sales, can help.
8. What are some common mistakes to avoid when monetizing a blog?
Common mistakes include excessive advertising, neglecting SEO, not disclosing sponsored content, and choosing low-quality affiliate products. It's essential to maintain trust with your audience.
9. Can I monetize my blog if it's on a free platform like WordPress.com or Blogger?
While it's possible to monetize free blogs, self-hosted blogs (using platforms like WordPress.org) offer more flexibility and control over monetization options. Free platforms may have limitations.
10. Are there any legal or tax considerations when making money from a blog?
Yes, there can be legal and tax implications when earning income from a blog. It's essential to disclose sponsored content, follow advertising guidelines, and consult with a tax professional to understand tax obligations.
11. How do I choose the right affiliate programs for my blog?
Select affiliate programs that align with your niche and offer products or services your audience would be interested in. Research the reputation and track record of affiliate programs before partnering with them.
12. Can I make money blogging if I'm not a professional writer?
Absolutely! Many successful bloggers aren't professional writers. Authenticity and valuable content matter more than perfect writing. With practice, your writing skills can improve over time.
13. How do I stay motivated when my blog is not making much money initially?
Building a profitable blog takes time. Focus on your passion for your niche and the value you provide to your audience. Set achievable goals and celebrate small wins along the way.
14. Are there any resources or courses to help me learn more about making money through blogging? Yes, there are many online courses, books, and resources dedicated to blogging and monetization. Some popular options include courses on platforms like Udemy, Skillshare, and dedicated blogging websites and forums.
15. Can I make money blogging if I don't have a large social media following?
While a strong social media following can help with promotion, it's not the only way to attract readers. Focus on SEO, creating valuable content, and engaging with your audience to grow your blog organically. Social media can be a complementary strategy.
Remember that blogging for profit requires dedication, continuous learning, and adaptability. Success often comes from building a loyal audience and providing valuable content that resonates with them.
Recommended Resources on ibusinessmotivation.com: To further your research, check out my guide Blogging Business for Beginners Guide, Best Web Hosting, and the best online SEO Tools to try this year.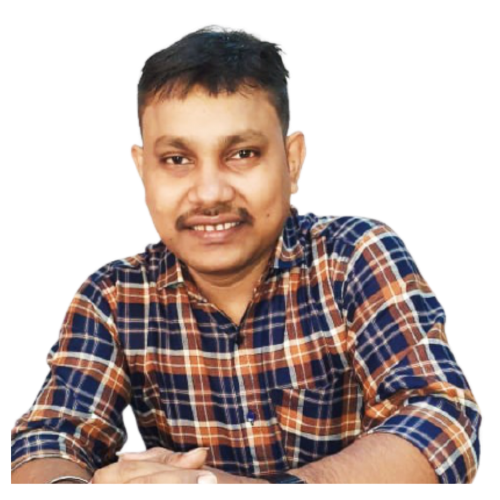 I have completed Study IT. I am a passionate blogger, sharing tips on Blogging, SEO, Business Start-up, SaaS Software Review, Google Ranking, Digital Marketing, Passive Income, Consultant, And Online Business Startup. And I work in the digital field for more than 5 years. Read my short story.