If you run a business, you need legal help for the business. At any time during the business, we need a law. We need legislation for problems such as establishing a business entity, partnership disputes, reviewing a contract, and any other legal issues to address, and getting top-notch professional advice as soon as possible. Which can help us with the Best online legal services in India.
From the list below, you will find different types of Best online legal services Providers in India providers. Where you can easily access resources legally easily. Read my guide below about the best online legal services for your small businesses. From the given list, you can consider any online legal services.
What are the Best Online Legal Services in India?
Here are my picks for the Best Online Legal Services to use this year.
1. Online Legal India – Best Online Platform for Legal Service
OVERVIEW:
OnlineLegalIndia: FastInfo Legal Services Private Limited is registered under the Companies Act, 2013, which is recognized by the government. India, which is specialized in providing legal aid and providing legal information to people, especially for ease of use in their own hands.
BEST FOR:
His main team consists of skilled and skilled qualified lawyers along with a hardworking team of other professionals under one roof. Which provides solutions to all individuals, business persons, corporate bodies, and others to get better support for the issues they face in their everyday lives.
This Online Legal Services aid is the way to help them. Those who do not reach the court easily. Legal aid includes various types of advice. Providing this service, drafting or making agreements, etc. Legal advice is the method of giving a professional opinion related to any factual matter or situation.
BEST FOR:
Online legal advice
Legal notice
Advice on divorce
Legal drafting
Rent deed draft
Partnership deed draft
Draft sale deed
Lease deed drafting
Joint venture deed
Based on its company requirements, it provides solutions to serve its customers by taking help from virtual support. They provide the best advice in exchange for monetary compensation.
They are advised in the common law system, in criminal and civil law, by lawyers or lawyers, or by other professionals (e.g. tax experts, professional advisors, etc.).
2. Legalkart – Best online legal service for documents
OVERVIEW:
If you want verification, property title search, paper verification of property, document registration, and property registration services. So you can consider it. Legalkart's innovative technology platform empowers you with all types of legal topics. And she connects directly with experts.
BEST FOR:
If you want advice on an Online Legal issue. So you can log in to their website anytime, and you can keep your point. And it guarantees the confidentiality of your questions. All details shared by you will be kept 100% confidential.
KEY FEATURES:
If you buy the property. So there are many agreements that you sign. And many types of agreements that you don't have time to read and understand deeply. So this Legalkart Document Review solves your problems by giving you a document review of any of your documents with the help of senior property lawyers.
If you want to get the legal problem document reviewed. So you can get your document reviewed in some steps. Pay and schedule a Call with the Lawyer.
3. Vakilsearch-Best online legal service for business formation
OVERVIEW:
This vakilsearch is a technology-driven platform that, if put simply, is a repository of services. Who offers every service that covers the Online Legal Services requirements of startups and established businesses. Some of those services include incorporation, accounting, government registration and filing, documentation, and annual compliance.
BEST FOR:
In addition, they provide a variety of services to individuals, such as property agreements and tax filings. vakilsearch's team strives to provide one-click access to all individuals and businesses for all their legal and business needs.
KEY FEATURES:
It is a service provider given below for businesses and individuals. The following is below.
Business setup
Fundraising
The contracts
Tax compliance
Trademark and IP
Property and personal
Non-government organization
PRICING PLAN:
For property and personal.
Pricing – Property Title Verification – 4999/-
Property Registration – 9999/-
Succession Certificate – 19999/-
Name Change – 1999
4. Vkeel–Best Get Legal Advice From Expert Lawyers
OVERVIEW:
Vkeel helps you find the best lawyer in your city because all your Online Legal Services requirements are the best. So that you don't regret it later. Whether you are drafting your will, buying/selling real estate, getting a divorce, or meeting any other legal need — the best lawyer can be bullied.
BEST FOR:
Those who want to make your legal experience less stressful by giving you a bunch of options, So that you can choose the best one, and leave the rest to destiny. Whether you are looking for a lawyer, or you are a lawyer, Vkeel has chosen the right place to connect.
KEY FEATURES:
It is quite easy to browse through these forums, and three easy steps will make it the best lawyer in the city. And they believe in the threes.
Shortlist: They hand-picked some of the best lawyers you can browse through the website, and shortlist some according to your legal need, city, and expertise.
Investigate: Once you have shortlisted, according to your experience, you can compare lawyers on the expertise you need. And we can also consider other things.
Select: Once you have done the analysis, you can select the best lawyer in your city, and appoint him. and you
Apart from this, they also have an Android app, which makes things easy, because you can work everything on your phone. You can book a consultation with the selected lawyer.
5. Lawrato–Best Hire Lawyers Online for Legal Advice in India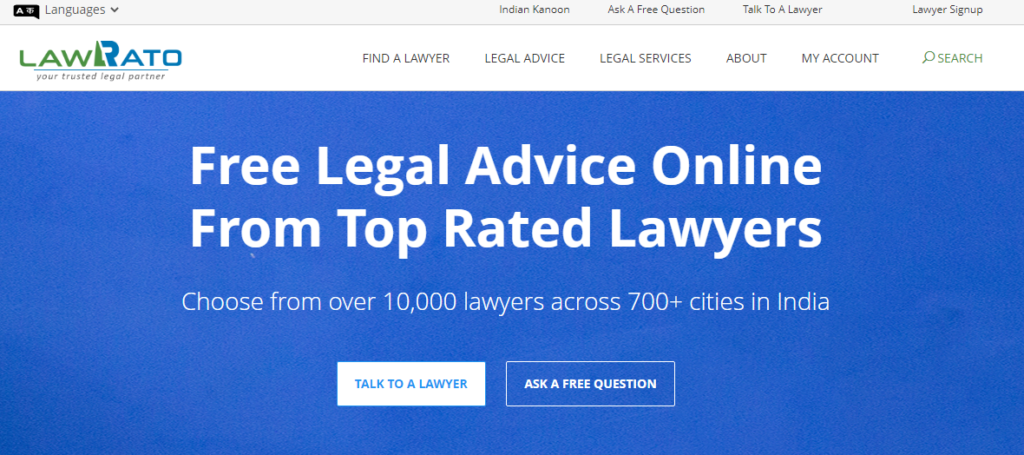 OVERVIEW:
LawRato is an interactive online platform that makes it fast and easy to find and hire top-rated lawyers in any city/court in India. Because you deserve access to first-rate professional, legal advice from top-rated lawyers. We are on a mission to make the legal experience remarkable by making Online Legal Services cost-effective, high quality, and demanding for every need.
BEST FOR:
We are not a law firm, do not provide any legal services, legal advice, or "lawyer referral services" and do not provide or participate in any legal representation.
LawRato.com lists the top-rated legal experts in the country. He has experts in criminal defense, property disputes, corporate law, family issues, IPR, and 20 other areas of expertise so that you can get practical legal advice and help. Their enlisted lawyers have practice in 700 cities and 3000 courts across India to help provide the necessary advice and representation for your legal issues.
KEY FEATURES:
Search and Select the Lawyer based on your need – Search by Specialization, City, or Court Name.
We share your contact and inquiry details with the selected lawyer and the lawyer's contact details with you.
Call/meet the lawyer and discuss your legal issue directly with the selected lawyer.
6. Kaanoon–Best Legal advice online from Lawyers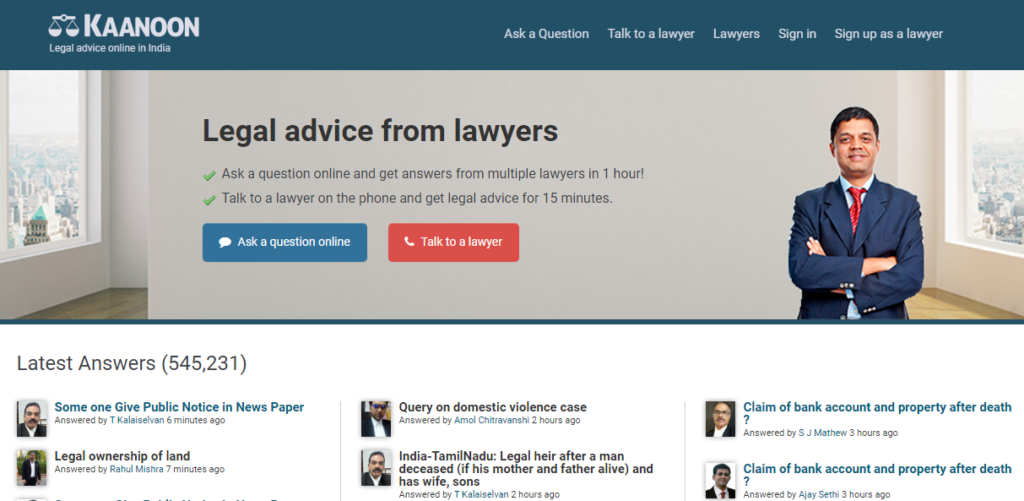 OVERVIEW:
On this Kaanoon.com site, you are able to make high-quality legal solutions accessible and affordable for all. A lot of lawyers will also be experienced here. This helps you get those individuals to answer their legal questions, consult lawyers over the phone, and make it easier to find a competent lawyer without wasting thousands of rupees on the wrong lawyer.
BEST FOR:
Kaanoon.com is run by a highly experienced team of individuals. Those who love, do what they do, and do what they love. These team members come from various backgrounds in programming, user experience, product management, strategy, and legal. you want, then visit their official website.
Executive Summary.
1. Creating an Account: Getting started with online legal services is usually straightforward. Users need to create an account on the platform, providing basic information about themselves and the legal matter they need assistance with.
2. Submitting Legal Requests: Once the account is set up, users can submit their legal requests through the platform. This could involve sharing details about the case, uploading relevant documents, and specifying the type of assistance required.
3. Consultations and Document Sharing: Legal professionals on the platform review the user's request and provide advice or recommendations. Some platforms offer video consultations, allowing for a more personalized interaction. Users can also share documents securely through the platform for review and modification.
Potential Concerns and Limitations.
Security and Privacy Considerations: Sharing sensitive legal information online raises concerns about data security and privacy. Reputable online legal platforms implement robust encryption and data protection measures to safeguard user information.
Complex Legal Issues and In-Person Needs: While online legal services are excellent for many legal matters, complex cases involving multiple parties or intricate legal nuances may require in-person representation. It's essential to assess whether a particular case is suitable for online services.
The Future of Legal Services: A Digital Outlook.
Integration of AI and Machine Learning: As technology continues to advance, AI and machine learning are poised to play a more significant role in online legal services. These technologies can assist in legal research, document analysis, and even predictive legal outcomes.
Virtual Law Firms and Hybrid Models: The future might see the rise of virtual law firms that operate entirely online, offering a range of legal services through digital platforms. Hybrid models, combining online services with occasional in-person consultations, could also become commonplace.
FAQs.
Are online legal services as reliable as traditional law firms? Online legal services have gained credibility over the years and are considered reliable for various legal needs.
Can I get personalized legal advice from an online platform? Yes, many online legal service providers offer personalized advice through video consultations and chat features.
How do online legal services ensure the qualifications of their legal professionals? Reputable platforms typically require their legal professionals to provide proof of licensure and credentials.
What types of legal documents can I prepare using online services? Online platforms assist with a wide range of legal documents, including wills, contracts, and incorporation papers.
Is my personal information safe when using online legal services? Trusted platforms prioritize data security and use encryption protocols to keep personal information safe.
It is absolutely true, that online legal service providers have revolutionized the legal landscape, making quality legal aid accessible to a wider audience. Through their user-friendly interfaces, affordable pricing models, and commitment to technological innovation, these platforms have proven that legal services can be both convenient and effective. As the industry continues to evolve, individuals and businesses can be empowered to navigate the legal world with confidence by embracing the opportunities presented by online legal services.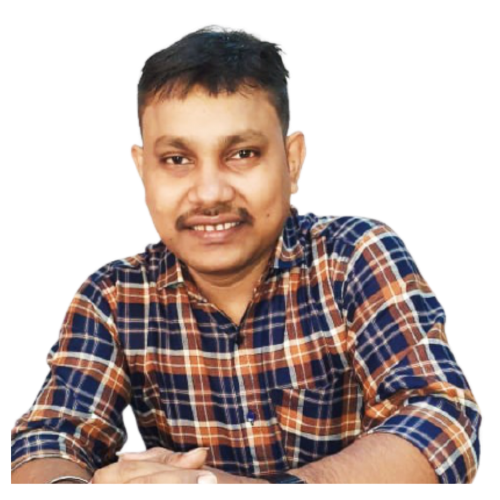 I have completed Study IT. I am a passionate blogger, sharing tips on Blogging, SEO, Business Start-up, SaaS Software Review, Google Ranking, Digital Marketing, Passive Income, Consultant, And Online Business Startup. And I work in the digital field for more than 5 years. Read my short story.