Last updated on October 7th, 2023 at 07:15 am
If you want to go straight to the answer? I would recommend Hostinger or Bluehost as the best web hosting for most people. I will review this in 10 Best WordPress Web Hosting Services Of 2023.
No doubt, you are free to use any web hosting for your WordPress website. It has been proven by all of us, but the bitter thing is that some hosting providers are not suitable for WordPress websites. And maybe, you must be feeling disappointed about some of these things. Now we come straight to the point. Want something better suited for that WordPress website? means you are at the right place.
However, I have passed through dozens of such hosts, not one or two, But I've ranged the Best WordPress Web Hosting Services options for you with updates on the market today, which WordPress itself recommends. Today I'm going to review the top WordPress hosting providers that offer the best in security, performance, and reliability.
What Is The Best WordPress Web Hosting Service?
Here are my picks for the Best WordPress Web Hosting Services Web Host this year.
Most Overall Affordable WordPress web host.
Hostinger is popular in terms of WordPress web hosting Services. Which is available at an affordable price. WordPress web hosting Service is designed to be very easy for beginners. It has all the way to customize your website.
You can get more speed, better SEO, visitor retention, and conversions with their custom-built WP optimization stack and LightSpeed ​​Cache. You can start your website with an automated 1-click WordPress installation. The backend is powered by LightSpeed ​​caching and advanced optimization to ensure your websites are fast, reliable, and secure.
All Hostinger WordPress plans come with great benefits like:
Hosting for a Single website.
50 GB of SSD Storage.
2 MySQL database.
100 GB of bandwidth.
Hosting for up to 100 websites.
Unlimited bandwidth.
100 GB of SSD Storage.
Unlimited MySQL databases.
Free domain registration.
Hosting for up to 100 websites.
Unlimited bandwidth.
200 GB of SSD Storage.
Unlimited MySQL databases.
Free domain registration.
Free SSL.
Free daily backups.
Hosting for up to 300 websites.
Unlimited bandwidth.
200 GB of SSD Storage.
Unlimited MySQL databases.
Free domain registration.
Free SSL.
Free daily backups.
The most popular plan is their WordPress Starter. In which you can host 100 websites. Includes SSL, Unlimited Bandwidth, Unlimited Databases, Cloudflare Protected, and a lot more.
How to make the most of the savings.
Hostinger WordPress Plan: WordPress Starter $2.99/Month
Term: 48 Months
Total Cost at Checkout: $143.52
Savings: $576.00
Best for Beginners creating your first WordPress website.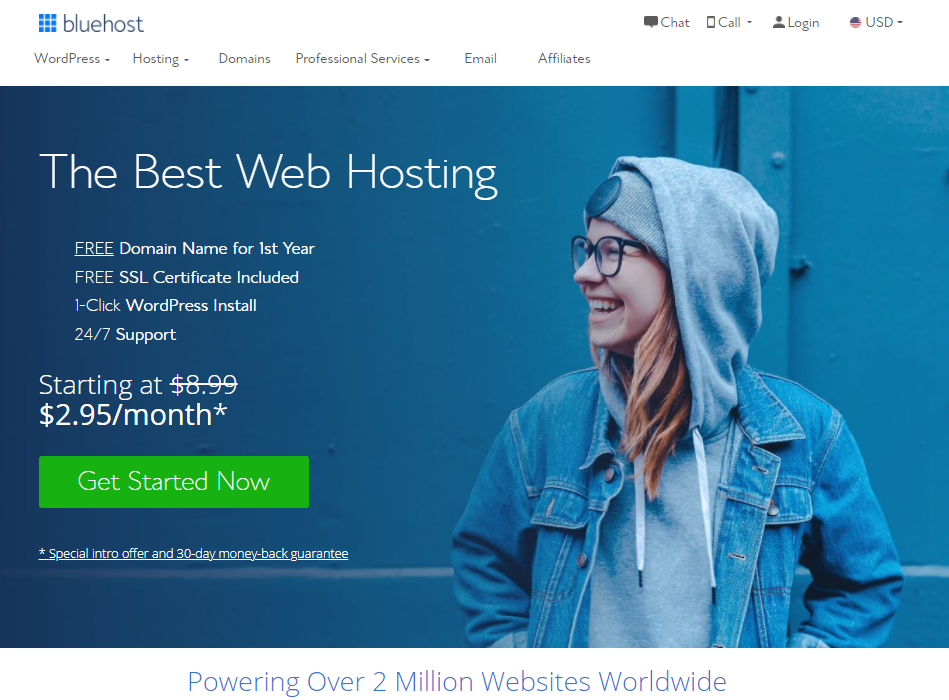 When it comes to WordPress web hosting Services. So for that only popular Bluehost web hosting comes. Which makes it very easy for the new user. And don't let high visitor traffic slow down your website. And achieve dynamic scalability, security, speed, and support.
You can go to any plan. You can get an upgrade or renew anytime if needed.
This makes Bluehost hosting the best step forward for most beginners, these features make Bluehost the perfect host to choose.
All Bluehost WordPress plans come with great benefits like:
All in all, you will be on shared hosting anyway. I would honestly say that it has the capacity to handle more traffic than shared hosting. I have reviewed it for a few decades. There is no possibility of the site ever going down till today. Although I myself use shared hosting. But we have not received a negative answer.
If when it comes to upgrading to Bluehost hosting, Bluehost also offers managed WordPress Web hosting Service starting at $9.95/month. Which charges you the least cost. But in conclusion, it is still one of the low-cost options for managed hosting.
Most of the readers have always given Bluehost a good choice. which they have started.
How to make the most of the savings.
Bluehost WordPress Plan: Basic $2.95/Month
Term: 36 Months
Total Cost at Checkout: $106.20
Savings: $217.44
Best for eco-friendly website owners.
If you want to customize a shared hosting plan for WordPress Web Hosting Service. This GreenGeeks has got it all covered. The one you are looking for. It's the most affordable, with a quick setup and 24/7 live chat support, staying with you until you get your professional website live.
What exactly is special about GreenGeeks? It provides more security for WordPress sites. It protects you from other threats like malware. He takes care of every aspect without ignoring it. Quickly resolves any technical issues on your site. It automatically renews it for you in 90 days.
It also provides an SSL certificate for free. If your website is already connected with some other hosting. So it can transfer your site to GreenGeeks with data security. Best of all, GreenGeeks representatives can migrate your site themselves for free.
This matches 3 times the amount of energy we consume from the grid in the form of GreenGeeks renewable energy credits, in addition to using eco-friendly data centers and servers. WordPress Web hosting Services is 300% green. You can feel good that you are making a difference.
Everything you need to build and manage your WordPress website.
1-click WordPress installation
WordPress acceleration
automatic updates
On-Demand WordPress Backup
Free SSL Certificate
24/7 support
FREE DOMAIN NAME OR TRANSFER
free WordPress migration
quick launch WordPress
The plan of GreenGeeks is very clear. That's all, your site is also clean. The Lite plan starts at $2.95 per month, and Premium at $10.95 per month, Pro at $5.95 per month. "This light is for a website. Both Pro and Premium cover an unlimited number of websites." All of these prices together are based on a three-year commitment and come with a 30-day money-back guarantee on every plan.
How to make the most of the savings.
GreenGeeks WordPress Plan: Lite $2.95/Month
Term: 12 Months
Total Cost at Checkout: $45.35
Savings: -$113.95
Best for most effortless website staging.
Nexus is a popular WordPress web hosting service. It is a fully managed WordPress Web hosting provider. And they also provide hosting for many other platforms like e-commerce stores.
Nexcess is a great option, why so? Because it has everything you need to handle dynamic sites. As such you get 4TB bandwidth even with the basic plan, automatic image compression, free SSL certificate, compatibility with PHP 7, etc. Fully Managed WordPress Hosting More Secure, Scalable, Better Optimized for WordPress Hosting, Built-in CDN, Automatic Updates, Instant Auto-Scaling, Pre-installed Plugins, You Can Bring Your Site Live With 1-Click.
All Nexcess WordPress plans come with great benefits like:
If you're a Nexcess beginner, they're ready to help with a virtual smile. We need more businesses like them, and I highly recommend them for any and all hosting, etc.
You'll have access to most of this level, including SFTP, MySQL, and SSH. It also gives you Git version control. Plus the speed, security, and customer support are virtually unparalleled in Evergreen.
To be honest, the Nexus clearly isn't one size fits all. This should make small businesses choose one of the other options, as the Nexus plans will be overpriced.
If you need more features than the lowest-priced tier provides, the cost jumps quite a bit—to $35.55 per month—but you get up to five sites and 40 GB of storage with that plan. Nexcess calls its most popular plan the Maker tier, which offers up to 5 sites and 40 GB of storage for $79.00 per month.
Lastly, for power users, Nexus is the WordPress Web hosting Service you've been looking for. That's why you use the affiliate link to get 2 months off on any Nexus hosting plan.
How to make the most of the savings.
Nexcess WordPress Plan: Maker $35.55/month
Term: 03 Months
Total Cost at Checkout: $79.00
Savings: $27.65
Best for Quckily Setups creating your first WordPress website.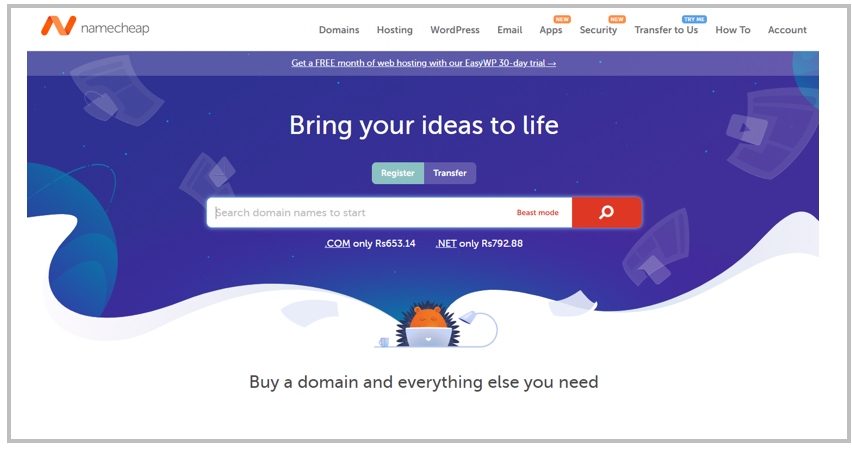 When it comes to Namecheap WordPress web hosting Services, this WordPress website is powered by its own cloud technology, which gives you a "set-and-forget" experience. This unique infrastructure is designed to allow each website to survive and grow without interruption.
All Namecheap WordPress plans come with great benefits like:
EasyWP Starter $22.88/Yearly
EasyWP Turbo $44.88/Yearly
EasyWP Supersonic $49.88/Yearly
And no need to worry about navigating the cPanel interface or knowing and understanding how to install WordPress. They do it all for you in one click. Which saves you time and money with the EasyWP WordPress hosting plan.
Website security and privacy are a top priority at Namecheap, and it has always supported the rights of individuals and consumers online. Most of all, it keeps the Internet open, free, and safe for all of its users. And they are ready to assist you at any time, 24/7.
All WordPress Web hosting plans come with a 30-day money-back guarantee. For a reasonable price, you'll benefit from plenty of resources, support, and uptime compared to other options on the market. Try Namecheap today.
How to make the most of the savings.
Namecheap WordPress Plan: EasyWP Turbo $3.74/Month
Term: 12 Months
Total Cost at Checkout: $44.88
Savings: $24.00
Best every WordPress hosting plan.

No doubt about it, the security features are also prevalent with all Scala WordPress hosting plans. Which is installed by Yerwall on your behalf for you. Their representatives take full care of safety very specially. It doesn't matter whether malware or hackers give open challenges to those people. We tolerate 0% attacks of any kind on our customers' sites.
All plans in Scala also include:
The experts at Scala will migrate all your WP websites at a date and time that best suits you, free of charge. Your website will remain live during the transfer.
Access their knowledgeable technical support via live chat (instant) or ticket (15-minute response time). Their customer support team can help with any server or hosting-related issues.
Scala allows you to get started right away with a WordPress-optimized web hosting account that comes with a free domain name. With Let's Encrypt you can also get free security certificates from our partners.
This SPanel in Infinity is the only all-in-one platform for easy VPS hosting management and maintenance. Which is included in every Entry Cloud Virtual Private Server, and comes loaded with hundreds of features that are otherwise paid for in cPanel. (cPanel is still available)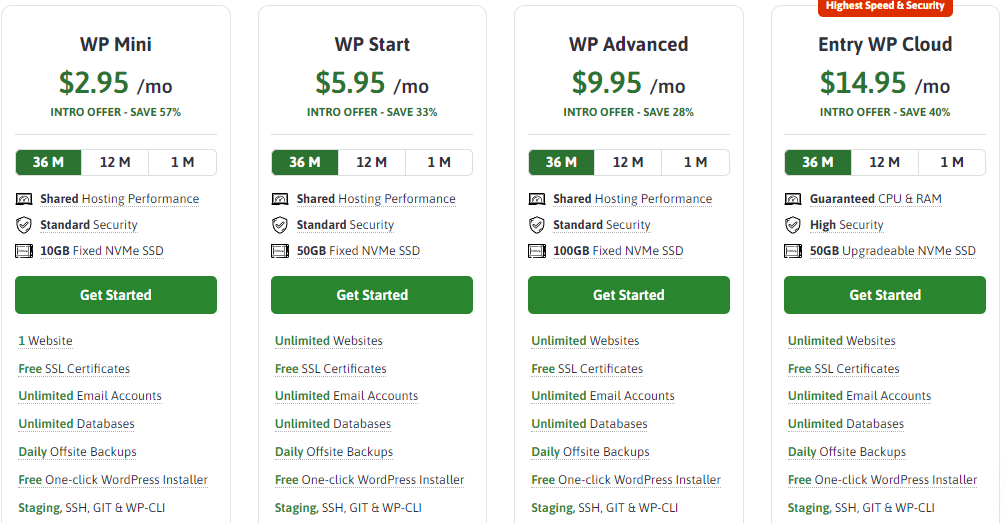 You can also easily unlock additional useful features by going with a plan above the WP Mini "One website, 20 GB storage" package starting with Scala.
WP Start – Unlimited websites, 50 GB storage, can double the CPU power of WP Mini.
WP Advanced – Unlimited websites, 100 GB storage, quadruple the CPU power of WP Mini
If you go with WP Advanced. So you get a free domain name. It does not limit itself to this. Like most providers. If when you prepay for hosting. So it gives you one year of your domain for free. Simply put, you get a good bonus.
WP Mini – $3.95 per month for a three-year commitment, $4.95 for two years if
WP Start – $5.95 per month for a three-year commitment, $7.95 for two years if
WP Advanced – $9.95 per month for a three-year commitment, $10.95 for two years if
Lastly honestly, do you want worry-free WordPress Web hosting that is competitive in price? So I will give a first place on my list.
How to make the most of the savings.
Scala Hosting WordPress Plan: EasyWP Turbo $3.74/Month
Term: 12 Months
Total Cost at Checkout: $44.88
Savings: $24.00
Best for hosting multiple WordPress sites with tons of traffic.
WP Engine is the most popular platform in terms of WordPress Web Hosting Services. And it has more than 1.2 million websites hosted in 150 countries. It takes responsibility for enabling WP Engine the full spectrum of digital experiences on WordPress, from small businesses to creative agencies to enterprise brands.
Key Feature.
Maximum Speed and Performance.
Proactive Protection with Threat Blocking.
Automatic WordPress and PHP Updates.
Customizable themes and workflow tools.
Intuitive 1-click staging and backup.
free WordPress migration plugin.
All WP Engine WordPress plans come with great benefits like:
For professionals, the best WP engine advice data to host your website. If your site is WordPress Web hosting, and this site is getting more traffic. So WP Engine is the best option to boost your site more than ever.
I say, killer, it will not fit the person who is making the first flight of his website. Neither am I recommending. Because this WP Engine is a more expensive host provider than most other host providers. Simply put, it charges $30 to $100 per month. Versus the other products on my list in the $4 to $15 range.
WP Engine customer support staff are quick to resolve any critical WordPress technical issues.
Lastly, honestly, if you want to get serious about developing your WordPress sites, I wholeheartedly recommend using WP Engine.
How to make the most of the savings.
WP Engine WordPress Plan: Managed Hosting Startup $20.00/Month
Term: 12 Months
Total Cost at Checkout: $240.00
Savings: $120.00
Best for flexibility and extensive options.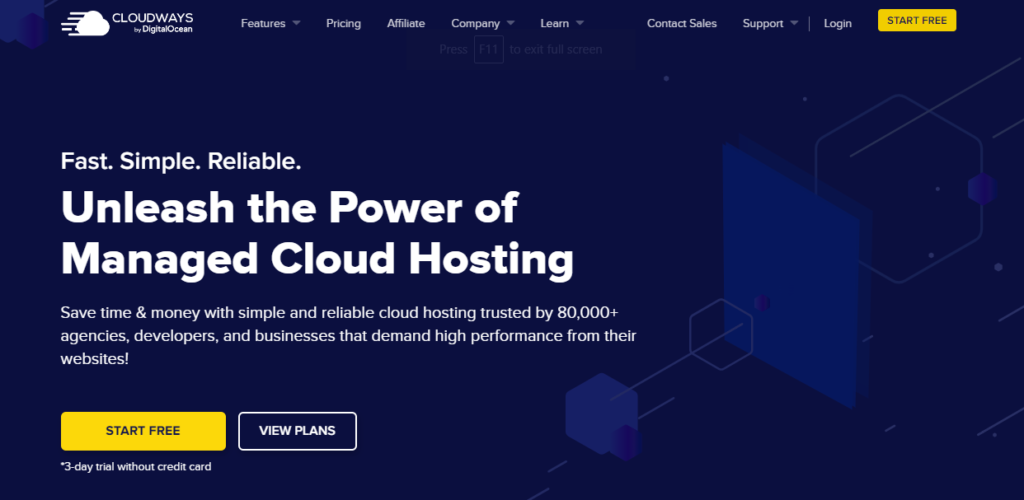 Cloudways is the most popular choice for WordPress Web hosting Service. Rather than providing its own hosting infrastructure, Cloudways is a managed tool. Which allows you to choose your own cloud hosting from the following cloud services.
The best part about Cloudways is that it lets you focus on your business and web account. Has qualities that pair well with Vaidya, are attractive, definitely friendly, and suitable for eCommerce
The Best Managed Cloud Hosting for WordPress That Guarantees Success Taking away the complexity surrounding cloud hosting lets you scale your websites how you want with our managed hosting for WordPress and WooCommerce. Easy-to-use managed web hosting features include Breeze, a simplified Cloudways cache, and Cloudflare Enterprise with advanced caching for faster performance and added security. They all come together to provide a seamless web hosting experience.
All Cloudways WordPress plans come with great benefits like:
The great thing is, it takes away the hassle of cloud servers with our Managed Hosting for WordPress and WooCommerce, so you can scale your website the way you want. Their state-of-the-art managed web hosting features include Advanced Cache with Breeze, a simplified Cloudways Cache, and Cloudways CDN for faster performance. They all come together to provide a seamless web hosting experience.
These managed WordPress plans are straight-up pretty simple. The least expensive is $10 per month including the DigitalOcean Standard hosting fee with 1GB RAM, 1 core processor, 25GB storage, and 1TB bandwidth. The most expensive is $3569.98 per month including the AWS hosting fee. That plan includes 96 vCPUs, 384GB of RAM, 20GB of storage, and 2GB of bandwidth.
Lastly, to honestly test out their managed WordPress Web hosting, you can try Cloudways for free with a three-day free trial to test how it will work for your needs.
How to make the most of the savings.
Cloudways WordPress Plan: DigitalOcean $10.00/month
Term: 01 Months
Total Cost at Checkout: $10.00
Savings: $1.0 (3-Day Free)
Excellent Experts to Migrate Your Site for You.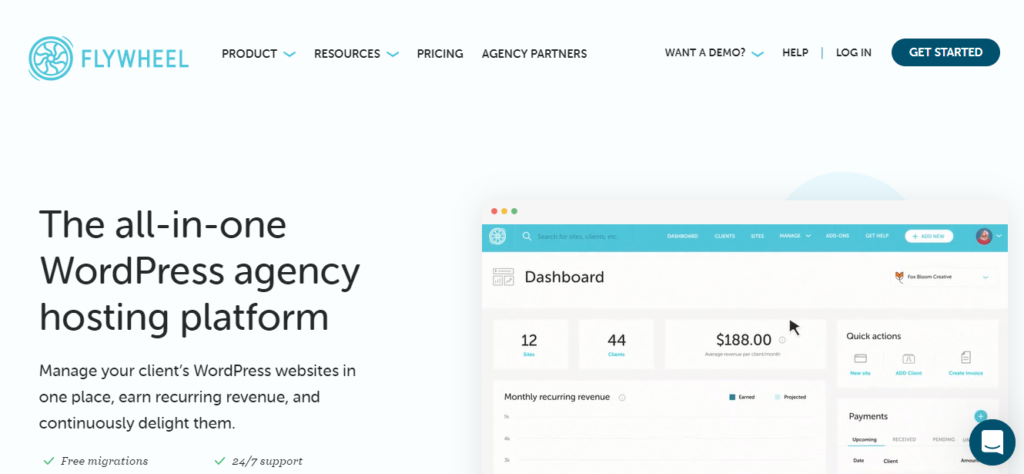 Flywheel This is the popular web hosting for delightful managed WordPress Web hosting. Which can achieve impressive load times on every site supported by the Google Cloud Platform.
Flywheel has a lot of specialties, of which I have found a lot. Flywheel has been designed keeping in mind the size of multiple vehicles. And a plan for every stage of your agency From freelancers to full-fledged creative teams, Flywheel's powerful platform is always ready to support you and your clients every step of the way.
All Flywheel WordPress plans come with great benefits like:
You will have 14 days on the free, password-protected demo site to show off your work before you make payment on your behalf. You can easily transfer billing to a customer on any of your sites.
Lastly, honestly, I would use Flywheel if I was looking for a hassle-free migration experience for clients and/or developing websites.
How to make the most of the savings.
Flywheel WordPress Plan: Tiny $13.00/Month
Term: 12 Months
Total Cost at Checkout: $130
Savings: $26 means of – (Two Month Free)
Best for handling unexpected surges in traffic.
Kinsta is a premium WordPress hosting provider for all WordPress websites, whether big or small.
Kinsta is a managed WordPress built with technical considerations. That is, it helps to take care of all your needs regarding your website. They run their services on state-of-the-art technology and take support seriously.
Grow your agency with Kinsta
Unlimited free migrations.
Free hosting for your agency site.
Cloudflare enterprise-grade protection.
Competitive pricing for bulk hosting.
Reseller and affiliate programs.
All Kinsta WordPress plans come with great benefits like:
The best thing about Kinsta is that it completely enables you to get access to the same features in each of the plans. As such, you unlock anything as opposed to upgrading to a higher-priced plan.
Lastly, honestly, Kinsta can handle any amount of traffic you need. You are free to worry about any kind of traffic.
How to make the most of the savings.
Kinsta WordPress Plan: Hosting $35.00
Term: 12 Months
Total Cost at Checkout: $350
Savings: $70 (Pay yearly and get 2 months free)
Executive Summary.
In simple terms, WordPress Web hosting is simply hosting that has been optimized to better meet the performance and security requirements of WordPress. It also usually includes a one-click WordPress install to make it easy to get started with WordPress.
What is WordPress hosting vs managed WordPress hosting?
WordPress Web hosting provides space on a server (usually shared with hundreds of other customers) to make WordPress websites available online. Significant maintenance tasks such as website optimization, updates, backup, security, and support are to be managed by the customer.
A managed WordPress Web hosting provider not only provides WordPress-optimized hosting, but also automates critical updates and site backups, strengthens security on a recurring basis, and provides a dedicated WordPress hosting service to troubleshoot WordPress-specific issues for you. Support Team. Managed hosting allows you to focus on running your business, not unnecessary backend maintenance. You can trust that a managed WordPress host truly specializes in your site's CMS.
Compare The Best Web Hosting Companies.
Compare Definition – It is necessary to consider the similarity and dissimilarities in any objects or persons. In the same way, to host our web, we need to compare it with other web hosting.
Additional Web Hosting Reviews.
A detailed top list like Best WordPress Hosting is included in the post. All the WordPress hosting companies live against each other on some or the other issue., but when we measure and weigh. they fit right in their place. but why do we think that they all fit in the general category?
But many things matter to think and understand. And that's right, there are many WordPress hosting providers in the market. In whom there are strengths and weaknesses. But to understand this, we have to dive into their depth. I agree. if are you Very eager to know and understand everything. be sure to check out reviews of providers that excel in those different categories.
Simply put, you are in the right position to decide on the best WordPress hosting provider for your unique needs. So it is absolutely right that so all the following information is helpful for you.
Types of Web Hosting.
Admittedly, it is difficult to understand the web hosting providers included in the list. Wondering who is the best in the given category? No matter which web hosting provider you are most interested in understanding. But to know more about it, you can read the following article below.
How to find the best host for your site.
For any hosting, you need to think about your website's primary development. Secondary things need to be thought of later.
But knowing a lot of ways to estimate some of the key factors helps a lot.
I'll delve deeper into this section. Because I'll try to wrap it all up. So that you will be fully equipped to assess your options. Then you do not need to worry at any time.
Now, how to evaluate web hosts? Which really matters a lot in ranking your website.
Let's try to remove Brahma one by one.
Site Uptime.
This factor matters a lot in the hosting service your website is hosted on. If your website is taking a long time to load. This simply means you will lose everything. There is a lot of impact on the traffic on your website. With that, your readers will not be able to engage on your site. Also, your earnings will be $0.
First and foremost you need to have a web host with good uptime. This means that your website will always be available and will never go down.
Most host providers offer some sort of guarantee of at least 99.9 percent uptime. But in reality, it is not a very careful guarantee. As a direct result of this, it can be discounted at your cost in case of unplanned downtime at any time.
HostGator, for example, will credit you with one month of free hosting if your uptime drops below 99.9%.
But there is no fine print of these guarantees. Because they don't cut corners by not accepting either self-reported or third-party uptime data, and providing any refunds for downtime. Which is completely out of the control of the host.
Site Speed.
A lot of impact goes on SEO and your audience when your website is overloaded. Which is a big factor in SEO. So will always recommend you. You should always pay attention to the speed of your website. And according to your requirement, you should take seriousness in choosing to host.
Always call the visitors who are more interested in high-speed openings during the visit to any website. Users are very happy with it. And they also get information immediately. You have to recognize that every part of your business is affected by the speed of your site.
But I would like to tell something a little more closely with speed. If you make your website live in the beginning. So during that time, there should be more speed on your site. Overall, I would say directly that you need such a host. Which is fast "enough". This means your website should open within at least 2 seconds.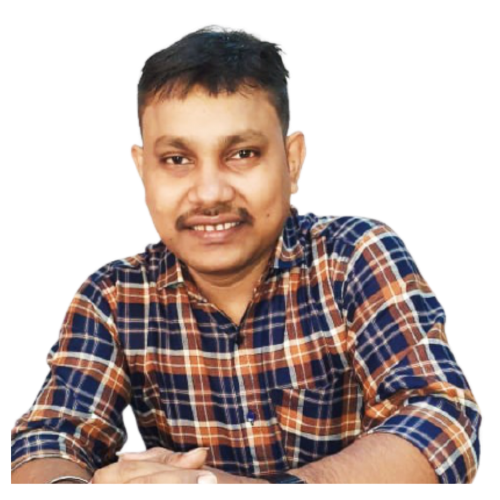 I have completed Study IT. I am a passionate blogger, sharing tips on Blogging, SEO, Business Start-up, SaaS Software Review, Google Ranking, Digital Marketing, Passive Income, Consultant, And Online Business Startup. And I work in the digital field for more than 5 years. Read my short story.