Last updated on October 5th, 2023 at 08:51 pm
Have you thought about your digital life? Which stays on one of your screens all the time. You think about your websites, apps, email, and everything else that makes up your digital world. I will review the 7 Best Screencasting & Screen Recording Software.
The fact is, you should use the Best Screencasting and screen Recording Software in cases when it makes it easier to show your screen to your audience at large instead of writing text.
In this guide, we have reviewed the best screen recording software based on video quality, features, support, pricing, and much more that you should consider as one of these software.
What is the Best Screen Recording and Screencasting Software?
Here are my picks for the best paid and best free screen recording software.
1. CamStudio.
CamStudio is able to record all screen and audio activity on your computer and create industry-standard AVI video files. Which is completely free. And it can convert those AVIs into lean, average, bandwidth-friendly streaming Flash video (SWF) using its built-in SWF Producer.
KEY FEATURES:
Record files in AVI format.
The screen can be recorded as small or large.
You can highlight the screen recordings at any place.
Can add text and comments to video and photo capture.
Audio can also be recorded along with the video.
PROS:
Easy installation
There is no limit to the recording here. Which is absolutely free.
You can punch your own time and date.
CONS:
No video is an editor.
Not very useful for Best Screen Recording the game.
Doesn't show file type.
The output data is sometimes a bit too large.
Output is limited to AVI and SWF.
There is no compressor.
PRICING:
You can use it completely which is absolutely free.
2. Camtasia.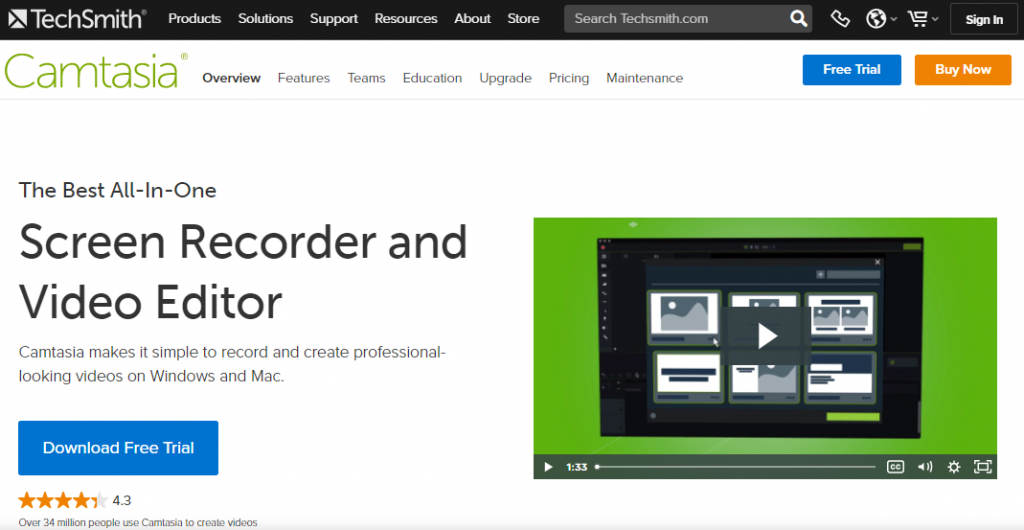 Camtasia makes it easy to record and even create professional-looking videos on Windows and Mac. Their flagship products Snagit and Camtasia are easy for anyone to learn. And it's what you know, with expert help material and support.
Can quickly create scenes to show him. it was founded in 1987, Snagit and Camtasia are the market leaders in the screen capture and productivity categories. That billions of pictures and videos made with our products by over 65 million people in over 222 countries and territories.
KEY FEATURES:
Camtasia's new video templates make it easier than ever to create the videos you need. You can share templates, libraries, themes, shortcuts, favorites, and presets in a single file.
You can quickly access your most-used tools and effects. This can be used to save custom styles and configurations for repeated use. And you can record anything on your computer screen. For example, website, software, video call, or PowerPoint presentation.
Camtasia's simple drag-and-drop editor makes it easy to add, remove, trim, or move sections of video or audio. Records exactly what you want—the entire screen, specific dimensions, an area, a window, or an application.
You can connect your iOS device directly to your Mac or use the TechSmith Capture app for PC to record directly from the screen, and then you can use gesture effects to simulate taps, swipes, and pinches in your videos. can add.
PROS:
Special discount for educational and government institutions – $30 for academics, and $20 for the government.
It is compatible with both Mac and Windows.
no video recording limit
Can integrate with your Google Drive.
It offers a 30-day money-back guarantee.
CONS:
It requires a lot of effort to edit and use it in its entirety.
It is limited to having pre-made sound themes active – not too many variations
It does not support live recording from digital video cameras
PRICING:
This Camtasia software is not free. But you can use it for 30 days without credit card information to start it. Which gives you 30 30-day money-back guarantee.
3. Screencast-O-Matic.
Screencast-O-Matic Capture, create, and share right here. Their screen capture tools help you to create, edit, and communicate videos and images with ease. Simple and intuitive tool for you to share your thoughts. Allows up to Windows, Mac and iOS, Android, and Chromebooks.
The best thing, Best of Screencast-O-Matic is best used in the education sector, from helping students with video assignments to preparing tutorials and delivering lectures. This comes in handy when it comes to providing product demos, creating video game walkthroughs, and conducting a workshop.
KEY FEATURES:
One of the robust tools for a high level of customization.
Free Screen Recorder, Webcam Recording, Screen Capture, and Microphone Audio Recording allow up to 15 minutes of features to be used for free.
Can upload files to Google Drive, Vimeo, and Dropbox.
Comes with online backup and is secure.
Fully supports mp4, avi, and flv file formats.
Very economical in price.
PROS:
Create an account, use it, share it with friends, and earn discounts.
There is no time limit for recording length.
Comes at the lowest prices in the market.
Allows full removal of watermark after payment.
Allows the user to perform audio track editing.
CONS:
The recording is limited to only 15 minutes for free use.
The free-to-use watermark cannot be removed. for this, it will need to be upgraded.
Does not guarantee money back.
PRICING:
Screencast-o-Matic This limited Best Screen Recording Software can be done for up to 15 minutes. Which is absolutely free.
If you go with their premium version. The SOLO DELUXE plan is $4.00 per month to pay for 1 year, the second SOLO PREMIER plan is $4.31 per month for one year, and the third plan is BUSINESS TEAM $5.00 per month for one year.
4. Screenflow.

Screenflow is built like a pro. That is, Screenflow Create, edit, and share video editing and Best Screen Recording Software. This Telestream specializes in products that make it easy and possible for any audience to acquire video content, throughout the digital media lifecycle, from capture to viewing, through high-end professionals for consumers. There are complete permissions, from desktop components and cross-platform applications to fully automated, enterprise-class digital media transcoding and workflow systems.
KEY FEATURES:
The simple addition of text at the top of the Best Screen Recordings in a clean way.
Add and use 'Drop Shadow' and 'Reflection'.
MP4 Compatibility and Encoding
From trimming the clip to zooming it allows adding a pan effect.
It can simultaneously record from multiple sources.
Allows easy export of files one by one.
iOS recording is completely reliable.
Can be easily managed by the fittest.
Slow-motion and animation graphics are allowed.
This makes it easy to export to a variety of formats including all the different file formats like AIFF, GIF, MV4, MOV, and MP4.
Allows publishing of videos directly to Google Drive, Facebook, YouTube, Vimeo, or Dropbox.
PROS:
Provides very good customer support. (online and phone)
High-quality video is exported.
This tool is reasonably priced.
Fully integrated with Dropbox.
CONS:
There is no drawing at the time of Best Screen Recording.
These allowed media extensions are not listed.
There is no free upgrade available here.
User-friendly and intuitive graphic interface.
Available on Mac only; Not available on PC Tablet, and iPad.
PRICING:
Paid plans start at $129, and this is one of the most priceless screen recorders on the market.
5. TinyTake.
TinyTake It's one of the fastest ways to screen capture, record video, and share for free. It is a free screen-capturing and video-recording solution manufactured by TinyTech MangoApps. But MangoApps is an employee platform that combines popular applications such as an intranet, file sharing, workspace, knowledge management, messaging, training, validation, and more into one comprehensive portal. The MangoApps platform is built to allow companies of all sizes to centralize these essential tasks into a single tool.
KEY FEATURES:
Best free screen capture and video recording software.
TinyTek is a free screen capture and video recording software for Microsoft Windows and Mac.
With TinyTech, you can capture images and videos of your computer screen, add comments
Share the recorder with others.
Easy-to-use drag-and-drop editor.
Optimized for mobile via a built-in video player you can directly upload Youtube.
Can attract attention with the highlighter. (e.g. screen is blurry)
Video records can be from 5 minutes to 2 hours.
PROS:
Recording allows long annotations to be saved locally
The entire folder hierarchy can be easily dragged. Automatically interpreting video to a zip file, demo, defect, or review of products is very helpful.
Allows full access to view videos, view images, and even read PDFs.
You can use any cloud like Google Drive.
Files with 2 GB can be shared at high speed.
It allows recording up to 5 minutes for free.
CONS:
Large video recordings are slow to load.
If there is any mistake in the video recording, then the app is totally not available in any API.
PRICING:
This device allows up to 5 minutes of Best Screen Recording Software for free. Other freemium plans can pay for Standard $29.95 per year. Apart from this, there are also 2 plans. which can be switched.
6. Icecream Screen Recorder.
Ice Cream Screen Recorder is an easy-to-use free Best screen recording software. Which enables you to record any area of ​​your screen or save it as a screenshot. Record apps and games, webinars, video tutorials, live streams, Skype calls, and more. You can record the screen with audio and a webcam. This screen recorder is available on Windows, Mac, and Android.
KEY FEATURES:
Record full screen or select the area you want to record
Record microphone and system audio.
Add text, arrows, and shapes to your screen recording or screenshot.
Record live webinars and streaming videos. record webcam
Record screen with webcam overlay.
Quickly select a recently used recording area.
Record full-screen 3D games with your PC Screen Recorder.
Add your own watermark to the screen recording.
Easily upload your recordings to YouTube, Dropbox, and Google Drive.
PROS:
Intuitive and user-friendly user interface.
Make setup and installation very easy.
CONS:
Can slow down the computer if the computer's RAM is low
Video recorders and screenshots can only be saved in limited formats
Allows up to 10 minutes of recording for free.
The floating toolbar is easily captured during the recording
PRICING:
Or the software allows Best Screen Recording for up to 10 minutes for free. With a paid plan available, you can purchase Screen Recorder Pro for a one-time fee of $109.5.
7. Free Screen Video Recorder (by DVDVideosoft).
A compact free-screen video recorder. Which is this full-featured screen video recorder and screenshot capture tool. The best part is, that it allows you to easily record your screen movements and capture anything on the screen.
The biggest thing today, it prepares you for many options. You can easily save the capture files. And with absolutely zero viruses you can use it without any hesitation.
KEY FEATURES:
Highlight your cursor path for clarity
Save in BMP, JPEG, GIF, TGA, or PNG formats
Run when Windows starts (optional)
Record screen activities, including onscreen changes
Resize, crop, and rotate output images
Free Screen Video Recorder does not contain any spyware or adware
Record video with sound (from microphone)
It's obviously free and absolutely safe to install and run
Microphone speech, mouse movement
Capture multiple windows and objects, including multi-level menus
Record your screen videos to MP4 files
PROS:
It is a community of users with over 34 million global downloads.
Record video to sound with a microphone
Any threat of viruses or malware advertisements on the internet can use a free recorder.
You can change your language during any program.
You may use the Software on up to 3 computers per license.
CONS:
This tool can only be used in Windows.
It does not support picture-in-picture.
Features have some limits.
PRICING:
This software is free. You can go with the premium version. All software tools from DVDVideosoft may purchase a license to access more advanced features. Which has three plans available. $9.95, $14.95 for twelve months, and $29.95 for an unlimited subscription.
Executive Summary.
I hope this article gives you an idea of ​​screencast and screen recorder software easily.
You think about your websites, apps, email, and everything else that makes up your digital world.
What is Screencasting?
Screencast or Screen Recording A digital Screen recording of your computer's screen Digital video recording usually includes both audio and video. On Screencasts, this is one of many different sounding types of instructional video.
This screencast has been recorded to recap our work. which is proven. Can remember the increased work forever.
True enough, you should use the best screen recording software in cases when it makes it easier to show your screen to your audience at large instead of writing text.
Screencast and screen recorder software included in our list This thorough review, after taking information from experts, we include it in our list.
If you have any kind of questions, then you must comment on us in the comment box below. so that we can be happy.
Screencasting & Screen Recording Software – FAQ
1. What are screencasting and screen recording software, and how are they different? Screencasting and screen recording software are tools that capture what's happening on your computer screen. Screencasting often includes adding audio narration, while screen recording may or may not include audio.
2. Why would I use screencasting or screen recording software? These tools are valuable for creating video tutorials, software demos, presentations, online courses, gaming content, bug reporting, and capturing live streams, among other purposes.
3. Can I use screencasting software for live streaming?
Some screencasting software offers live streaming capabilities, allowing you to broadcast your screen in real-time on platforms like YouTube, Twitch, or Facebook Live.
4. What types of audio can I include in my screencasts or screen recordings?
You can include various audio types, such as microphone narration (your voice), system audio (sounds from your computer), or a combination of both.
5. Can I edit my screencasts or screen recordings after recording them?
Many screencasting software programs offer basic video editing features, such as trimming, adding captions, or including transitions. For more advanced editing, you may need dedicated video editing software.
6. Are there free screencasting and screen recording software options?
Yes, there are free options available, including OBS Studio, ShareX, and ScreenRec. These programs offer essential recording features at no cost.
7. What are some popular paid screencasting and screen recording software options?
Paid options often provide more advanced features and support. Some popular choices include Camtasia, Snagit, and Adobe Captivate.
8. Can I record only a portion of my screen, rather than the entire screen?
Yes, most screen recording software allows you to select a specific area or window on your screen to record, which is useful for focusing on particular content.
9. Are there options for adding annotations, text, or highlighting during recording?
Yes, many screencasting software programs offer annotation tools, allowing you to draw, highlight, or add text to your recordings in real time.
10. Can I record my webcam alongside my screen recording?
Yes, you can often record your webcam feed simultaneously with your screen recording, which is useful for creating video tutorials with a personal touch.
11. How can I ensure good video and audio quality in my recordings?
To achieve high-quality recordings, use a good microphone, adjust recording settings, capture at a suitable frame rate, and ensure proper lighting for webcam recordings.
12. Is it possible to record in different video formats and resolutions?
Yes, screencasting software typically allows you to choose from various video formats and resolutions to suit your needs and preferences.
13. Can I record my screen on both Windows and Mac computers?
Yes, most screencasting software is compatible with both Windows and Mac operating systems.
14. Are there options for adding background music or sound effects to my recordings?
Yes, you can add background music or sound effects during the editing phase using video editing software.
15. Can I use screencasting software for mobile devices?
Some screencasting software is compatible with mobile devices, allowing you to capture and share what's happening on your smartphone or tablet screen.
Screencasting and screen recording software offer versatile solutions for capturing and sharing content from your computer or mobile device. Depending on your needs, you can choose from free or paid options with varying features and capabilities to create engaging video content.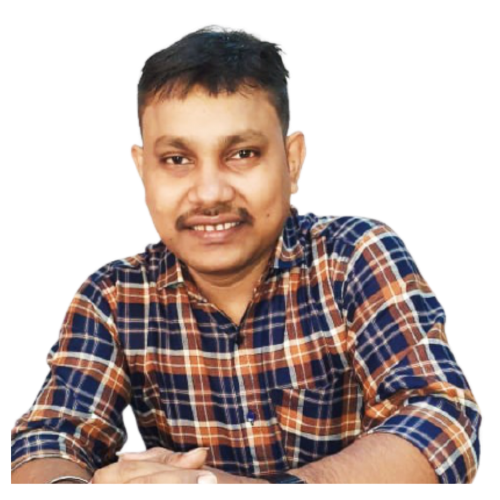 I have completed Study IT. I am a passionate blogger, sharing tips on Blogging, SEO, Business Start-up, SaaS Software Review, Google Ranking, Digital Marketing, Passive Income, Consultant, And Online Business Startup. And I work in the digital field for more than 5 years. Read my short story.