Last updated on October 2nd, 2023 at 08:40 pm
However, for some time, the business has been moving from credit card usage to minute, hourly, and day-to-day purchases. Business credit cards can give you high spending limits, great rewards like airline points and cashback, and useful tools to grow your business. I will review this in Best Small Business Credit Cards in India Of 2023.
By the end of this post, you'll have learned everything you need to know – which Business Credit Card features are essential when using business planning Of Banks, or which Business Credit Card Lowest interest in the bank is the best fit for you currently. Also is it possible to have a perfect transfer to EMI (Equated Monthly Installment) with the Bank being used?
I want to show you the top range of Small Business Credit Cards in India in 2023, available on the market today, reviewed in deep depth, and help you decide which is best for your business Credit Card.
What are the Best Small Business Credit Cards in India?
Here are my picks for the best small Business Credit Cards in India to use this year.
1. SBI Platinum Corporate Credit Card.
This SBI Platinum Corporate Card Privilege The SBI Platinum Corporate Card now comes with special privileges. This SBI Platinum Corporate Card has been loved by small and big businessmen. Global Approval Your SBI Platinum Corporate Card is accepted at 38 million outlets worldwide, including more than 3 million outlets in India. It is recognized for its highest international authority approval rate.
It is smart expenditure management that is able to track and control the expenses of its organization with the Visa Interlink expense management tool. This tool provides a user-friendly dashboard and interfaces for real-time expense management. It also provides good service to its users. Such as insurance, and emergency card replacement as a service.
Bima: It receives complimentary insurance coverage for its users on an SBI Corporate Card. This insurance covers the organization's corporate card liability against fraud by employees. Emergency Card Replacement: This SBI Platinum Corporate Card can be changed from anywhere in the world. This service does not include any distribution fee for all SBI Platinum Corporate Cardholders. You can get the card within 72 hours of receiving the request or even soon.
2. Citibank Corporate Credit Card.
This Business Credit Card is fully versatile in providing access to top-of-the-line automation and high savings, with a streamlined expense report for travel and entertainment expenses. This CitiBank Corporate Card makes it easy to manage corporate expenses with ease and convenience.
It is a powerful T&E spend management tool that benefits from the streamlined travel and entertainment expense reporting along with the strategic benefits of its process automation.
Lounge Benefits: Free access to this domestic airport lounge. For the list of lounges, you are leaving a City website and going to a third-party site. So that site may have a different privacy policy than Citi. So that you can read it well. And may provide less protection from this city site. If Citi and its affiliates are not responsible for the products, services, and content on the third-party website. But do you want to go to a third-party site?
You can get Reward Points easily. Which this Citibank assures you. Like, earn 2 reward points / Rs. 125 expenses
If you consider Citibank. So given below, you can be a partner of profit.
You can access the online statement anytime, anywhere.
It can tailor reports for enhanced control and visibility to better identify your top suppliers for negotiation.
A convenient solution for you: e.g., exemption from issuing advance foreign exchange to employees for travel, a consolidated at-a-glance statement in all member corporate cards
All card members can avail of a single payment through Check / NEFT / RTGS.
It provides a secure online bill payment facility: you can pay utility bills like telephone, and electricity with one click.
Citibank Employee benefits
You can earn as expenses. It never expires reward points with every purchase on your card. So that you can redeem your reward points instantly on air miles, hotel stays, and gift vouchers for premium merchandise and delightful experiences.
Special Savings and Offers: It can take advantage of special offers on a host of business products and services including travel, hotel stays, car rentals, restaurants, and more. It can save up to 20% on food across India.
You also get the convenience of travel. You can have easy access to local currency in a foreign country. It offers a dedicated Citibank helpdesk at 36 million merchant establishments worldwide for cashless payment online, over the phone, and for personal assistance when booking tickets for an air ticket, hotel room, or car rental person.
3. ICICI Bank Corporate Credit Card.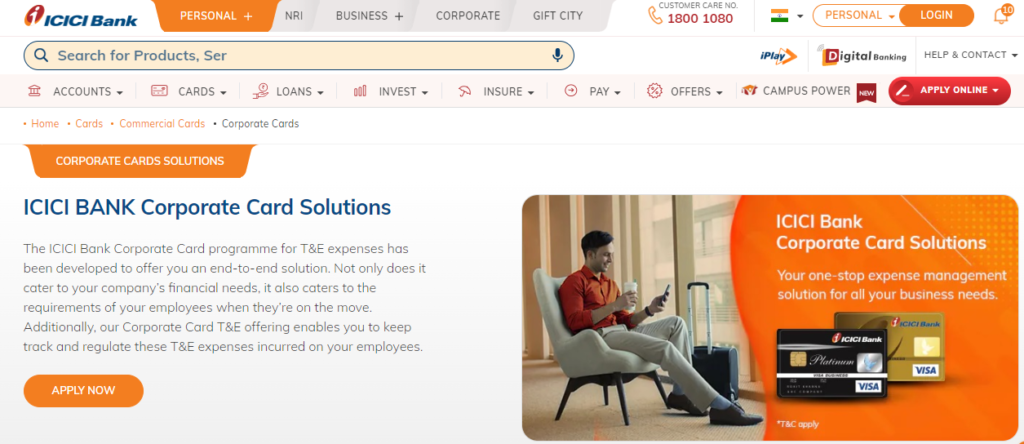 This ICICI Corporate Credit Card offers many benefits and benefits. This makes this credit card available in various types like gold and platinum. ICICI Corporate Credit Card can easily manage your business expenses on your tablet or mobile. Here I would like to discuss the features of the ICICI Corporate Credit Card, which are given below.
It provides a simple solution for the proprietor, partner, director, and employee of SME and self-employment segment, ICICI Bank Business Credit Card to manage all business expenses. And is designed to save time and effort, which can come with many benefits for you and your business. It can enjoy all things from interest-free loan terms, easy payment tracking, and record-keeping in an effortless way to make cashless purchases. This is a great way to make payments easily and simplify your cash flow.
It is issued in the name of the entity on its business credit card. It is used for the following types of payments.
Travel and entertainment expenses
Fuel power insurance and other utilities
Occupation and marketing costs
Office supplies and maintenance
Expenses other miscellaneous expenses
Vendor payment management
4. Axis Bank Corporate Credit Card.
This Axis Bank's My Business Credit Card provides an effective way to manage your business expenses. The "MY Business Credit Card" allows for its attractive interest rate, business savings plan, fuel surcharge rebate, airport lounge access, and more. If you want to apply for this "My Business Credit Card" then you can get it in a very simple way. If you apply it can pay its bills automatically through those instructions. Which helps you better manage your business utilities.
Some important features of Axis My Business Credit Card. Which you should pay attention to.
This cardholder can easily avail of 20% cashback for base fare flights on Ezeego when booking with my My Business credit card.
Cash withdrawals up to 30% of the credit limit can be made through VISA ATMs worldwide.
You can get a 2.5% surcharge refund at petrol pumps across the country by paying with My Business Credit Card.
Get fuel and get a rebate on the surcharge
Get a 1% fuel surcharge rebate on all fuel transactions in India with Axis Bank My Business Credit Card.
Valid on transactions between Rs. 400 and Rs. 4.000 only.
The service tax levied on fuel surcharge is non-refundable and there is no reward point on fuel transactions.
5. HDFC Bank Corporate Credit Card
This HDFC Bank Corporate Premium Credit Card is a complete solution for business travel and entertainment expenses. This HDFC Business Platinum Credit Card can be a great option for businessmen. And it comes with many features and benefits. Which includes global acceptance, cashback, lounge, etc.
What are the benefits of HDFC Bank Corporate Credit Card?
HDFC Bank is a better dashboard through better reporting tools. Which is very easy to trek easily.
This easy-to-use online reporting tool anywhere, anytime, can get customized reports on spending, category, and behavior on expenses for better-informed business decisions. This is how you can see the level of your employee in detail.
You can get consolidated reports for worldwide transactions. And this easy integration with existing accounting systems does not save paperless claims bills. Fast and efficient processing. Simplified reconciliation and compliance functions. More savings. Up to 50 days credit period. Better negotiation with airlines, hotel chains, etc. Allows better savings for the business.
Executive Summary.
Every small businessman uses a business credit card. And you too can take full advantage of a business credit card. It provides business credit card benefits and features. This is good in helping your business enterprise run smoothly and also takes care of employees' expenses through such tools. It enables you to regulate and monitor expenses. If offered deals and perks to you. As your business owner, it has served to encourage and entice you, which makes the deal more cozy and beneficial.
What is a Business Credit Card?
What are Business Credit Cards? The meaning of this corporate credit card can be misunderstood, but it is incorrect. Although business credit cards are designed for small businesses as well as large corporate and multinational corporations, these cards are available only to those. Those requiring a separate business account. This card helps in tracking the expenses arising from the business and keeping them separate from personal accounts.
What are the benefits of using a business credit card?
But we want to discuss you in a little detail. Then we will know which business credit card will fit us.
Multi-purpose expenses: This business credit card can be used at different places. Such as entertainment, travel, repair, and maintenance, utilities, and business operations such as.
Consolidated Payments: This means that a cardholder will be able to pay all expenses in one shot.
Online Convenience: This card can be managed online through the portal of the bank.
Dual benefits: With a business credit card, both employers and employees can benefit.
Secure Transactions: These business credit cards provide for secure transactions.
Credit Card Statements: This monthly credit card statement saves time. And it helps to efficiently track expenses and calculations.
Employee expense monitor: This business credit card can usually come with the option of increasing your spending limit.
Rewards Point: It offers reward points, cashback, discounts, and deals on all business credit cards in all banks.
Wrap.
I hope. This guide may have helped you.
If we do business. Sometimes the profit in business can be below and above. This thing happens to small businessmen. So definitely a credit card should be taken.
Buying something with a Business credit card and paying the card bill is not limited to that much. You will also earn a profit.
If you have a credit card. So you will be treated as one and the behavior of the bank goes to the rating. Such as the CIBIL score. So that your bank transactions can be checked at any place immediately.
I adjust you You should also use business credit. So that the bank cannot refuse to recognize you.
If you have any questions, feel free to leave a comment.
If you want to contact us then you can connect directly on social media now.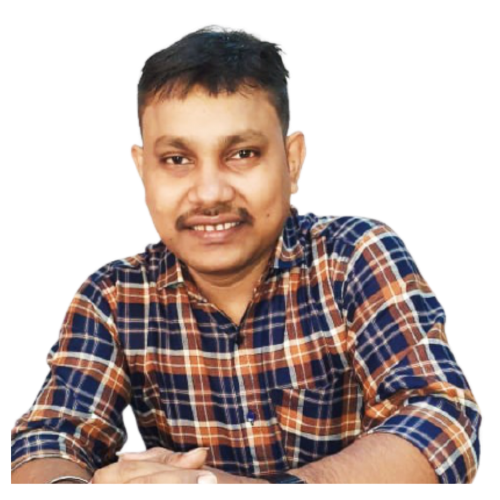 I have completed Study IT. I am a passionate blogger, sharing tips on Blogging, SEO, Business Start-up, SaaS Software Review, Google Ranking, Digital Marketing, Passive Income, Consultant, And Online Business Startup. And I work in the digital field for more than 5 years. Read my short story.