Last Updated on March 13, 2023 by Jayprakash Prajapati
In today's time, You want to increase the content of your business very strongly. As such requires a strong alignment with the sales, marketing, and Business Intelligence (BI) Tools teams. Your business data needs to have a proper source of data if simply put.
Connecting business with business intelligence Tools means promising a long-term future for your industry. So that makes it easier to make decisions in your business in a much better way using your employee data.
We compared here the best business intelligence Tools where I mentioned features and good and bad, pricing along with much more.
let's get started.
What Is The Best Business Intelligence Tools?
Here are my picks for the Best Business Intelligence Tools to use this year.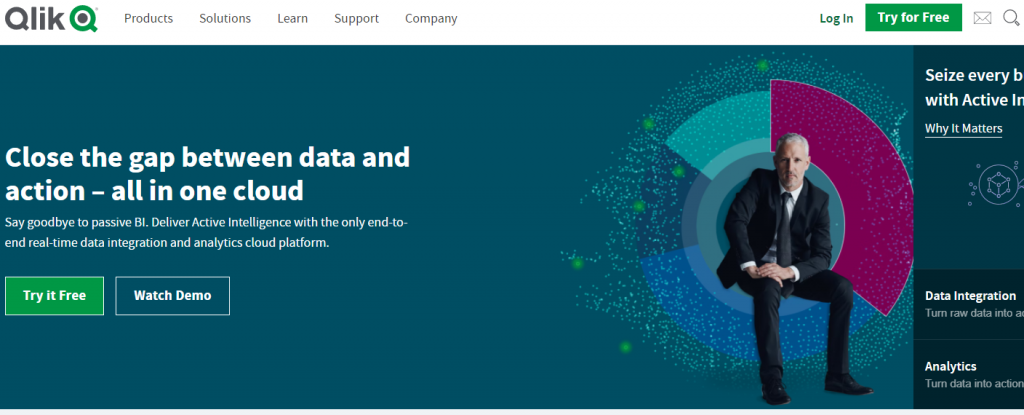 OVERVIEW:
Qlik provides this complete BI suite. And comes with end-to-end real-time data integration and an analytics cloud platform. And with the help of BI and analytics, it helps to grow your business. This makes it easy to use for the beginner.
KEY FEATURES:
It allows working on Windows and macOS platforms.
Capable of delivering end-to-end real-time data integration and proactive Business Intelligence tools with an analytics cloud platform.
Brings your business data and analytics into real-time, AI-powered, collaborative, and actionable.
It helps all the organizations with the process of proper management and optimization of the data warehouse.
It empowers you to empower your employees to make smarter decisions through leading-edge data literacy training and services.
PROS:
It serves up security and compliance certificates for your business content.
You can custom embed any content.
You can easily program automatic actions.
You can easily export your content to any data with the help of a filter.
It is capable of handling large materials.
Finally: You can maintain a snapshot and data history for your business worry-free
CONS:
Some coding languages can be very confusing.
According to the user, there is a slight problem when exporting large amounts of data.
PRICING PLAN:
Qlik's beginner plans start with free shipping. Plus the paid plan starts at $30 per user. These include best-in-class advanced analytics, associative engine, augmented analytics and group collaboration, etc., and for Enterprise SaaS you can directly contact their customer representative.

OVERVIEW:
NetSuite SuiteAnalytics It provides built-in and real-time reporting, key indicators (KPIs), and search dashboard in terms of reporting and dashboards. And it, along with embedded analytics, enables companies to conduct actionable analytics. Lastly, it supports taking decisions at the right time. Capable of providing accurate future data to your business.
KEY FEATURES:
Optimized Dashboard: With these tools, role-based dashboards help you increase productivity by displaying actionable insights in the form of KPI reminders, tasks, and visual report snapshots, and it also supports drag-and-drop to create plugins You can take it from one place to another according to the option of your experience.
Optimized reports: this tool drills down its capabilities so your business users can quickly and easily take more detail from the summary level, and more can receive real-time information to actively manage for better results Is.
Key Performance Indicators (KPIs): The KPI service makes it easy for you to present business-critical information at a glance, to save your employees time. Fully optimized in order to improve decision-making in your business and promote more business.
Third-party systems: This tool allows large amounts of data to be sent to other systems. Which provides drivers such as ODBC, JDBC, and ADO.net for connectivity to various applications.
PROS:
It provides role-based dashboard KPIs with tools.
It also supports drag-and-drop.
You can send large amounts of data to third-party systems.
It provides drivers like ODBC, JDBC, and ADO.net for connectivity.
You can tune into the NetSuite podcast for our latest perspectives on analytics and reporting.
They have prepared a guide on every topic to know the settings of the NetSuite tool's tool.
PRICING PLAN:
NetSuite's plans start with a free one, to use it for free, please sign up by filling out the form, and for a paid plan, you can contact their customer representative directly.
OVERVIEW:
Tableau This is a great BI tool. It is a very powerful data search and exploration application for desktops that is capable of answering any of your questions quickly. Furthermore, it fully helps you embed and optimize it from understanding the data to performing analytics on your product data.
KEY FEATURES:
It is fully capable of quickly locating your business or any employee data with the help of the tool. And the added drag and drop tools make it easy to use any surface from visualizing any data to locating different scenes and even combining multiple databases together with ease.
This tool comes compatible with tablets, desktops, and smartphones. This tool is designed to keep all points in view.
It automatically converts location data into very amazing maps with 16-levels of tools. And it is able to map the data according to the latency.
It offers BI as well as live chat, where you can get a little deeper understanding of upcoming offers.
PROS:
You can combine the graphics on your PC or laptop to start studying a large dataset.
This is a great group with over a million members to share and learn from your thoughts. Where it allows you to grow and inspire.
This tool allows you to connect third-party sources such as MS SQL, Oracle, MS Excel, and Google Analytics.
There is no one way to speed up your tableau journey, but all roads pass through the tableau community.
With this tool, you can test for free.
PRICING PLAN:
Tableau planning starts with freebies. apart from this, the following different plans are available below the paid plan.
On-premises or public cloud:
Tableau Creator – for $70 per user, per month.
Tableau Explorer – for $42 per user, per month.
Tableau Viewer – for $15 per user, per month.
It is fully hosted by this tool:
If you want to buy personally, you can buy for $70 per month. And the addition includes add-ons for Tableau data management for $5.50 per user per month and $3 per user for their server management.
OVERVIEW:
SAP Business Intelligence tools It is the best Business Intelligence platform with access to data visualization and scalable real-time insights. In addition, there is a K-centric suite of data reporting, visualization, and sharing. As an on-premises BI layer for SAP's business technology platform, it transforms data into useful insights.
KEY FEATURES:
Role-Based Dashboards – These BI tools can provide information to decision-makers in creating interactive, role-based BI dashboards.
Self-Service Features – This tool enables business users with intuitive, self-service visualization tools to tell stories, from combining data to analyzing trends.
Real-time Analytics – Allows integration of this tool with SAP Business Warehouse and SAP HANA to enable real-time analytics in real-time with the help of this tool.
Cross-Enterprise Sharing – You are able to share and assist decision-making across your organization by communicating insights into your business with your coworkers.
PROS:
It comes with real-time Business Intelligence tools.
This device is proven to increase the autonomy of the user.
This tool is personal in use, simplified, and dynamic.
It supports multilingual reports.
You can analyze the complex data of your business to help you understand it more easily.
It comes with a free demo. And can even do customized pricing.
PRICING PLAN:
The SAP Business Intelligence plan starts with a free demo. also when it comes to the paid plan, you will need to fill up a form with details like the number of employees, company name, etc. to extract the individual pricing details.
5. Sisense.

OVERVIEW:
Sisense is a BI software and analytics platform. And it strives to drive meaningful change by making analytics easier for businesses everywhere. It provides an AI-powered platform. Where you are able to take the decision to make you better for your customers and faster for your company.
Sisense analyzes over 2000 top companies. This company is part of the DNA of its customer success. And it partners with you every step of the way to unlock BI analytics capabilities with exceptional business value. and however, it has proved to be a huge game-changing user of the device.
KEY FEATURES:
Simple format for in-depth data analysis – It provides a simple process to unlock data from the cloud and on-premises with the help of tools. So that you can easily analyze the data to get many better results in your business.
Create customized experiences – This tool allows you to test yourself for free, so you can create custom experiences to speed up workflow, as well as automate multi-step actions with ease.
Simple and Amazing Dashboard – You can analyze data on your data with a few clicks. that is, it also makes it easy to search for some complex content.
Grow your business – Expand your business data at scale with the help of an open cloud platform through wonderfully in-depth technical partnerships.
PROS:
you can also submit your own open-source design.
This tool lets you receive notifications on your smartphone, writeable, tablet, and mobile app.
Sisense It is completely capable of handling your huge amount of data.
You can input data at any time on the go.
You can create custom analytical experiences based on the format of your data,
This tool does not force you to embed Business Intelligence tools in any one place. You are free to embed Incognito anywhere.
PRICING PLAN:
Sisense provides free testing for starting this plan. also for the paid plan, you can get price quotes based on your project type as well as the number of users, project timeline, data volume, etc.
6. ClicData.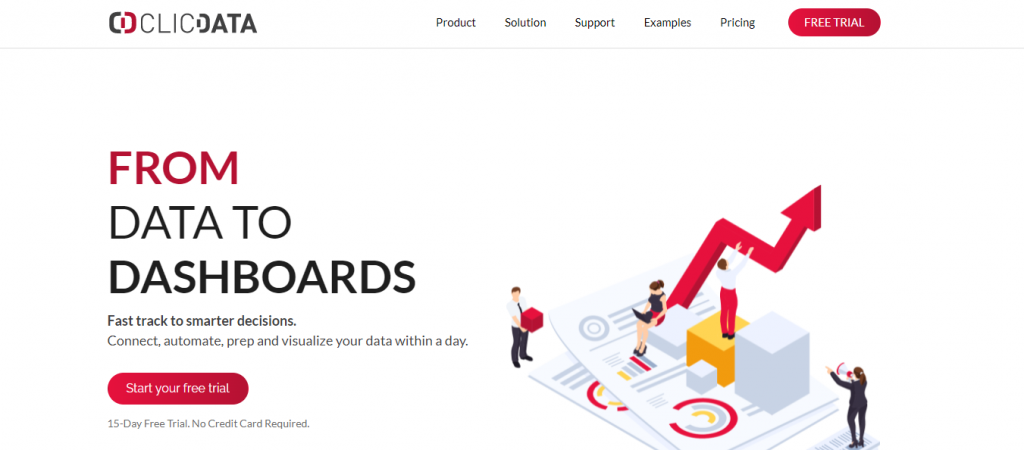 OVERVIEW:
ClicData Business Intelligence tools makes it simple and most accessible to all types of businesses. And this tool is ranked leading in the TEC Insight Business Intelligence Report.
Overall out of all these devices, it is designed a little differently. This agile and innovative technology empowers data-driven teams to easily handle any data and add visualizations to it.
ClicData starts with two formats, first self-service BI, second full-service BI. Which includes different features for it.
Self Service BI – The ClicData provides you all the resources to be self-reliant and have your dashboard up and running within a day. And with that, you get chat support, webinars, tutorial videos, and documentation to make it easy to get started with help.
Full-Service BI – Our team of business analysts is fully at your service to ensure the success of your BI tool implementation.
KEY FEATURES:
Easy Data Connection – This tool is able to connect and centralize data from over 250 sources in the built-in data warehouse to make your business data a single source of truth with the help of this tool.
Easy Data Management – ​​You can prepare and automate your data refresh with this tool. Plus its pure join, merge, combine, and consolidate with ETL features that allow full access to it.
Data Visualization – You can visualize interactive and automated dashboards with the help of KPI tools. Which provides you with more than 70 visualization widgets.
Tools Easy Collaboration – This makes it easy to even collaborate with your team or customers by linking, exporting, or sharing live and dynamic dashboards via email.
PROS:
You can do a 15-day test for free.
you can connect data from more than 250 sources in the built-in data warehouse creating a single source of truth.
You can refresh the data with a single click.
It provides a KPI facility.
It comes with customer support. (Live Chat, Email, etc.)
PRICING PLAN:
ClicData plans start with 15-days of a free trial. Apart from this, the paid plan given below is different which is given below.
Personal – $73 (paid annually per month) Includes 5 users.
Team – $247 (yearly paid per month) Includes 20 users.
Business – $481 (yearly paid per month) Includes 50 users.
Enterprise – Provides this option. That means you can directly contact customer support as per your requirement. and with Includes 50 users.
7. MicroStrategy.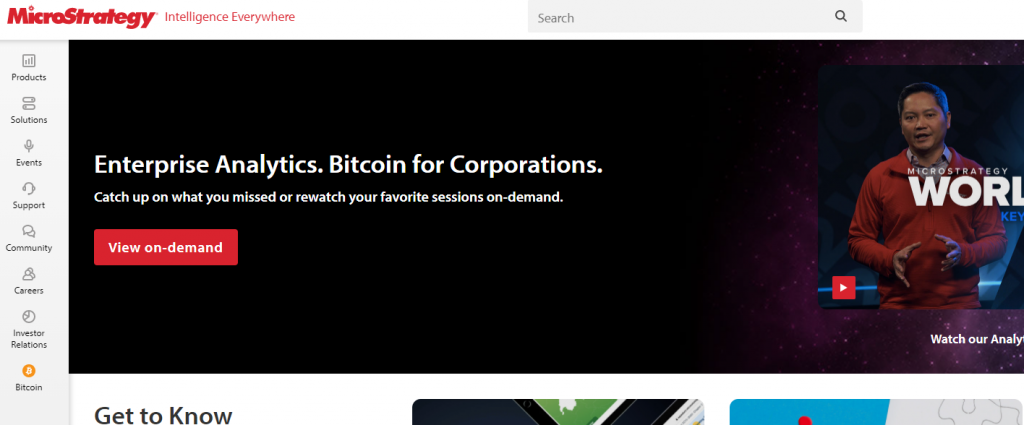 OVERVIEW:
MicroStrategy This is a large industry enterprise-level business analytics tool. Where it allows you to deliver Business Intelligence tools everywhere, with modern, open-mindedness. And with the best-in-class platform that delivers enterprise-scale sub-second response, you're able to quickly deploy consumer-grade BI experiences for each role, with any device you own.
KEY FEATURES:
Enables you to analyze your company's data based on every location. And with the help of this tool, pharma customers can expand and enrich their BI platform to increase ROI and facilitate self-service analysis.
MicroStrategy API – This tool helps you to use a rich set of APIs and SDKs to boost your business revenue with Embedding Analytics, MicroStrategy's high adoption rate, low development cost, etc. To maximize your chances, this tool does the right thing.
Nice Dashboard Design – It provides a very nice dashboard of the device. Where we make trekking easy with our revenue, loss, profit, and much more.
MicroStrategy Analytics – This tool enables OEMs to fully support the full DevOps pipeline. this allows us to improve on value, in addition to providing available resources to focus on value.
PROS:
You can easily embed actions in no time with instant insights and a few clicks.
You can use drag-and-drop tools to insert them into the built-in widgets. Grab and drop is not limited to this, apart from this you can easily export your sales to digital marketing reports.
Using ServiceNow hyperintelligence, you can set a realistic time frame for your employees to easily unlock the investments in your data.
You can take advantage of the facility of self-service analysis to increase your firm's customer ROI. also, you can expand and enrich your BI platform.
CONS:
Users say that this product is not primetime ready compared to other peers.
It takes some mathematical work.
PRICING PLAN:
To start the plan of MicroStrategy, you can register with it for free. Apart from this, there is no paid plan available. For this, you can directly demand from them by filling the contact foam.
8. IBM Cognos.
OVERVIEW:
IBM's Cognos is the best Ottawa-based AI-infused instrumentation tool here. These tools are your trusted Watson co-pilot for very smart analytics and confident decisions.
Watson-powered BI is the most advanced BI solution using IBM's tools from Cognos. Which is completely in vain. You can connect your company data cleanly and easily. plus, by creating stunning data visualizations, you can help show where your business is today, so you can easily make predictions on your data.
KEY FEATURES:
Automated Data Exploration – This tool lets you uncover hidden trends and drivers of AI, so you can get the facts behind your data, and provide real-time insights.
Visualize on Attractive Data – These tools allow you to create powerful visualizations, tell the story of your data, and share insights via email, Slack, or mobile apps.
Attractive scale and integrated – You can bring together advanced analytics and data science in daily work and take advantage of new opportunities.
Data Security – You can customize self-governing analytics to suit your needs so that you can protect your data from damage.
Accelerate data preparation with AI – This allows you to use built-in AI to find the optimal tables for your model to accelerate and refine data blending.
PROS:
You can get real-time updates on your smartphone.
Cognos with Watson allows you to try out Analytics at no cost for 30 days.
It provides Q&A sets for those in need of technical or general help.
You can make more confident decisions about data discovery and visualization to automate the preparation of your data.
It performs predictive analysis and seasonal forecasting.
It allows you to import data such as CSV files, spreadsheets into the cloud, etc.
Cognos provides control access to multiple points based on roles.
CONS:
It seems a bit difficult to use.
This is an expensive tool.
PRICING PLAN:
Starting with IBM's Cognos plan, it offers 30-days of a free trial. Apart from this, it also offers paid plans which are given below.
Standard – $10 per user, per month
Premium – $40 per user, per month
Enterprise – Quote Based Planning
It is a fully managed solution for up to 200 users, and you can upgrade licenses based on user needs for reporting, data discovery and upgrade, infrastructure, dashboarding, and scaling in a tenant. No minimum quantity here, keep paying as you grow.
9. Microsoft Power BI.

OVERVIEW:
Microsoft Power BI Get meaningful insights into your data quickly. This tool is a web-based one. Which helps you share as you explore actionable insights using data visualizations. This tool allows for Excel integration and custom data to be added with built-in AI tools for a pimple with this tool.
KEY FEATURES:
Attractive Data-Driven – This tool allows you to use analytics to enable everyone at every walk of your organization to make confident decisions with up-to-the-minute.
Get Self-Service Analytics – With the Power BI tools analytics platform, it can address the added complexity, cost, and security risks of multiple solutions. Which extends from individuals to the whole organization.
Dashboard Smart Tool – Makes BI data analysis easy, and enables you to discover and share meaningful insights with hundreds of data visualizations, tight Excel integration, built-in AI capabilities, and pre-built and custom data connectors.
Analytics Data Protection – Take Your Data With This Tool It protects your data with industry-leading data protection capabilities including end-to-end encryption, sensitivity labeling, real-time access monitoring, and more.
PROS:
Power BI This is one of the most amazing tools. Where download option is provided for free.
It helps to create this nice visual cool report to improve your business.
you can create awesome reports enriched with visual analytics whenever you want, the way you want.
It supports programs in a total of five languages ​​such as SQL, Power Query, R, Python, and DAX.
CONS:
user Says: More When Using Modal In Web Browser
It seems a bit difficult to learn and understand the DAX and M codes.
PRICING PLAN:
The plan starters of Microsoft Power BI come with free service. apart from this, when it comes to paid plans, it offers three plans which are as follows.
Power BI Pro – $9.99 per month.
Power BI Premium Per user – $20 per month.
Power BI Premium Per capacity – $4,995 per month.
2 per user Add-on is available for users with Power BI Pro and Microsoft 365 E5 licenses to step up to Power BI Premium for USD10 per user/month.
10. Looker.

OVERVIEW:
Looker BI is one of the most intelligent tools for small and large businesses. It provides a new smart approach to business intelligence tools by Google Cloud. and allows you to combine all of your data content for a more detailed view of your company's metrics.
You can allow insights into your work as you relate your various data sources to each other.
With the Looker tool, you can get a 360-degree celsius view of your customer.
This also makes it easier for you to gain a deeper understanding of your customer's interactions with data integrated across touch-points. This simply means that your accurate content data makes you able to have the confidence to invest where it matters.
KEY FEATURES:
Make Data Attractive and Experience At Business Speed ​​- Together this tool allows you to create customized data-driven interactives and experiences, using every component and module to create complex, and powerful data products in a reusable format.
Speed ​​up business with packaged experiences – It can be removed from the appliance marketplace with composable packaged experiences for days, weeks, and months of growth.
Embedded Analytics – You are free to embed analytics anytime and anywhere, while you receive your customizations. And provides plug-and-play tools for this.
Provide insights with multiple employees – no matter where you are, and what time you decide, navigate easily with intuitive guidance to help you find all the information you need can do.
PROS:
You can integrate teams around your reliable, centralized data.
You can adapt to over 100 pre-built LookML modeling patterns for each of your development facilities.
You can design custom applications according to your needs with the help of the Looker tool.
You can easily share data-rich visualizations anytime, anywhere from any device.
You can make your informed data-driven decisions, and you can share your findings.
Big data analytics or a 360° view of your customers with the help of Business Intelligence tools can help. Even you can interact directly with their data experts.
CONS:
This appears to lack advanced formula formulation compared to other tools
It takes a lot of upfront investment.
It does not come with a free trial.
PRICING PLAN:
The start of the Looker plan is based on your company and the number of its employees. For which you can directly contact their customer executive by filling request demo, along with it provides you a lot more features like customer support with live chat, internal embedding, and API access.
11. Zoho Analytics.

OVERVIEW:
ZOHO Analytics This modern self-service BI and analytics is a great platform. And it looks at your data very intelligently. You can easily connect your data, prepare and analyze it and make your content amazing and visualization. Even to discover the hidden insights you can get in just a few seconds.
This is a special feature of the tool. Which is capable of helping you immensely, you can practically turn your raw data into your dashboard. It even makes it easy for you to track your key business metrics. you can identify and predict your data whenever you want.
KEY FEATURES:
Transform business tasks in minutes – With this ZOHO BI tool, you can practically turn your raw data into reports in a dashboard with a few clicks. He can be tracked, identified, and predicted with everything.
ZOHO Data Integration – This tool helps you to do analysis with more than 250 data sources at any time and anywhere you want. eg. Can connect with data like web URLs, databases, feeds, files, etc.
Attractive Business Apps – This allows them to connect with more than one business application with the help of this tool, ie, Help Desk, IT, HR, Marketing, Sales, and allows them to connect with other readymade connectors.
Enrich business data – This allows you to enrich your company's data with ML/AI-powered transforms, eg. Typically allows sentiment analysis, keyword extraction, language detection, and more.
Drag and Drop Tools – You can create a dashboard with an attractive interface with the help of free drag and drop tools to deactivate and activate any report you want.
PROS:
You can connect and blend data at any time and from anywhere.
You can analyze the data using the self-service data preparation and management module.
Then you can boost your analytics with AI.
You can analyze your data visually.
You can share the insights with everyone in the form of stories.
Embedded BI tools allow you to embed a low-code, no-code model or you can set up an enterprise analytics portal for your brand.
You can create meaningful reports and dashboards with an intuitive drag and drop interface.
CONS:
Says a user, Zoho Analytics has automatic triggers when a data threshold is not achieved.
PRICING PLAN:
To get started with ZOHO Analytics, it gives you a free 15-day test service. (with 2 users and 0.5 Million Rows) & (without credit card details) and also offers paid plans. Which is the following.
STANDARD PLAN – $25.00 per month (5 Users and 1 Million Rows)
PREMIUM PLAN – $55.00 per month (15 Users and 5 Million Rows)
ENTERPRISE PLAN – $208.00 per month (50 Users and 50 Million Rows)
Note, additional users: $2.70/user/month, billed annually, Viewers: $1.67/month, billed annually (minimum 25 visitors)
12. Oracle Analytics.
OVERVIEW:
Oracle Analytics This is a business intelligence BI tool. while serving a lot at once, BI tools help you manage your data, such as visualization reports, integration, etc., keeping everything on one platform.
Oracle Business Intelligence tools to help you discover insights. It empowers us to foster a data-driven culture with powerful, visually stunning analytics.
With the Oracle Analytics Platform, you empower people across your organization to make faster, more informed, and mobile-enabled business decisions.
KEY FEATURES:
Attractive Oracle Analytics Cloud – This tool lets you capture every aspect of the data in your business. It doesn't leave a chance to feel any lag after connecting to the device. Be it finance, marketing, human resources, or supply chain, analytics provide a platform for making relevant and informed decisions.
Oracle Analytics – Helps you integrate ML and AI into your company's data so that you can enrich LOB decision-making and predictive capabilities.
Oracle Analytics Cloud – This tool takes your data very seriously, placing your data directly on the cloud. Simply put, putting your employee's data in primary locations enables you to bridge all the barriers between the data and the system.
Mobile Device Exploration – Enables your mobile device with the tools it offers all the capabilities it offers, including a fully functional dashboard design.
PROS:
You allow yourself to fundamentally change the way everyone interacts with data and technology.
You can easily share results and reports to support your company's data.
It is very serious about all the security of your data. For which it provides pre-built analytical data models.
These ML models come complete with predictive analytics capabilities.
CONS:
If internet connectivity is down from your side, it may hinder your proper functioning on this platform.
PRICING PLAN:
Oracle Cloud offers a free 30-day trial starting with the plan. And apart from this, talk about the paid plan, you can directly contact the customer representative as per your requirement.
Oracle Cloud Plan Go a little higher – US$300 in free credits. Access to a wide range of Oracle cloud services for 30-days including database, compute, analytics, and container engine for Kubernetes. Comes with up to 5 TB of storage for up to eight instances of all available services
13. Domo.
OVERVIEW:
Domo delivers the business's cloud BI service with incredible speed, agility, and scale. The tool helps to seamlessly convert dark data into actionable data and visualizations into business-wide applications.
Enables you to manage requests for reporting on your company's data in less time, as well as spend more time on value-added work, including data science.
You can self-service your business's data needs and empower business with intelligent beautiful dashboards.
KEY FEATURES:
Connect to any data source – this tool lets you live in the cloud, on-premises, or a hybrid between on-premises and the cloud, public or private.
Attractive Port Scheduler – You can schedule specific reports for your teams and professionals at any one specific time and date.
Superstar Productive – Spend time here on strategic data analytics, and it's not just about data controversy.
Domo Appstore – This tool provides you with many pre-built apps and connector API services to create your own custom app.
PROS:
You can provide instant mobile access anytime, anywhere.
You can create customized data collection and dashboards as per your requirement.
Access the data while maintaining engineering rigor and compliance.
You can upload large data sets. which it allows. can import such as XML, ODBC, Excel, etc.
Wow, customers with high-profit BI can deliver career-building results in record time.
CONS:
All their guides are fine, but it's a little hard to follow
PRICING PLAN:
Domo's plan can be started for free, and the paid plan also gives you the option of custom-based pricing. For this, you will have to contact their sales team.
Executive Summary.
I hope this article has helped you in choosing the best Business Intelligence tools.
Why should we use the tools of business intelligence? If we take our business data intelligence seriously. so that means simply. That should use business intelligence tools.
It has the power to turn your raw enterprise data into visual reports or insights. It is not limited to that. also enhances corporate decision-making, and helps inform strategy. Even provides direct analytical power to users across the organization.
Managers and employees must encounter such concepts when assessing an organization's need for BI infrastructure and evaluating actual BI tools.
Connecting business with business intelligence Tools
means promising a long-term future for your industry. So that using your employee data enables you to make better decisions in your business.
If you have any kind of questions, then you must comment on us in the comment box below. so that we can be happy.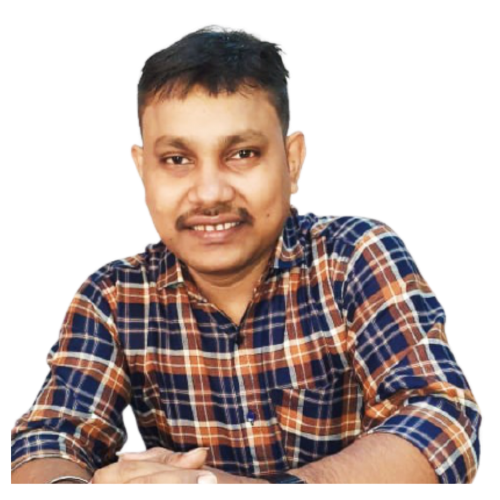 I have completed Study IT. I am a passionate blogger, sharing tips on Blogging, SEO, Business Start-up, SaaS Software Review, Google Ranking, Digital Marketing, Passive Income, Business Leadership, Business Coach. And I work in the digital field for more than 3 years. Read my short story.