Want to jump straight to the answer? The best Best HCM Software for most people is SAP SuccessFactors, BambooHR, or Workday HCM.
Human capital management is very important to us in our business, and as important as it should be. I will list the best human capital management software for those people, usually including different tools and features, and prices. So that you can choose the right human capital software according to your requirement.
By the end of this post, you'll have learned everything you need to know, which Human capital management features are essential when using Recruitment, onboarding, and subsequent workforce, or which Human capital management tools is the best fit for you currently, also is it possible to have perfect integration with the tools being used?
I want to show you the top-range HCM Software in 2023, available on the market today, reviewed in deep depth, and help you decide which is best for your business.
What Is The Best HCM Software.
Here are my picks for the Best HCM Software to use this year.
1. SAP SuccessFactors.
Best For Performance Review.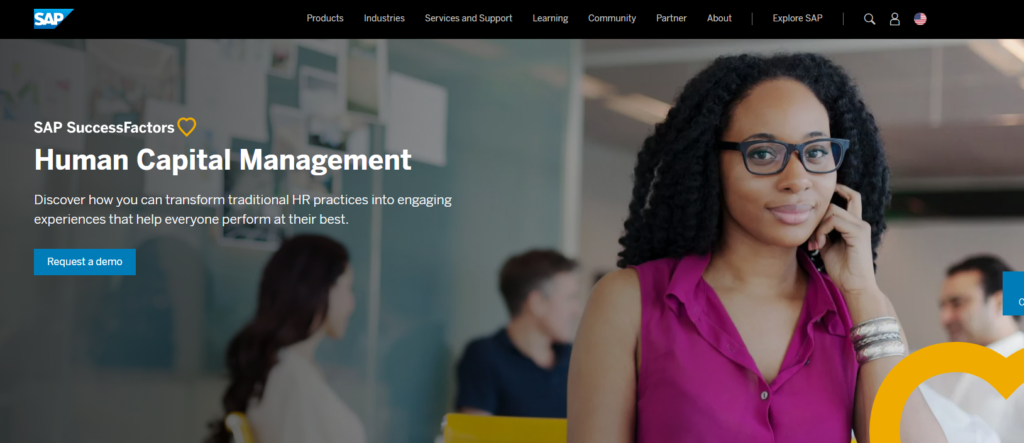 SAP SuccessFactors This software provides a personalized experience and strategic solutions., and you can access this device from anywhere with the help of your mobile device. and it makes it easy and simple for your employees to use. And your employees can have full access to this tool. This in total strengthens the efficiency of the system.
SAP is the market leader in enterprise application software, helping companies of all sizes and all industries run at their best.
With this software, you can easily track your employees, what they need, how they are performing, and what motivates them. You can keep your HR department at the center of the strategy.
Key Features:
With a global solution for cloud payroll, core HR, benefits administration, time tracking, and HR service delivery, you can support your employees no matter what. Where are they working?
With the help of this HCM tool, you can build the skills and agility your employees will need in the future. Such as performance, compensation, recruitment, onboarding, learning, succession, etc.
It allows exporting multiple reports, allowing you to gain data-driven insights into your workforce, as well as examine trends with logo analysis. With it, you can use powerful analytics to improve strategic workforce planning.
Pricing:
To start planning for SAP SuccessFactors you will need to fill out the "Request a demo" form directly. You can talk as per your need. Because this website does not disclose the pricing details. Beyond that, annual memberships can start from $85.00 per employee but are highly customizable according to different user needs.
2. BambooHR.

BamBooHR It is a set of Human Capital Management (HCM) practices, and it is superbly designed for small and medium-sized businesses. And it comes with a third party. It includes an applicant tracking system and HRIS integration features.
It is what you are organization uses to develop, recruit, manage, and optimize employees to increase their value to the company. which is a daily required system.
After it serves as the database of the employees, you can keep the records in your portal. You can start on it whenever you want according to your requirement. Including leave management, working hours, etc., making it easy to export reports. Which is the most important comprehensive solution.
You can get instant analytical reports from anywhere, anytime with the help of these tools, which helps in quick strategic implementation.
Key Features:
With the help of these tools, you can group your employees, organize your company for recruitment, development, recruitment, and optimization of employees and keep them all in one group. Which makes it easy and simple.
Helps you meet your chosen goals with BambooHR. This is what makes the difference when you think of the human capital resources standing outside your company. Instead, think from the inside, that is, whether you are building to streamline your recruitment process, and so that the future of your employees can take the right flight.
Human capital management includes a wide variety of administrative and strategic practices and processes:
I would like to highlight some more features below.
Workforce Planning, Compensation Planning.
Recruitment & Recruitment, Onboarding.
Training, Time, and Attendance.
Payroll, Performance Management, Workflow Management.
Reporting & Analytics, Compliance.
Employee Service and Self Service.
Benefits Administration, Retirement Services.
Pricing:
BambooHR plans start with a free trial. Also, the start of the paid plan depends on the number of your employees and company visiting requirements. For this, you have to directly fill out the "Request Demo" form. Talk keeping in mind your needs. Because this website does not disclose the pricing details.
3. Workday HCM.
Best For Workforce Management.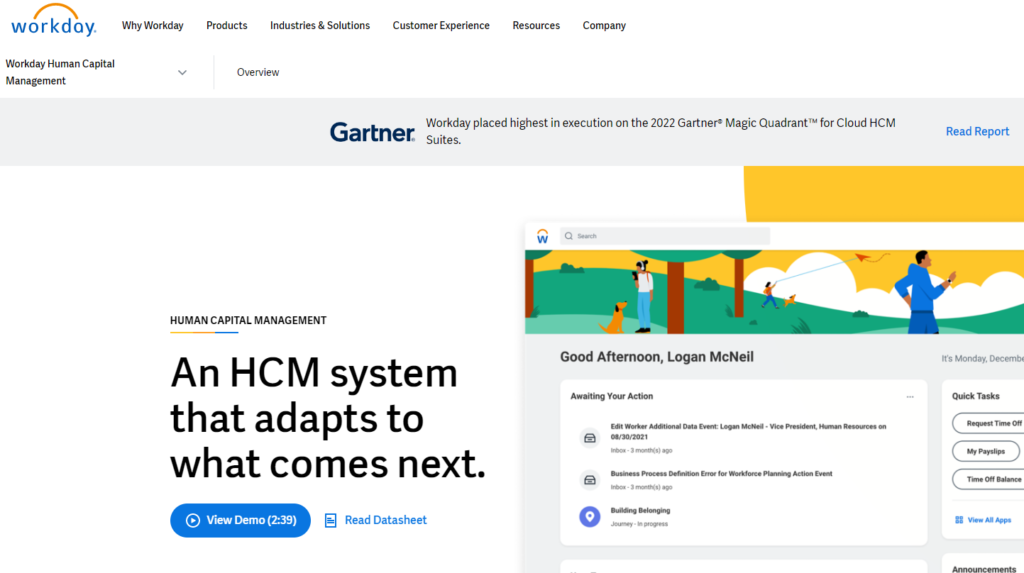 Workday, This software (HCM) is cloud-based. It makes it very easy to take any decision. Enables the export of any report of the employee. So that it becomes very easy to analyze. It's an HCM system that adapts to what's to come. Which has the power to change the human resource in a fist.
Where is your workforce, how are they, and where are they working with tools that help you fly by changing the skills your employees need? With this how you adapt to your future is what this tool Human Capital Management (HCM) empowers.
It provides machine learning to you from its library, to help you and your employees to understand the skills, because it takes into account the different lists of requirements so that the employee takes each requirement very seriously. Could And can also manage it.
From helping you listen to employee feedback to providing the experience your people want, we help you keep your employees happy.
Key Features:
This tool augmented analytics to provide insights from vast data sets, explaining what is happening, and why in stories.
From payroll and compensation to shift time tracking, scheduling, benefits, and more, Workday HCM provides seamless workforce management.
I have highlighted some important features below.
Time tracking and physical time clocks.
Talent sourcing for internal and external employees.
Recruiting Analytics.
Optimize your workforce.
Flexibility to set the right rewards.
Benefits Administration and Management.
API Integration.
Enables multiple payroll calculations.
Supports the creation and storage of training materials.
Pricing:
At the beginning of the Workday, the scheme will have to directly contact their sales team, where you can deal according to your requirement by keeping your point. Because this website does not disclose the pricing details.
4. Rippling.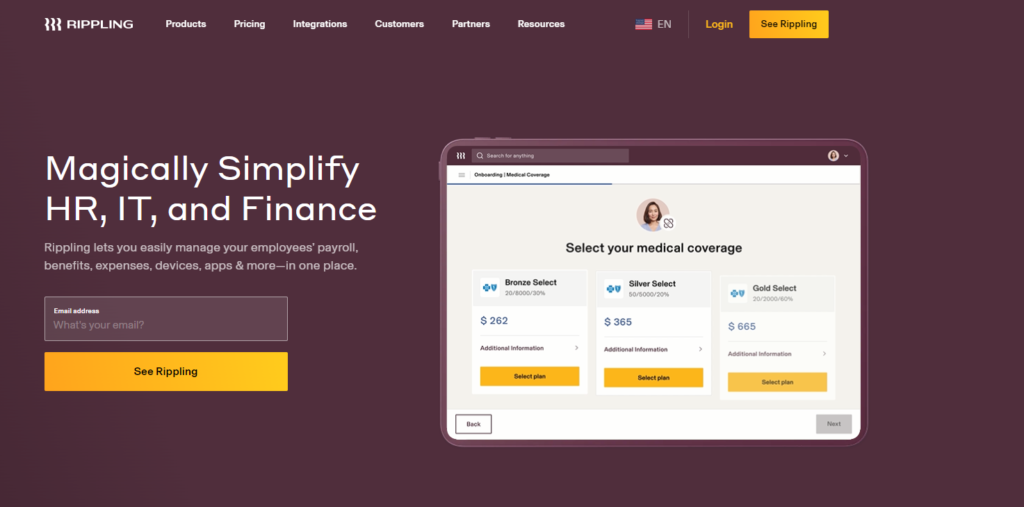 Rippling It is a platform built globally to run Finance and IT along with Human Resources. Where you can easily manage your employees' payroll, devices, benefits, expenses, apps, etc. all on one platform. This equipment is mostly used in America. More than 2000 of his team work with him.
With Rippling's fully distributed workforce around the world, it lets you hire your team, pay upfront, and manage everything on a single system to keep everything running.
It allows you to easily automate your compliance tasks globally, plus it is simple and straightforward to use the tool.
Key Features:
With this tool, you can hire other employees with everything you need, at any place and at any time.
This tool is on the go ie, you can pay for this tool from any location in your own currency within minutes. For which you do not need to convert any currency.
Pay any or all of your employees and contractors around the world without waiting on conversions or transfers.
This tool covers the third party, you can manage HR, Finance, and IT in one integrated system.
No matter which country you belong to, what is the local law of that country? This Rippling is able to understand and follow the relevant laws.
Pricing:
At the beginning of the rippling HCM, the scheme will have to directly contact their sales team, where you can deal according to your requirement by keeping your point. Schedule a 30-minute product demo with expert Q&A. Because this website does not disclose the pricing details.
5. Ceridian Dayforce.
Ceridian has developed this cloud HCM software, which is capable of helping people and organizations reach their full potential. This system is built as an always-on platform. Built as a single system with powerful data, you empower your people to reach their full potential. Straightforward and simple to use. This tool is flexible and intuitive.
Ceridian keeps its customers always up to date, making it count every moment with an HCM software platform that continuously calculates payments, distributes data, and enables multiple customer integrations.
You can make better decisions with this tool to create your true worth. You are able to plan your workforce, no matter where your employees are, or what they are doing. And how many hours is working? This tool's powerfully data-driven insights can help you see around corners and predict the future.
Key Features:
You can attract top talent to help drive any competitive advantage in your company. Maintain, and can engage. With this, you can empower your people to reach their full potential and create a winning culture and company.
With Ceridian HCM providing a wide range of services including managed payroll, payroll tax filing, and much more, this tool is sure to help you focus on the right things.
You can empower and engage your frontline employees while effectively managing labor costs and compliance across your workforce.
A complete solution that helps you transform every area of HCM
Pricing:
With Ceridian, Discover how Dayforce enterprise HR, payroll, talent management, benefits, and workforce management platform makes work life better.
At the beginning of the Ceridian HCM, the scheme will have to directly contact their sales team, where you can deal according to your requirement by keeping your point. Because this website does not disclose the pricing details.
6. ADP Vantage HCM.
Best For Process Integration.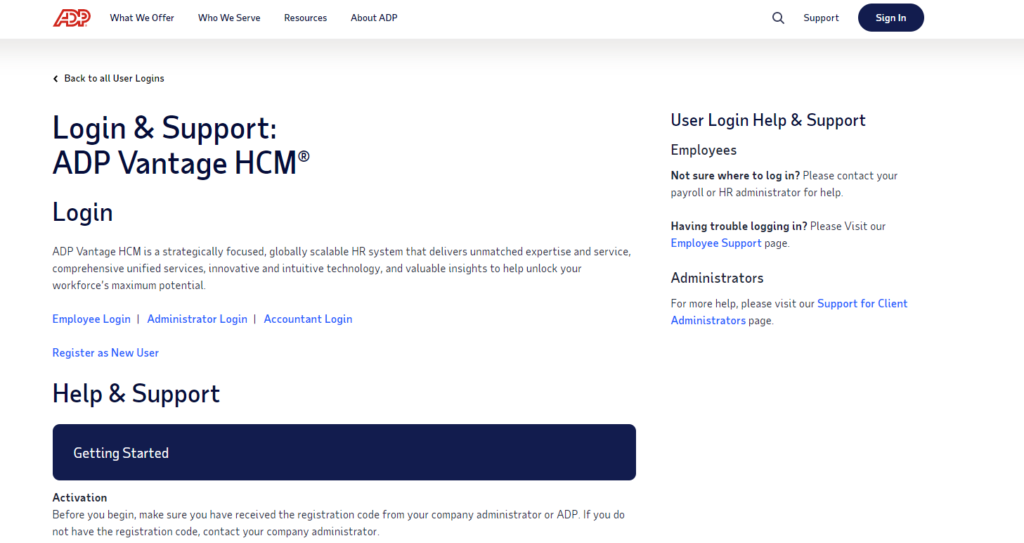 ADP Vantage This is a talented and flexible on-premises human resource management suite. This strategic human capital management time and benefits, payroll, time, and talent all-in-one, the open-architecture solution has been developed for large US-based multinational businesses.
This saves you and your employees time with the equipment, reducing its errors. With this, it leverages technology and this insight to develop a brand story that attracts top talent.
Through onboarding, as it recruits and motivates new employees, it is able to align its talent strategy with its own business priorities, including performance, compensation, and succession planning.
The tool helps chart current workforce trends to provide insight into your business operations, while also helping users manage payroll and compensation activities with ease. You can manage the schedule for your team. You can approve the timesheet through the interface of your use.
Key Features:
This talent and convenience link integrate most of the various HR processes in HCM to help users of ADP Vantage manage recruiting, benefits enrollment, and resource management from one place. So that this collected employee data can be analyzed easily. It can be used with the ADP DataCloud tool.
You can leverage your insights to drive results. The way relevant, fresh, insights can help you make the best decisions. This can be determined by your key growth drivers such as competitive wages, managing labor costs, solving high turnover, and setting salaries.
I highlight some of the important features below.
Employee Onboarding Tools.
Performing comprehensive data analysis is made easy with ADP DataCloud.
Can be accessed through the free mobile application.
It reviews performance against company goals.
Team schedule management.
Multi-level customer service.
Pricing:
At the beginning of the ADP Vantage HCM., the scheme will have to directly contact their sales team, where you can deal according to your requirement by keeping your point. Because this website does not disclose the pricing details.
7. Isolved.
Isolved HCM is a cloud HCM system. This trained staff, project management, and compliance advice are just a call away. And it employs, enables, and empowers its workforce with HCM software.
What is positive and purposeful to you for your employee with which it Isolvedhcm creates a better experience for your employees through Sanskrit medium.
Before starting Isolvedhcm, it likes to show you its demo. So that you can prepare a checklist for the needs of your employees and your company. Due to this, you can be able to use Isolvedhcm software in the right direction.
Key Features:
Make HCM a strategic function, using accurate workforce insights and reports to improve organizational efficiency and profitability.
It's fast, simple information that delivers the results you need to transform your business.
Access reporting and analytical HCM tools that make it easy to use and understand even for data and analytics novices.
Eliminate redundant data, and improve efficiency with human capital management solutions, enabling you to focus on strategic efforts that positively impact the business.
Influence business decisions through measurable data and useful reports and instantly demonstrate ROI.
Pricing:
At the beginning of the Isolved HCM System, the scheme will have to directly contact their sales team, where you can deal according to your requirement by keeping your point. Because this website does not disclose the pricing details.
Executive Summary.
What is HCM software?
If I define it in simple words, this human capital management software is capable of handling multiple tasks and processes required for effective workforce management, saving time and money. HCM software is sometimes referred to as a Human Resource Information System "HRIS" or Human Resource Management System "HMRS".
I'll include some full-featured, in-depth reviews of the software included in the list below.
Applicant Tracking.
enlightenment.
Recruitment.
Attendance & Time Tracking.
employee recordkeeping.
Approval Management and Workflow.
Employee Self-Service.
Reporting and Analysis.
performance management.
payroll.
In fact, if you search for HCM software on the Internet, you will definitely see a list of more than one hundred software. But the HCM companies I've included in the list differ in their capabilities and advanced functionality,
Therefore it becomes important to carefully assess the current and future needs of your organization before choosing one.
Most are found in a few. Some organizations purchase HCM software. So while most people prefer cloud-based HCM software, some plan to install it on their own hard drives or servers. But customers can expect a variety of benefits, including improved support, automated software updates, and flexible scalability. which is absolutely correct,
What is the difference between Human Resource Management and Human Capital Management?
Human capital management which is designed to maximize the value and ROI of the people in an organization is the resource management that trains the organization's workforce to achieve, it also integrates the systems and processes needed to maintain the chain. Made in an easy way to manage.
Human Resource Management (HRM) mainly works to focus on core administrative human resource functions. Such as maintaining employee records and administering benefits. after all human capital management is a broad term. along with HRM functions, analysis of multiple reports at the same time, and strategic functions like performance management have to be included.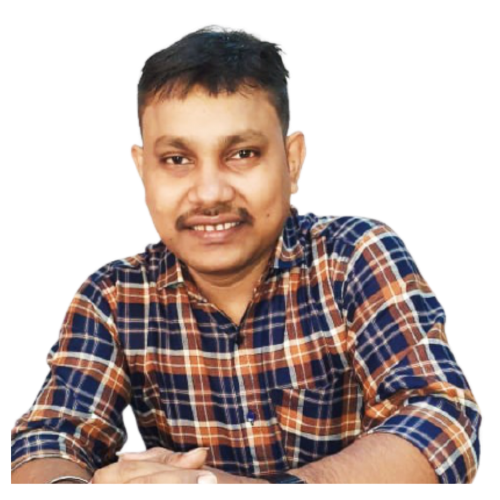 I have completed Study IT. I am a passionate blogger, sharing tips on Blogging, SEO, Business Start-up, SaaS Software Review, Google Ranking, Digital Marketing, Passive Income, Consultant, And Online Business Startup. And I work in the digital field for more than 5 years. Read my short story.