Want to jump straight to the answer? The best Digital Signage Software for most people is Mvix or Viewneo, and OnSign TV.
According to the publisher, the digital signage market size in India is projected to grow at a CAGR of 15.4%. And this Virtual event and SMS Marketing is a marking channel to promote your business and services.
By the end of this post, you'll know everything you need to know Signages allow you to monitor screens and play video presentations, sound, graphics, and more. Wondering which digital signage Software features are essential, or which digital signage tools are the best fit for you currently when using your business planning software tool? Is it even possible to have full integration with the equipment being used? Can I try the listed software, before purchasing?
I want to show you the top range of Digital Signage Software in 2023, available on the market today, reviewed in deep depth, and help you decide which is best for your business.
What Is The Best Digital Signage Software?
Here are my picks for the Best Digital Signage Software to use this year.
1. Mvix.
Mvix provides full-service solutions to inform, educate, entertain, and communicate your digital signage solutions all in one place. It can run on BrightSign, Sony, Android, RPi, and more, making it highly functional for a variety of businesses.
With solutions ranging from classic digital menu boards to stunning video walls, along with software, signage solutions help reduce costs.
It delivers many of the benefits associated with most digital signage Software, from superior versatility to dynamic messaging, to multiple unified communications.
In fact, says Mvix itself, the worldwide digital sign market is expected to grow to $31.7 billion by 2025 with a CAGR of 8%. Which, in terms of shipments, the growth is projected to reach 6.45 million units by 2025.
Key Features:
With Mvix, visuals get 94% more views than text-based information.
Understanding fundamental digital signage Software costs is critical to making the right buying decision.
Showcase your stunning video With solutions ranging from classic digital menu boards to wall mounts, signage solutions help keep costs down.
These solutions can be used in a variety of environments, including markets such as education, corporate, healthcare, and so on.
I have highlighted the important features given below.
One-time cost. Starting at $299.
Turnkey media player with cloud software.
BrightSign, Sony, Android, RPi Compatible.
Interactive, touch-screen kiosk solution.
Pro-AV Services with Lifetime Warranty.
Scalable system for multi-location setup.
Pricing:
Mvix plans start straight from the paid plan. For which one time cost of $ 299 will have to be paid at the beginning. Either you send directly by filling the "quote form", on which their customer representative will return. And this software is much less than the cost of other software. Along with this keeps you full of features.
2. Viewneo.
ViewNeo This software is developed to do cloud-based content management. And it provides more than 200 free templates, with which you can upload MS Office, picture, and video format documents directly to the ViewNeo account. This tool fully backs up all your files.
Once connected to the Viewneo, this tool's digital signage player (such as the Viewneo 4K Signagebox) plays the desired content and makes your changes instantly.
All types of information can be published on tablets, screens,s or video walls. And apart from this tool is used in more than 150 countries. Displays for accompanying advertising, visitor information, or interactive smart retail installations.
Key Features:
ViewNeo makes it easy to expand smart device gateway possibilities with in-house products like the Sensory Coat Hook with AI, the Viewneo RFID Reader, the Viewneo Camera System, or the Viewneo Butler.
This tool is perfectly designed to meet your needs with unlimited possibilities.
The tool allows one to use more plugins, making the tool completely customizable with everything from local weather forecasts to video walls.
With Viewneo you can embed your social media channels. And show your feed from Twitter, Instagram, or Facebook on your screen.
Pricing:
ViewNeo plans can be started with a 30-day free trial. (With which you can try with features and additional features.) And also offers paid plans. I have highlighted the pricing plans below.
ViewNeo Professional: $21.00/Per month/per screen.
ViewNeo Enterprise: $280.00 Per month, plus $17 monthly per screen.
Finally, 30 days with all features Try ViewNeo with all additional features for 30 days free of charge and with no obligation, then you plan on a paid plan.
3. OnSign TV.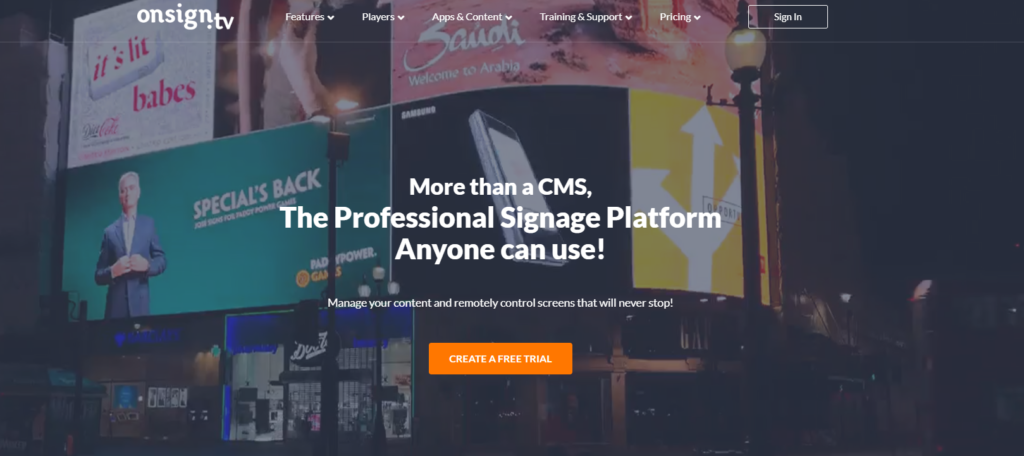 OnSign TV This platform lets you manage your content, and helps you remotely control you're never turning off the screen. And any novice can use this tool. And apart from this, this online TV is a professional CMS platform, it covers all the features, keeping in mind the requirement of its users. Overall this tool is designed to manage all types of signage screens.
It's reliable and extremely easy to use OnSign TV, powered by networks large and small in over 100 countries. Along with this, the TV is used to power the screen in many different environments.
It is chosen to be one of the most creative online TV partners, the first online TV platform based on the cloud. And to access it you are accessed from any internet web browser. Because OnSign TV's servers are secure, scalable, and built with full redundancy.
Key Features:
Their team is very responsible for not getting any errors online, they are able to provide you with as complete a platform as possible.
This tool serves multiple features keeping in mind your time and constraints. Covers basic features such as playlists, scheduling, and player groups.
It gives you the freedom to choose your hardware according to your size as well as suit your needs.
It partners with many integrators worldwide with tools. Overall, AV integrators combine large signage networks with designed, deployed, comprehensive and experienced companies.
Pricing:
OnSign TV's starting plan offers a free 14-day trial. with paid plans starting at $19.99 per month with an annual billing cycle. You can taste it by doing a 14-day free trial with the plan. That too without any credit card information. And also the second plan which is $29.99 per month will be the annual billing cycle. With which a 14-day free trial is included.
4. Yodeck.
Yodeck is a cloud-based software that displays your images, web pages, live streams, and YouTube videos on one platform. And with this, you can browse the gallery by stocking videos and images for free. And apart from this, you can feel your old memories in reality. For this software has been developed.
This tool is capable of performing very well in your field, this tool makes your business or organization in any industry or sector digital signage Software easy, professional, and effective.
Yodeck is very affordable and incredibly friendly to its user. Because it is cloud-based signage software, and with this, you can turn on the content on your screen for your user within minutes. With which you can easily control all content and screen remotely. This tool makes it easy and up-to-date to reliably control the screen in multiple locations.
Key Features:
With the help of this tool, you can choose the right audience, with which many features are included. You can set different content material schedules to target at the right time. You can manage thousands of screens simultaneously using this signage online platform. And you can upload content remotely from your computer with any internet connection. And you can display, and edit.
Pricing:
I would like to highlight the very important features below.
Cloud-based digital signage platform.
It helps you schedule, design, and display.
You are free to display any type of content.
Content from the web professionally and affordably.
You can quickly and easily turn your on and off your screen.
Bring your favorite content to life.
Free apps make your screen stand out
Starting with Yodeck plans, you can try any plan for free, with a single screen. Apart from the introduction of paid plans, it offers the following three plans as given below.
Standard – $7.99/ screen/month (Best for users getting started with digital signage)
Pro – $9.99/ screen/month (Best for users getting started with digital signage)
Enterprise – $12.99/ screen/month (Best for users getting started with digital signage)
5. TelemetryTV.
TelemetryTV is powerful and intuitive cloud digital signage software. It is the digital signage used by top organizations across the globe. And this software helps your team to provide content according to the brand.
With TelemetryTV your digital signage content management system allows you to get up and going quickly with a library of dozens of beautiful turn-key apps and visuals.
It is very secure for content management, as everything is cloud-based. So you can scale quickly while meeting compliance requirements.
You can create new applications for yourself within Telemetry TV, with which, using codings such as JavaScript, CSS, and HTML, developers can create apps for you, your team, and your colleagues.
Key Features:
With this tool, your content is sanitized with industry best practices. Which this enterprise-ready SOC2-compliant signage OS ensures. With this, you are helped to meet all your compliance and legal obligations.
TelemetryOS has the power to turn a media player into a secure device. And it is Center for Internet Security (CIS) compliant, and it is supported by SOC2-compliant networks.
TelemetryOS enables secure, simple, and scalable digital signage device management.
Telemetry TV can help you easily deploy 10 to 1000 devices.
Notify content and devices programmatically.
Does it make deploying a large project?
It provides access to hardware partners and system integrators.
Can remotely manage thousands of devices.
get better support and training
Monitor and receive device health status.
Pricing:
TelemetryTV offers a free 14-day trial from the start of the plan. Apart from this, the paid plan starts from $18.00 to $35.00.
Lastly, A device is either a Chromebox, Windows 10, MacOS, Linux, or Android device, which is used to display your content on TVs. A user license is a user that can either be a viewer on TelemetryTV Desktop and/or an additional user that can edit content, manage devices, or make changes to the account based on their user permission or group.
6. NoviSign.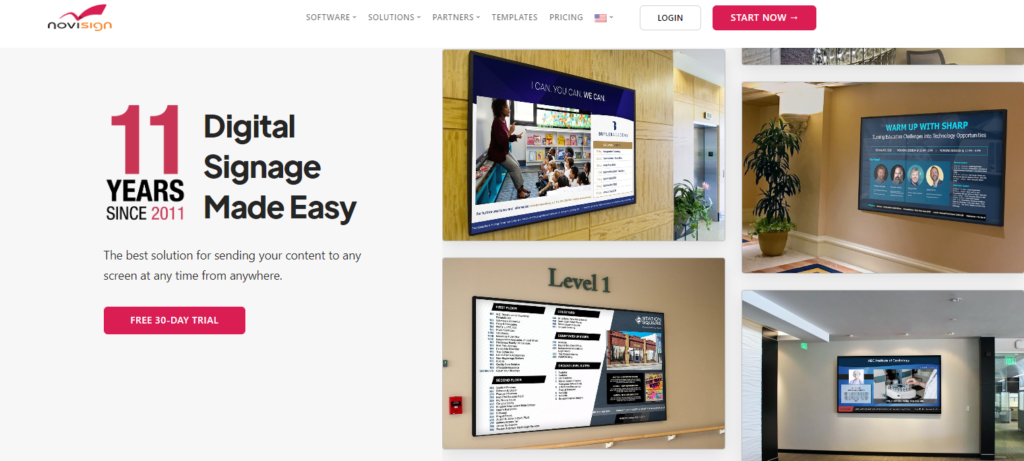 NoviSign is the best solution for sending your content to any screen from anywhere at any time. This tool is cloud-based. This digital signage software is provided by experts. They offer a very simple and straightforward setup and digital signage software with tools to help you improve the way you communicate visually.
With NoviSign, it empowers your digital network advertising display, as the tool partners with Digital Signage Software. Keeping these few points in mind, it offers a whole host of support from exclusive pricing to industry-leading ad-exchange integration. These activities are known as OOH (Out of Home) or DOOH (Digital Out of Home).
They do this service free of cost for any technical support. Whose team supports you at every step.
Key Features:
This tool serves quite a few features. Which is very comfortable and elegant. I have highlighted the following features below.
Schools: Can distribute campus news, faculty announcements, and class schedules.
Digital Menu Board: You can display your menu with descriptions, images, and prices. And with this, you can create a digital menu board.
Healthcare: You can provide broadcast clinic services, practice, and doctor bio information.
Corporate Communication: You can share HR updates, company bulletins, and information on your digital signage TV.
Hotels: You can create event digital signage boards, concierge infotainment displays, upsell, and menu board facilities.
Pricing:
Novisign's Getting Started plan offers a free account. Which you can switch on the production at any time according to your requirement. Apart from this, the introduction of the paid scheme is given below.
Business – $18 screen /month (Billed annually)
Business Plus – $26 screen /month (Billed annually)
Premium – $44 screen /month (Billed annually)
Contact us – If your requirement is not fulfilled in these three schemes, then you can contact us directly.
In the end, I would recommend you try this tool for free. You can then choose the premium plan option at any time if you are billed annually with Novisign. So offers you a discount of 10%.
7. Wallboard.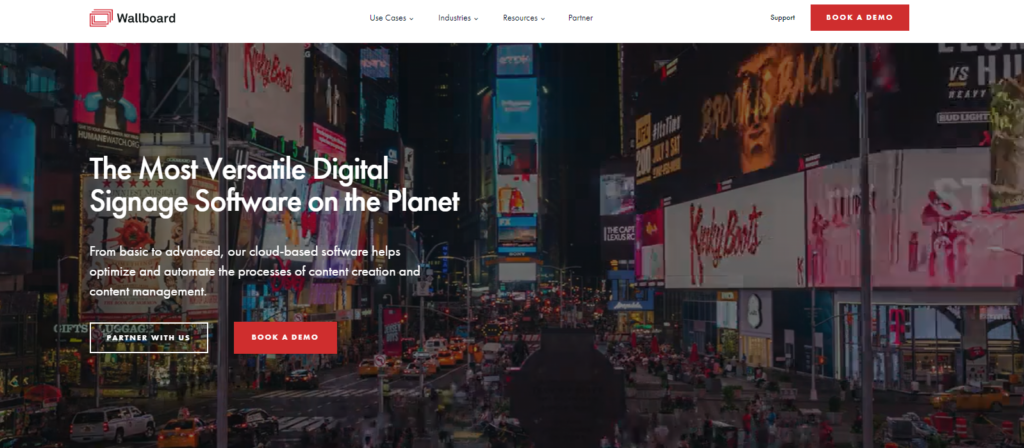 WallBoard is cloud-based and can help automate and optimize the process of content creation and management. You can send your instant message to your audience from anywhere at any time. This makes the tool easy and flexible to use.
WallBoard's best feature is that, from anywhere, at any time, you can choose from a wide range of templates to create, edit and publish digital signage with custom drag-and-drop tools to suit your needs. With this, you can create advanced digital signage CMS.
With WallBoard, you can start with a blank canvas. And with over 20 widgets, design dynamic content using design layers and animations. And lastly, you can easily scale your digital signage network with granular permissions to your users and many different media player types.
Key Features:
WallBoard comes with quite a few features. Which includes the following features below.
You can leverage the pre-sales and sales teams of this tool to help you with proposals and proof of concepts for your users.
Allows you to add your own clients and sub-resellers to your wallboard network to have admin capabilities for these wallboard users.
It can solve many challenges for your customers. And it can explore the top use cases.
Pricing:
You can contact customer support directly by clicking on "Book A Demo" to start planning for Wallboard. Because they do not keep the pricing of their equipment in the open.
Executive Summary.
Digital signage Definition: Digital signage is very easy to define but a bit difficult to explain. But digital signage is entirely dependent on electronics. Electronic signage, as it is called, refers to display technologies such as video, restaurant menus, directions, webpages, marketing messages, or simply wall projection and LCD monitors. These activities are known as digital signage Software.
How To Find Digital Signage Software Solutions?
This is a question for those people. he is really interested in implementing digital signage Software. So I have highlighted the following questions so that they may help you in your thoughts.
What type of content are you planning to display?
How many screens are you planning to install?
How far is your budget limited?
If you are preparing to get started with digital signage Software. So there must be many areas that you need to explore to start your project.
Setup: Will do a site survey for your SetUp, and stay with you till the end.
Hardware: This includes the display screen, wiring, mounts, and other accessories as well.
Software: This is for your media player, device management, and content management system (CMS).
Digital Content: This includes everything that you are actually planning to display on your screen.
Types of Digital Signage.
There are many different examples of digital signage to attract guests to your upcoming event. Here below are some examples of common types of digital signage depending on the usage scenario.
Public: Location-specific information such as news, weather, traffic, maps, and wayfinding.
Marketing: There is an atmosphere, promotion, and gamification.
Corporate: Includes meeting coordination, meeting room bookings, knowledge sharing, and training.
Education: includes library exhibitions, wayfinding, and classroom teaching.
Sales: Whiteboarding, demonstrations, and product/service portfolios.
Retail: endless aisles, product showcases, self-check-out, smart mirrors.
Exhibitions and Tradeshows: visitor registration, networking, and interactive product/service catalogs.
Tourism: places of interest, wayfinding, city information, or village information.
Digital signage is evolving rapidly. Software is what continues to drive innovation and what will ultimately shape the future of digital signage. As the technology progresses, expect to see increased interactivity, connectivity with other systems, and the use of digital experiences as a sensor.
All these benefits create more powerful opportunities for businesses to deliver unique experiences that engage customers while gathering valuable data points. This is what's ahead in digital signage software – an exciting time that promises breakthrough capabilities and insights into what consumers truly want.
Recommended Resources on ibusinessmotivation.com: To further your research, check out my guide on Best Remote Desktop Software, Best Digital Advertising Platforms, Proven Tips Creative Tactics For Print Advertising, and the best business ideas to try this year.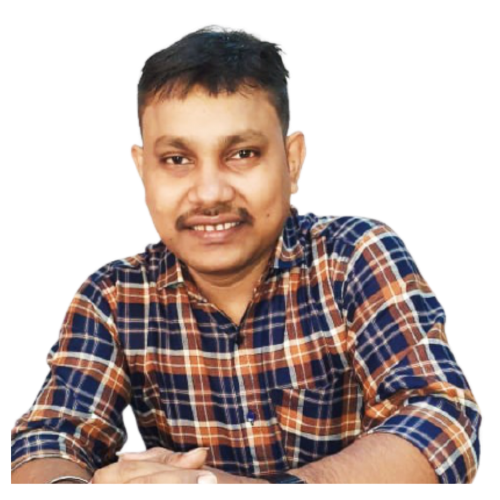 I have completed Study IT. I am a passionate blogger, sharing tips on Blogging, SEO, Business Start-up, SaaS Software Review, Google Ranking, Digital Marketing, Passive Income, Consultant, And Online Business Startup. And I work in the digital field for more than 5 years. Read my short story.