Last updated on October 4th, 2023 at 07:42 am
However, in and in the future webinars are being hosted to do marketing. This is an important strategy for webinar marketing B2B businesses. Because many brands are trying their best in B2C marketing. And using Best webinar software Platforms Of 2023 is one of the best ways to connect with leads and move them down the sales funnel.
The webinar creates a succulent personal relationship between you and your user. Because whenever the webinar sits from every corner, when you see each other's face from your electric device. So there is a relationship between the two and it is strong.
Especially since COVID-19 came. Then we have all been forced to come on the webinar. Due to this, there has been a lot of change in the market.
Today in this guide we will discuss 13 of the best webinar software Of 2023 for creating and running your webinar strategy. So that you can access the software at the right time and place.
We recommend the best webinar software (Livestorm, EasyWebinar, Demio, and GetResponse) for you. and how to use it.
What is the Best Webinar Software.
Here are my picks for the best Webinar Software to use this year.
1. GoToWebinar.
Best Web Conferencing Software Large Organizations ($89/month). (7-days Free trial )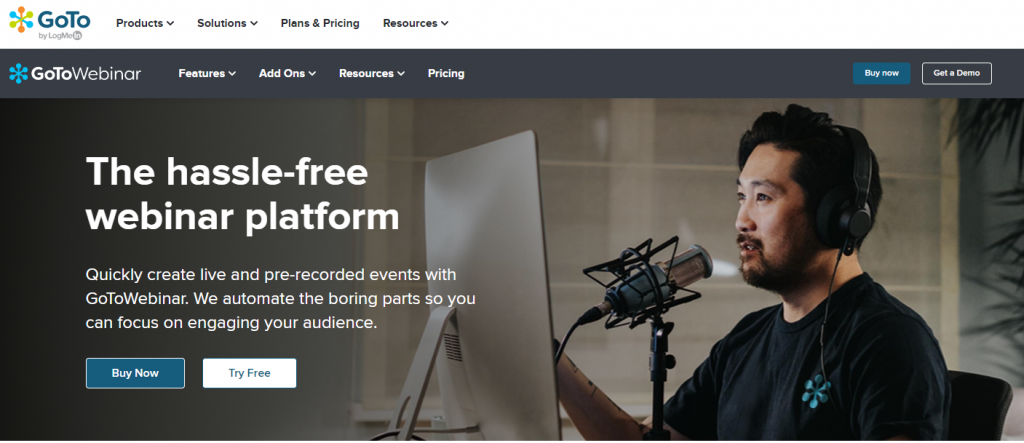 Coming with GoToWebinar means you are worry-free from all sides. You can create live and pre-recorded events quickly with GoToWebinar. It automates the boring parts, so you can focus on engaging your audience.
BEST FOR:
The great thing about GoToWebinar is that it is simple set-up webinar software. And the virtual conference platform offers flexible webinar modes, interactive features, insightful analytics, powerful integrations, and more.
KEY FEATURES:
You leave worrying. All you need to do is just grab the calendar to host GoToWebinar and everything else will be handled.
GoToWebinar also introduces you to a variety of features to improve the overall webinar experience, including tracking engagement, webinar performance, and NPS to improve your marketing strategy. Handles invitation, reminder, follow-up, and record transcription.
PRICING PLAN:
The Starter plan is $89 per month for 100 participants, $199 per month for 500 participants, and $429 per month for 1,000 people, all for an annual subscription. You can also start a free trial with up to 100 people. And even no credit card is required here.
2. EasyWebinar.
This best and most user-friendly webinar software ($59/month). ( 14-days Free trial )
EasyWebinar is a complete Best webinar suite. It can do both live HD quality, no-latency streaming, and screen sharing with up to 4 people! And plus we have the most robust automated webinar funnel-building tool on the planet. No other software combines both high-quality live webinar capabilities and automation solutions into one.
BEST FOR:
EasyWebinar Over 6 million people have tested the live engine. It is flexible and powerful enough to let you run your business and stay within your budget. Hi-definition, no-latency streaming webcam and desktop wiring There is unlimited hosted replay and automatic webinar recording.
KEY FEATURES:
The good thing about Easy Webinar Software is that it allows you to attend up to 100 people even in the basic plan. And allows you, unlimited live viewers, using the YouTube Live integration. If you use WordPress. So allows their integration. and allows integration with popular tools like GetResponse, MailChimp, etc.
PRICING PLAN:
The Standard plan is $59 per month for 100 participants, $90 per month for 500 Pro, and $349 per month for 2,000 people, all for an Enterprise subscription. You can also start a 14-days free trial with up to 100 people. And even no credit card is required here.
3. Livestorm.
Best Webinar Software (Free – $109/month).
Livestorm is a Best webinar Software . This allows you to choose from a range of features to create a registration page, send an email, chat with your audience, launch polls, answer questions or track engagement – ​​all in one place.
BEST FOR:
The great thing about LiveStorm is that LiveStorm enables powerful and easy video engagement at scale. Which catches the attention of its audience. And video allows you to invite participation with interaction. And you can play it live. As such makes the best Livestorm alternative to live events such as customer inquiries and other types of web.
KEY FEATURES:
Now you can get the most out of your event. They have created a new type of event solution focused on user engagement, marketing insights, and automation.
You can easily host events with multiple sessions and share a single registration page with your visitors.
This is a web-based webinar solution. That is, you can host as many events as you want. And can do them in high definition. (which it is depending on your bandwidth)
Your Custom Branding Your brand identity should be there in seconds. To which you can add your logo, a cover image, and your own colors.
PRICING PLAN:
Livestorm Starter: The first plan which is a freemium plan, and comes with essential features like unlimited on-demand webinars, meetings, etc.
Livestorm Premium: This is the 'Webinar Premium' plan. And it costs $109/host per month. And it has a limit of 4 hours per webinar.
Enterprise: If you come with an 'Enterprise' plan. So it offers features like unified billing, premium training and even managing multiple workstations with SLA availability. And here you get a personalized quote based on your needs.
Ultimately this Livestorm is a high-quality tool. Whose all live demos can be seen at once. And I recommend using this tool. You try it for free first. Then you can upgrade it anytime according to your need.
4. WebinarJam.
This webinar is the best product with a pop-up (14-day trial for $1).
The WebinarJam is the most powerful all-in-one best webinar platform. Which it enjoys more than 50,000 business webinars across 40 different industries.
BEST FOR:
WebinarJam's cloud-based broadcast technology allows you to reach up to 5000 people in a single presentation without breaking a sweat (or breaking the bank).
KEY FEATURES:
The great thing about WebinarJam is that if you do not have technical knowledge. So you can manage it easily. And it allows you to stream on your youtube channel page. What's more, it offers a secure, password-protected meeting with your target audience online.
The special thing about WebinarJam is that it allows you to broadcast high definition, 30 fps, high-quality video, and audio. And it's device-agnostic: desktop, laptop, tablet, or phone it supports them all!
There's no shortage of options you need in WebinarJam. It empowers you with flexible options. Like live chat, questions and answers, moderation capabilities, private comments, highlighted comments, sticky announcements, and more. It will have everything you need to keep your attendees completely engaged.
PRICING PLAN:
Basic Plan: $499/year ($41.58/month) This plan gives you up to 500 participants per webinar, up to 3 presenters, and 24/7 support.
Professional plan: $699/year ($58.25/month) With the Pro plan, the number of participants increases to 1,000, and speakers up to 4.
Premium Plan: $999/year ($83.25/month)This plan is for businesses that rely heavily on webinars for their online marketing. And it has up to 6 speakers and a webinar audience of up to 5,000.
At the end! Overall it makes all the features easy to use. It even offers a 30-day money-back guarantee.
5. Demio.
Best Webinar Software for Marketing (30% Off).
Demio This is a Best webinar tool. It provides a simple, no-download webinar experience for your visitors, while also providing all the marketing tools needed to generate superior results.
BEST FOR:
You can easily brand your webinar experience. From fully customizable domains to select colors, this daimyo offers you more options than any other platform to brand your webinars.
KEY FEATURES:
The great thing about Demio is that it makes the registration process easy in an elegant way. All the tools you need to market your event and capture registrations. Use all of their basic registration pages or even embed registration forms on your website.
You can get more of your revenue. They can leverage their suite of engagement tools, including chat, polls, and featured actions, to drive action and drive revenue. As well as 24/7 customer support.
PRICING PLAN:
Demio offers you a 14-day free trial, which gives you full permission to test out all of its features. And you can upgrade later according to your need.
Starter plan: $34 per month for a 50-person webinar room.
Development plan: $69 for a room of 150 persons.
Business plan: $163 per month for a room of 500 persons.
Infinite if you want to use more effective webinars with built-in marketing tools. So there is no need to download any kind from here.
6. WebinarNinja.
Best Platform for High-End Coaches ($39/month).
WebinarNinja is a powerful webinar tool. Instead of meetings, this software is designed for teaching. This gets you the best webinar software for trainers, instructors teachers, and creators.
BEST FOR:
WebinarNinja It's all-in-one. That is, it has been designed by looking at such an easy-to-use process, here you do not have to work like any kind of headache. You can create a pain-free webinar in seconds, and get started.
WebinarNinja It lets you shine. It removes technical barriers and provides easy interactivity tools, helping you build just the kind of personal engagement that creates your loyal customers.
PRICING PLAN:
WebinarNinja offers you a 14-day free trial,
Starter Plan: You can add up to 100 webinar viewers for $39/month.
Pro Plan: You can add up to 300 webinar viewers for $79/month.
Plus Plan: You can add up to 500 webinar viewers for $129/month.
Power Plan: You can add up to 1000 webinar viewers for $199/month.
At the end! WebinarNinja for those looking for both advanced features and the ability to create webinars fast.
7. My Own Conference.
Best Scheduling Multiple-Webinars (Free – $29/month and up)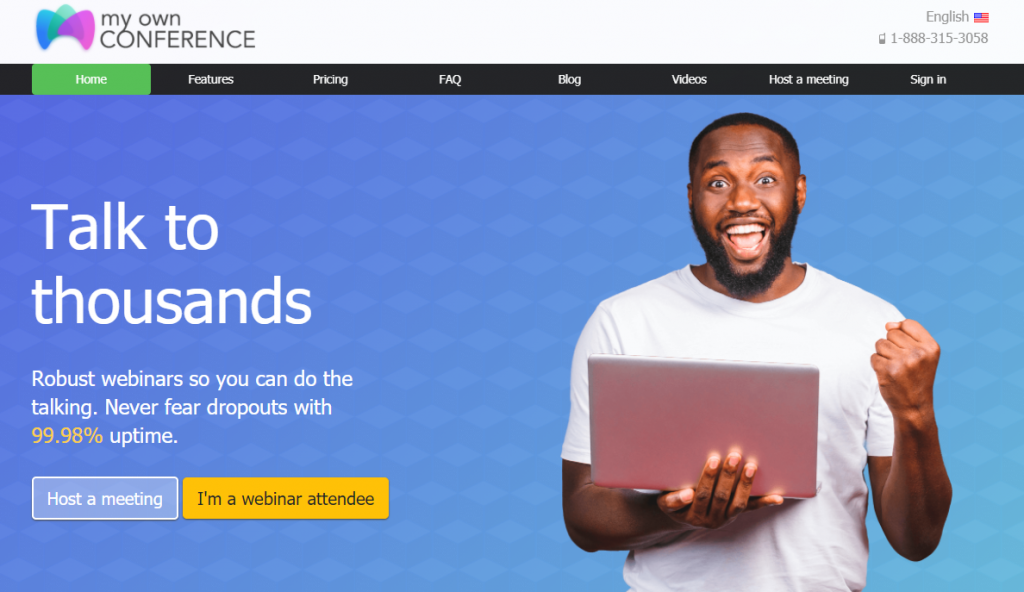 My Own Conference is a popular webinar tool. All the tools needed to create a webinar allow one to use the best webinar software for free for lifetime use.
BEST FOR:
There is something special about My Own Conference. that includes their useful schedule view. Which provides you the facilities to view more than one webinar and their always running webinar room in one place.
PRICING PLAN:
This My Own conference is free for up to 20 attendees and 3 broadcasters. This is very true, I say this because it gives you 500 MB of storage and standard HD quality with the free plan.
In infinite, you can upgrade it according to your needs.
8. EverWebinar.
Great Automation Features (60-Day Trial for $1)
Everwebinar This webinar is a powerful tool. Which we have included in this list. No more pixelated streaming or choppy frame rates. Whether you're broadcasting a pre-recorded webcam, PowerPoint presentation, screen share, or anything in between, this Everwebinar plays it all in great high definition.
BEST FOR:
The great thing about Everwebinar is that its unique scheduling system allows you to select a specific date and time from the calendar. and allows you to select a recurring schedule of days and times of the week and time zones based on what works best for your audience.
PRICING PLAN:
When it comes to getting started. So you get it at $42 per month (billed annually), which is in the middle of the pack. But however, the features it offers along with the partnership with WebinarJam make it worthwhile.
Get a great 60-day trial of Everwebinar for just $1.
9. LiveWebinar.
Best for Live Streaming (Free – $95.20/month)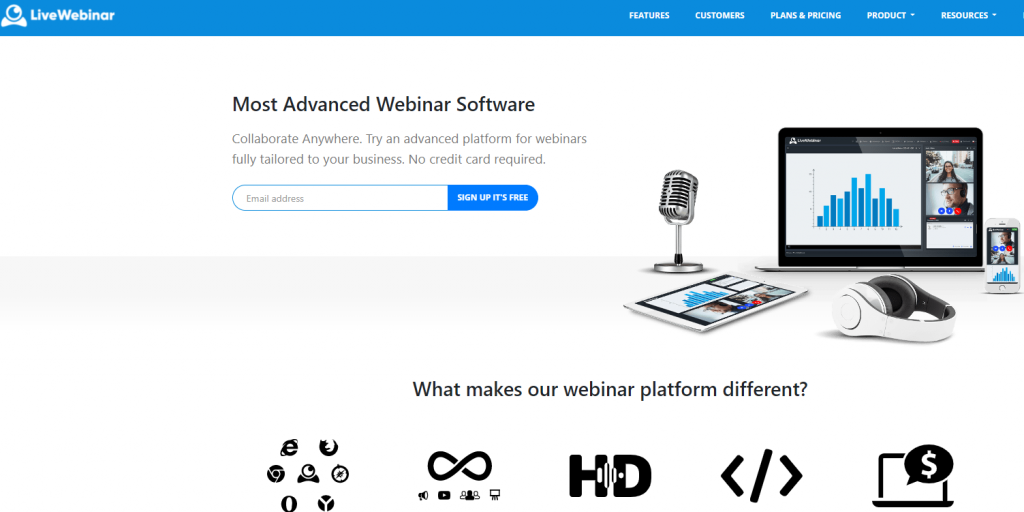 LiveWebinar This is a popular cloud-based webinar tool. And the device is a cloud-based solution with enhanced screen sharing, live video streaming, and recording features, as well as optimized branding, social media broadcast, and audience engagement analytics. It has more than 42 data centers, more than 99% SLA hosting more than 1000 participants.
BEST FOR:
There are many great things about LiveWebinar, which I would like to tell you in a little detail, this tool can try an advanced platform for webinars completely tailored to your business. No credit card is required here. And connect with thousands of entrepreneurs and business leaders who choose this top-quality platform for video events and webinars.
This is a paid webinar tool. It only takes a few minutes to create tickets for any event and allows you to focus on bringing the highest quality content to your audience. And start letting your webinars do the work for you.
If when it comes to integration. So this LiveWebinar helps you to create Email Marketing Lists! And subscribing to your webinars automatically leads to marketing automation tools, CRM. You can get more results from your webinar.
PRICING PLAN:
Free: $0 per month (for 5 attendees)
Pro: $11.99 per month (for up to 100 attendees)
Business: $95.20 per month (for 500 attendees)
Custom: Custom pricing (for over 1000 attendees)
All of these plans include Prezi presentations, the ability to add tests, polls, and surveys, email invitations, whiteboards, screen-sharing, and more.
You can start with a 14-day trial.
10. GetResponse.
Best for Easy Email Marketing Integrations ($49/month).
GetResponse This is an email marketing platform. But at the same time, it serves good webinar features on most of its plans.
I believe. If you are after a single platform providing email marketing, webinar marketing, and basic automation. Which is one of the good options for you.
KEY FEATURES:
Customize Your Webinar URL
You can enable registration. and choose your membership settings.
You can start collecting new leads and use hassle-free built-in marketing tools.
You can easily promote your event and drive traffic to an SEO-optimized landing page where they can register for your event.
You can use the one-click Facebook pixel integration to retarget Page visitors with relevant offers.
You can nurture your leads with email invitations and reminders.
This lets you choose from a gallery of professionally designed free invitation templates that are automatically pre-filled with your webinar details.
You can automatically follow up with your audience. And can run automated nutrition campaigns.
You can promote your special offers and events.
YouTube integration: Boost your audience with YouTube integration.
For marketers who want email, marketing automation, and webinar features from a single platform, but don't demand industry-leading tools, this one will fit them.
PRICING PLAN:
GetResponse allows this 30-day free trial, and this is a basic plan. Which does not include webinar features. But their plus plan is the first. Which offers this webinar solution and starts at $49 per month for up to 100 attendees.
The Business plan for up to 300 people is $99 per month. And the Enterprise package is $1,199 for 500 people. But however, it also includes email campaign consultation and a dedicated account manager.
11. AnyMeeting.
Best for AnyMeeting (Free – $7.99/month & 100+ User)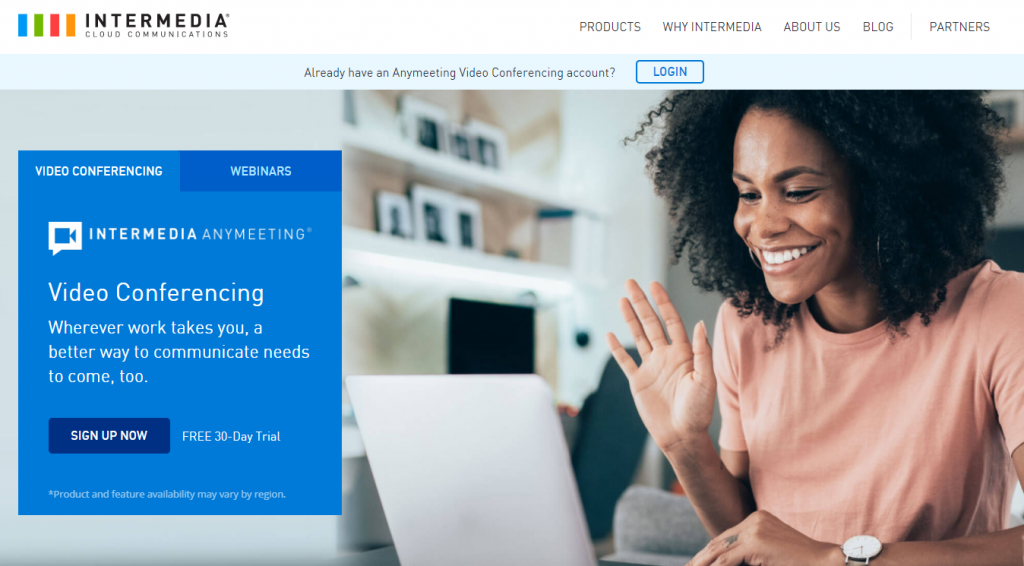 AnyMeeting It has been designed by looking at small organizations startups and educational institutions. It can reach a wider audience and promote your business with this easy-to-use webinar service. It connects and engages anyone, on any device, anywhere.
BEST FOR:
The great thing about AnyMeeting is that you can host webinars using slides or screen-sharing with up to 12 HD video presenters and up to 1,000 attendees. And you can promote your webinars with custom invites, registration pages, and email reminders. This all-in-one complete webinar solution covers everything.
One-click cloud recording allows you to make sure you capture everything that happens in your webinar, including your presenters' video, feeds, screen shares, slides, and played videos.
PRICING PLAN:
Webinar Lite 48.00/month – 100 Users
Webinar Pro $128.00/month – 250 users
Webinar Enterprise $298.00/month – 1000 users
Allows you to do a 30-day free trial with all Pro plans.
12. Adobe Connect.
Great tool for large marketing organizations agencies.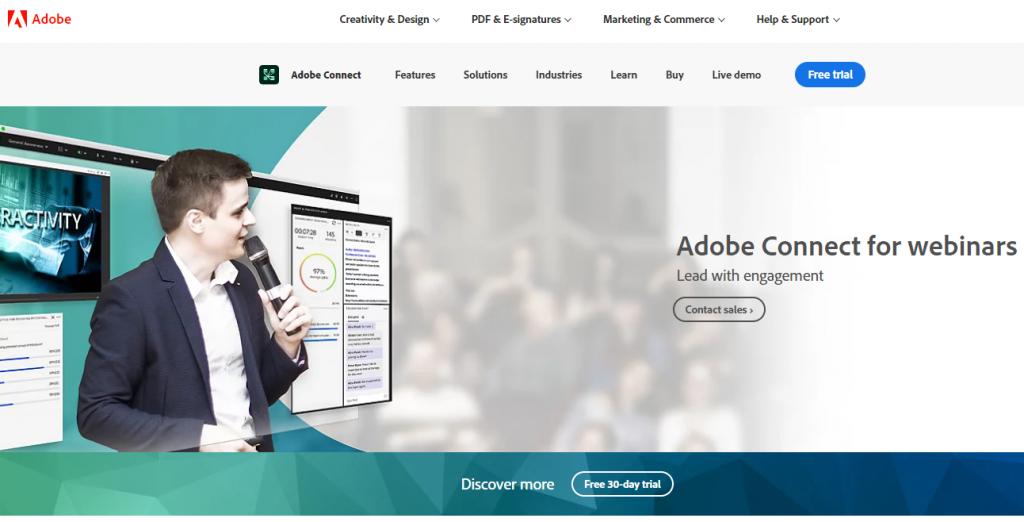 Adobe Connect is a Best webinar Platforms. Which is available on the platform of adobe. Deliver it a virtual event that leaves a lasting impression on your audience and delivers business results.
BEST FOR:
This Best webinar Software Platforms fits those who want to enable them to tell unforgettable stories while scaling up to include a global, diverse audience. Which is Adobe Connect.
The great thing about Adobe Connect is that it scales to reach your audience regardless of limitations or inefficiencies, giving its audience the flexibility to connect with you on their own schedule and on their terms. It lowers the barriers to entry by allowing one-click access from any modern browser on any device. This can drive demand generation beyond live events, even with recordings that are engaging and interactive.
PRICING PLAN:
If when it comes to going with Adobe Connect. So it comes with a mid-price tag,
The price is $130/month for 100 seats.
The price is $470/month for 500 seats.
The price is $580/month for 1000 seats.
This is a 30-day free trial allowed on all plans.
13. Livestream.
Best Live streaming for video everywhere, live ($75/month (billed annually)
This Livestream Best webinar software Platforms. Here are the live streaming solutions you can trust. This makes it easy to Livestream exciting virtual events, reach your remote workforce, and launch a subscription channel.
BEST FOR:
Livestream sits on those logos again. Which makes it one of the best ways to connect with your community in a meaningful and authentic way. This Livestream platform instantly connects you with your customers, employees, customers, or followers if and when a virtual event or series is the best option for you.
The great thing about Livestream is that you can provide your viewers with the best quality on all devices, even with limited bandwidth here. And you can centralize your organization's live and on-demand video, and maintain secure viewing destinations, even monetizing your video library.
And you can create a custom registration form for your event. Add low-thirds, transitions, and logos, and moderated chat allows audiences to engage much more, with Q&A and live polls.
PRICING PLAN:
If you want to drink the bill annually. So it will cost you $75 per month. This includes features like Unlimited Streaming Analytics, Player Embed Restrictions, Security & Privacy, Live Overlay Graphics, and Stream to Facebook Live or YouTube.
Executive Summary.
I hope Let this Best webinar guide helps you choose the right software.
However, to do marketing and to host webinars in the future. Which is an exciting one.
If you want to run webinar marketing B2B businesses. Then you should use EasyWebinar, or Livestorm Webinar Tool. And I recommend it.
Using webinar software is one of the best ways to connect with leads and move them down the sales funnel.
Webinars This business is not limited to promoting the product. Creates a lush personal relationship between you and your user with the help of best webinar tools. I say this because whenever the webinar sits from every corner, you are looking at each other's faces with your electric device. So there is a relationship between the two and it is strong.
If you have any questions, feel free to leave a comment.
If you want to contact us now you can directly connect on social media.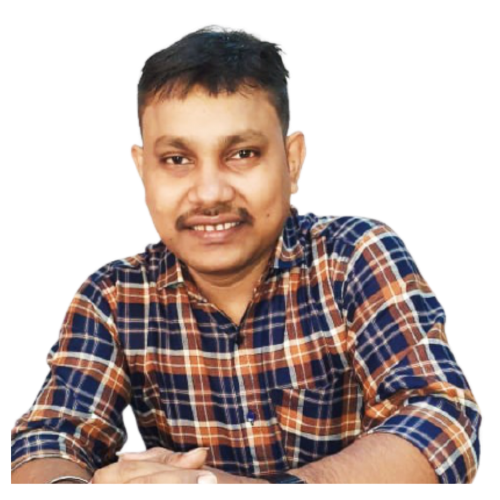 I have completed Study IT. I am a passionate blogger, sharing tips on Blogging, SEO, Business Start-up, SaaS Software Review, Google Ranking, Digital Marketing, Passive Income, Consultant, And Online Business Startup. And I work in the digital field for more than 5 years. Read my short story.