Last Updated on March 10, 2023 by Jayprakash Prajapati
Want to jump straight to the answer? The best Closed Captioning Software for most people is GoTranscript, Verbit, or Rev.
Closed captions are text versions of the spoken portion of a television, film, or computer presentation, and closed captioning was developed to assist people who are deaf and hard of hearing, but it has proven to be effective in a variety of situations.
There is a lot of software available in the market. This has put us and you in the circle of questions to choose the right option of a closed caption. Language and hearing disabilities reduce barriers.
Captured data on video production and closed captions behavior, social media captioning, live streaming video closed captions, and captioning barriers and drivers. more creators like Edwards have been captioning their videos over the past year, providing subtitles to engage more viewers, However, between 40% to 45% of people prefer to watch closed captions.
I want to show you the top range Closed Captioning Software in 2023, available on the market today, reviewed in deep depth, and help you decide which is best for your business.
What Is The Best Closed Captioning Software.
Here are my picks for the Best Best Closed Captioning Software to use this year.
1. GoTranscript.
Best Overall 100% Human-Generated Services.
The GoTranscript provides online transcription services. It is simple and straightforward to use. It covers more than 60 languages. And their services offer automated and human scripts in English. And this GoTranscript has focused its attention only on human scripts. In addition, it has covered areas up to the education, legal, and medical sectors in excellent service.
It has to be considered when considering transcription services. Perhaps the cheapest may not always be the best option. This software guarantees 99%+ accuracy. With this, you can start from $0.77/min with 6h to fast turnaround time.
Best of all, this software has a simple web interface with little room for user error. Because this software performs very well. This product is great for entrepreneurs. Because it values transparency and close cooperation with customers. You can get exact quotations for these services. You can check the status of your orders at any time.
With therapy, one can expand to more than one language. With this, it becomes easy to train employees from different countries. Can significantly speed up the material creation process.
Great accuracy for legal and can save turnaround time, saving time from 2-5 hours per project for your team.
With Enterprise, it can improve global brand recognition, attract more customers, and provide you with the best service to your customers. With Academic, you can present data accurately. Which helps it feel more comfortable for the reader.
Key Features:
This is 99% accuracy guaranteed data on any article from the instrument.
This is the best industry starting price of $0.77/min.
It is very easy to use for students.
This is an easy-to-use website transcription system for beginners.
It offers the lowest prices for everyone and special discounts for loyal customers who rely on our top quality.
This enables us to operate with a consistent legal level of accuracy, regardless of industry, tone, or language.
You can meet the deadline within your time i.e. by specifying the turnaround time. And can make the speed of your work.
Pricing:
All GoTranscript plans come with great benefits like:
It sets different prices for different languages.
It sets different prices for different languages.
Compare our transcription prices with those of other top companies
We offer our clients unbeatable value for their money!
Cheap transcription vs. low-quality transcription: is there a difference?
You bet there is!
On the web, the word "cheap" usually means "inexpensive." But some people interpret "cheap" to mean "of poor quality."
And unfortunately, some transcription providers believe that they don't have to try too hard when they offer a low transcription rate.
Rest assured that our cheap transcription services rates are no indicator of quality. In fact, the case is quite the opposite.
2. Verbit.
Best Speed and low cost of Automatic Speech.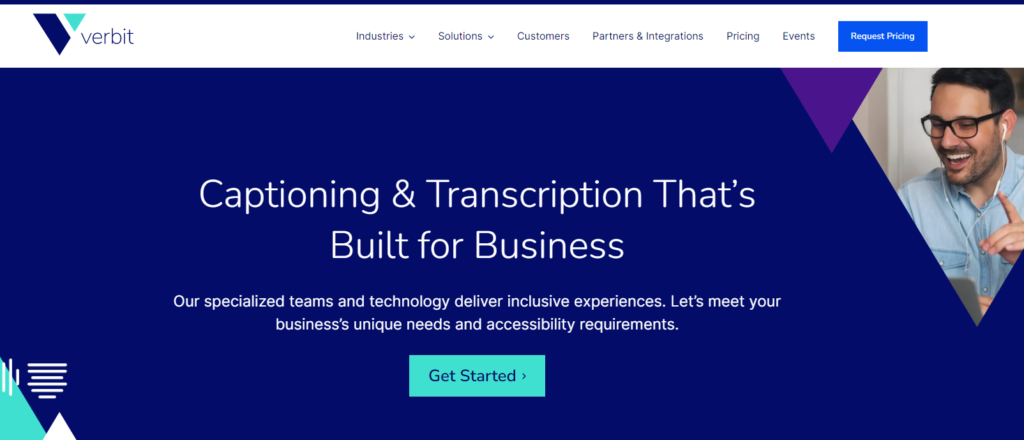 Verbit This tool is very fast and simple. The device is very accessible, offering compliant meetings and events with ease. And audio and video are used by most people for translation. Also, you can accelerate progress and productivity within your organization. and besides this
Captioning and transcription built for business.
Their customer support is ready at every turn, and specialized teams and technology provide an inclusive experience. With the ability to meet the unique needs and accessibility needs of your business.
The specialty of this tool is that it not only helps in improving the event for those people by giving captions. Those who have faith. Which makes all these experiences much better. In addition, it has recruited experts from your field to navigate the specific accessibility needs of our organization.
In the world of transcription, platforms are typically AI-based or use human transcribers, and the service is merely a means of streamlining work delivery.
Key Features:
This tool helps Caption On, Hands Off. Reach your widest audience through accessible open and closed captioning that supports ADA guidelines with 99% accuracy.
If able to meet your organization's specific accessibility requirements, such as ADA and WCAG, with experienced experts recruited from your industry.
Verbit's closed captioning services support these. eg. MP3, MP4, FLAC, OGA, OGG, DSS, M4A, WAV, WEBM, WMA, 3GP, AAC, AVI, FLV, MP4, MPG, and MPEG-2 files and more.
Pricing:
Verbit doesn't keep its pricing open. For this, you have to submit the form for your requirement, after that their team will immediately come back for some time.
3. Rev.
Best for Quickly Start.
Build powerful voice applications with Rave, its cloud-based software. It is trusted by more than 8 lakh customers across the globe. In addition, it offers premium, transcription, and on-demand closed captioning, both manually and automatically. You can maximize the impact of your content. It reaches people in 16 languages.
The equipment provides up to 99 percent accuracy for capture with a turnaround time (TAT) between 2 to 25 hours. Offers 5% off if you order Human Transcription Captions & Subtitles.
These tools integrate with Zoom to get accurate, fast transcripts and captions powered by AI, as well as allow you to record on your phone, and edit your files on the go.
If you think you can transcribe more than 100 hours per year, ordering captioning or subtitles, Rev for Business can help simplify your workflow. Because Rev can help you save a large number of orders. Helps you get access to premium features like enterprise-level management and billing.
You can attach video files that you want with the Secure File Uploader without hesitation. Or leave the Web URL of your video. (Even if your content is on the platform via YouTube, Vimeo, etc.
Key Features:
The Rev is capable of playing a stellar role in video and audio enhancements. No matter what type of file you plan to upload or drop a link to. It helps all these media and entertainment companies to expand their reach and support videos, movies, TV shows, etc. for all.
With the help of this tool, schools and online teachers can use the tools to caption webinars, lectures, and training.
Marketing departments in their midst use this tool to enhance advertising, webinars, and promotional materials and boost search engine visibility to a larger audience.
In addition, it uses the Rave tool to caption a variety of other original content, such as religious sermons and short-form videos while ensuring that it is accessible and engaging for all content.
I have done some highlights regarding the following rave tools.
Provides open captioning service.
Captioning experts are available live 24×7.
Private Video and URL Upload
Pricing:
All Rev plans come with great benefits like:
Rev's plan has a fixed fee starting at Rs.1.25 per video minute. Also does not mention any additional cost.
Rev pricing is subject to turnaround. Which will have to be paid according to your age.
Two hours for files 0 to 5 minutes long.
Seven hours for files 5 to 10 minutes long.
12 hours for a file 10 to 30 minutes long.
25-hour delivery for a file 30 to 60 minutes long.
4. Captioningstar.
Best for businesses across media, and entertainment.
CaptioningStar makes sure to meet your needs for CART (Communication Access Realtime Translation) or live captioning services by providing high-quality and impeccable captions. And apart from this company is located in New York.
It offers different video captioning services. Which includes open, real-time, and, closed captioning, emergency live captioning, etc. This CaptioningStar provides 99% accuracy with a flexible turnaround time.
You can point to upload from your preferred platform at any time. You can upload your hard work to Youtube, Dropbox, and Vimeo in just a few minutes.
Why do I say this? It has developed for you, an in-house dedicated platform where with just a click of a button you can integrate your files from Youtube, Facebook, Dropbox, be it Vimeo or Wistia on our platform. Best of all, you can contact the CaptioningStar production team directly at any time if you have any questions. Which will be resolved within some time.
Key Features:
This software is straightforward, simple, and elegant to use. Which is fully capable of fulfilling the requirements on a single platform. It can provide English and Spanish captions for different types of video content.
CaptioningStar is fully capable of ensuring you excellent open captioning at an affordable rate keeping the TAT in mind.
With Captioningstar you can integrate with Youtube and Vimeo video forums.
24 X 7 Customer Support.
Live stream captioning is available.
Pricing:
CaptioningStar's plans start with a fixed price plan of $2.00 to caption one video minute,. If you want both transcripts and captions, the cost per video will be $2.75 per minute.
End users can get discounts on bulk orders and referrals.
5. 3Play Media.
Best for description services to make video accessibility easy.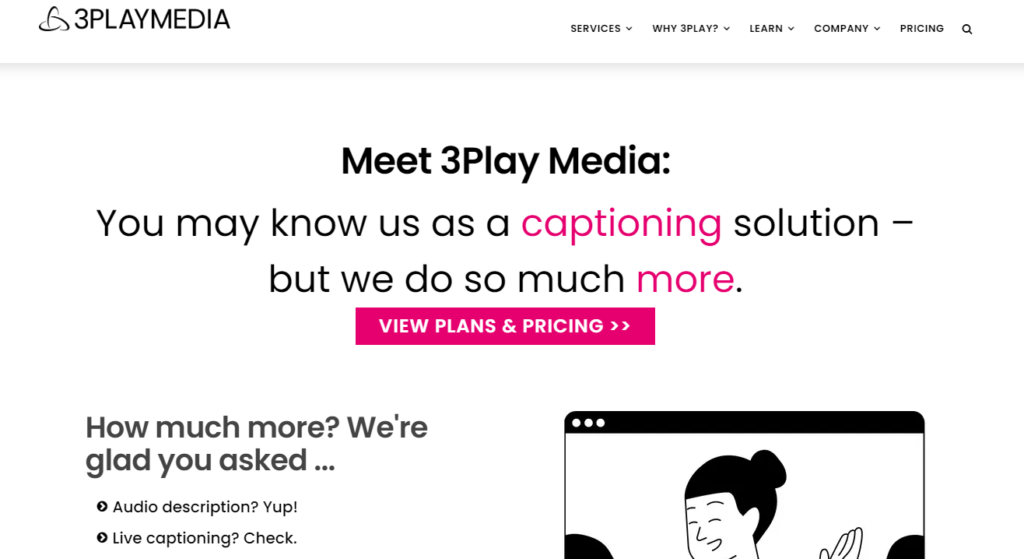 3Play Media It provides a full-service video accessibility solution. Which 3Play Media partners with the companies. And it provides scalable and automated workflows, premier technical support and account management, thought leadership, and WCAG AA-compliant video access services. And this company provides fast, simple, and accurate closed captioning.
Highly accurate, powered by 3Play Media technology and professional captioners
Makes reliable and easily accessible integrated captions.
This user can upload the required files directly to the computer or via a link, integration, or custom API "Application Programming Interface". And it provides all the services necessary to guarantee compliance with WCAG 2.1 AA requirements for video.
Most importantly, it allows downloading caption files in more than 50 formats, It is also compatible with most video-playing and video-integrated platforms. And with its user-friendly interface, where individual users or companies can log in to the software to complete the order process.
Key Features:
It serves over 10,000+ customers across multiple industries including education, media & entertainment, government, and enterprise companies. Their solutions help clients increase the value of their online videos by making them accessible, usable, searchable, and SEO-friendly, he will help them to meet the deadline with him and provides assistance when needed.
I have highlighted some important features below.
SLA Compliance Services.
Services over 10K to many industries.
50 File Formats.
Real-time progress tracking.
Workflow automation and data encryption.
Guaranteed accuracy, time, and safety.
Pricing:
All 3Play Media plans come with great benefits like:
The launch of the plan of 3Play Media will appear directly after filling out the form. Apart from this, it offers a total of three plans. Which is given below.
Express Plan for Single User:
Pay per project.
Encoded captions for social media videos
easy upgrade
Pro Plan for Multiple Users:
Live Captioning
Audio Description'
Subtitles and Translation
Enterprise plan for businesses:
Custom workflow and turnaround time
Dedicated Account Manager.
6. Vitac.
Best for broadcasts or events.
Vitac provides high-quality captioning all over the world. This company is located in the US. It provides professional closed captioning services for online and offline platforms. And in addition, Vitac offers live captioning features. Like AdobeConnect, Live Stream, Youtube, Zoom, and Skype.
These live or real-time captions are created. Anything can happen, like the program being broadcast, or the program is organized.
Your content can reach as many people as possible. Whether you're producing an event, hosting a conference, or planning an event, adding captions and/or audio descriptions provides access and engagement for all.
It allows its team to integrate video through API platform, various television network connections, deep language, and seamless switching as per the needs of its users.
Key Features:
Best of all, Vitac is FCC (Federal Communications Commission) compliant for offline captioning services. And they're backed by 24/7 support, with the most experienced team of expert captioners in the business.
I have highlighted some important features below.
Television broadcast.
Web broadcast
Conferences and Remote Meetings
Sports, Concerts, and Events
Multi-language captions
Pricing:
The launch of Vitac's scheme will be known only after filling out the form. Because it does not keep the pricing open. Instead, you can set up an account for free by entering some details and project specifications in the form provided.
7. Amara.
Best for Participatory Culture Foundation.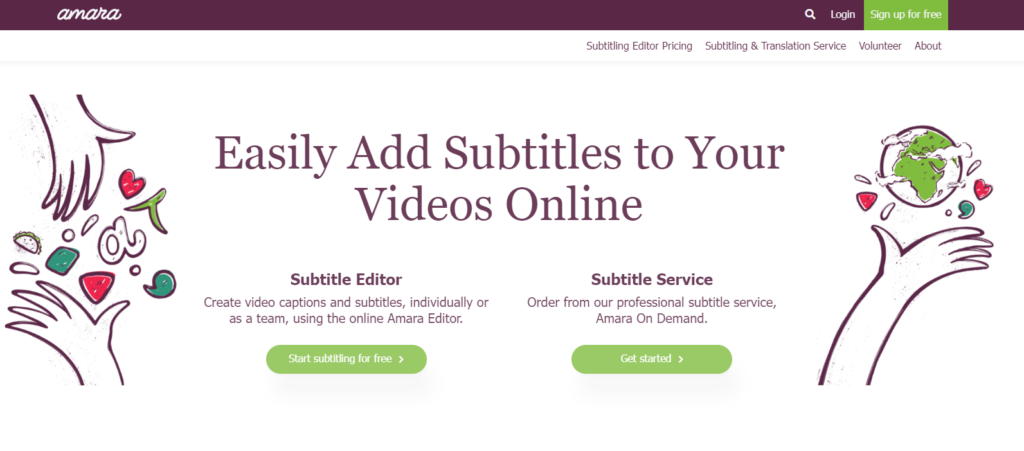 Amara allows you to create video captions and subtitles individually or as a team using this online editor. And it is an open-source company. The multiple-award-winning Amara editor, a cloud-based do-it-yourself solution with state-of-the-art subtitling features, is the heart of the Amara subtitling platform.
With the help of this tool, you can work on your own as part of your team. In addition to allowing you to manage a group of volunteers or outside vendors, Amara Editor combined with project and team management tools is capable of helping you coordinate subtitling projects of all sizes.
Use the Amara API to save time by automating workflows and "subscribing to assignments". With the API, Amara's functionality can be integrated into any existing system. So that the workflow can be optimized even more.
Key Features:
The Amara Enterprise platform allows it to integrate with Vimeo, YouTube, and other video hosting sites for easy import and export of subtitles. So the platforms can also manage to sync for your localized metadata and video titles.
I have highlighted some important features below.
Affordable, high-quality subtitles.
Multiple formats and delivery options
50+ languages – and more upon request.
Committed to capturing the tone and meaning of your content.
API – Robust and Reliable
Pricing:
All Amara plans come with great benefits like:
Amara's plans start free individually. Apart from this, talk about the paid plan, the three plans are given below.
Amara Plus: 2 User Included – $24.00/Month ($12.00 per additional user)
Amara Enterprise: 25 or more users -Contact Us (+ Powerful Team Management)
Amara Integrated: Customizable -Contact Us (+ Directly Integrated Into Your Workflow)
Executive Summary.
What is Closed Captioning?
Closed captioning is time-synchronized text. which represents an audio track. They can be read while watching visual material. the process of closed captioning involves transcribing the audio into text, placing that text in what is known as "caption frames", and then synchronizing the caption frames with the video, When watching a video, closed captions usually appear in the bottom center of the video.
Caption Vs Transcript.
Very simply put, the primary difference between captions and transcripts is that transcripts are not synchronized with the media. Transcripts are sufficient for audio-only content such as podcasts and podcasts, but captions are required for videos or presentations that include voice-overs as well as visual content.
Closed caption vs open caption.
Closed captions allow viewers to toggle captions on and off, giving them control over whether captions are visible or not. On the other hand, open captions are burned into the video and cannot be turned off. Closed captions are more common with online videos, while open captions can be found at kiosks.
Why do people need closed captioning?
Closed Caption It helps to understand those dialogues. which are spoken very quickly, with an accent, mumbling, or let's say with background noise. This closed caption provides clarity to the viewer on the mention of full name, brand name, or technical term. And adding closed captions to your videos can make a big difference in your business profits. In the end, the question also arises. After all, how will the car work in your marketing?
The top closed captioning services.
GoTranscript – Best Overall 100% Human-Generated Services.
Verbit – Best Speed and low cost of Automatic Speech.
Rev – Best for Quickly Start.
Captioningstar – Best for businesses across media, and entertainment.
3Play Media. – Best for description services to make video accessibility easy
Vitac – Best for broadcasts or events.
Amara – Best for Participatory Culture Foundation.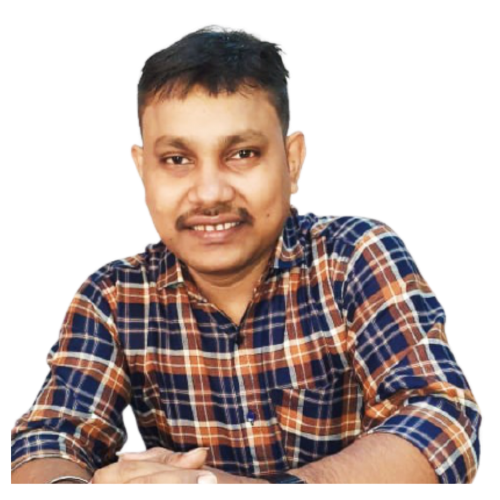 I have completed Study IT. I am a passionate blogger, sharing tips on Blogging, SEO, Business Start-up, SaaS Software Review, Google Ranking, Digital Marketing, Passive Income, Business Leadership, Business Coach. And I work in the digital field for more than 3 years. Read my short story.