Last updated on October 5th, 2023 at 08:41 pm
However, online course platforms are what most everyone is looking for in today's time. Everyone wants to do something better in their life. but the question is that although there are hundreds and thousands of websites available in the world of the internet. But due to the arrival of COVID-19, 90% of the people have come to the learning online course platform, most of the people have come, following social distancing. And at the same time, those people are also experiencing.
In fact, the e-learning market will be worth eLearning Market to Reach USD 370 Billion by 2026 at a CAGR of 8.56%
Online course platforms are creating and selling products/services all over the world.
How will you reveal your course on the online course platform?
First of all, you will choose the platform according to your budget and requirement.
Register on the chosen platform.
You will then build the online course website. (Or is already made. Those will only integrate.)
Will design a beautiful page for sale.
You will determine the pricing of your course.
Will upload your course material. (Tax, Video, and Audio, etc.)
Build communities for your students to connect with.
Will email good information related to our course to our students.
Will do live webinars.
In this guide, I have covered student experience, pricing, features, easy-to-use, integration with a lot of features, best 13 online course platforms that you should actually use, which I honestly reviewed Is.
Disclaimer: I have included affiliate links in this article, if you decide to purchase a paid plan, I may receive a small commission at no charge to you. Below are the tools I absolutely recommend, when it comes to starting online courses, you can read my full affiliate disclosure in my Privacy Policy.
What are the Best Online Learning Websites?
Here are my picks for the best Online Learning Websites to use this year.
Learnworlds is one of the best course creation learning software. ($24/month – 30-days free)
Learnworlds is a popular course platform. In which I place this at the first place in the list, here you can communicate directly with the students coming. Which your students will be excited to talk to you.
There are many features included in Learnworlds, which you should take a look at. Learnworlds has designed everything from creating online courses to making payments to you very easily from your website. The one you're looking for. This is the best online course platform. With your skills, experience and you can start monetizing your audience.
Attractive and effective training: You can engage learners with video interactions, interactive e-books, note-taking, self-assessments, certificates, SCORMs, and much more.
Top Features:
Most Versatile Course Experience: Beautiful themes for your course player and the flexibility to have free, paid private, drip-fed, or curated course pathways.
Interactive Video Learning Reimagined: Easily turn your videos into extraordinary experiences with automatically extracted tapes, quizzes, and tables of contents.
Promote social talk: You can nurture your community, and build lasting relationships with a social-first training school.
The beauty of magic: Write your content once and automatically cycle through dozens of different designs to select one for the target.
Build pages quickly: You intuitive drag-and-drop block-based builder. Choose from hundreds of templates and create high-converting landing pages.
We are with you every step of the way
360° support, 24/7. We make sure you have everything you need to succeed as a trainer and edupreneur.
Rich blog
Course Building Academy
Live masterclasses
Free resource library
Help Center You Can Trust
Easy to love support agents
eBooks, gamification, interactive video, and downloadable attachments.
You can remove transcripts from your courses.
You can offer free courses.
completion certificate.
Definitely a custom mobile app on iOS.
A custom domain name and white labeled content.
Social media integration.
Students can take notes and highlight important points.
Ability to create coupons and discounts.
Pricing:
If you go with Learnworlds online course platform. So the following is the pricing given below. And I would like to note that you can try the 30-day free trial on all the plans.
Startup Plan: $24 per month (by annual billing)
Pro Trainer: $79 per month (by annual billing)
Learning Center: $249 per month (by annual billing)
High volume & Corporate Plan: Contact us
Get started with 30-day free testing today.
Thinkific is the best overall platform to sell an online course. You can create and market your own online courses and sell them.
Talking about Thinkific, it is an all-in-one platform. Which makes it easy to share your knowledge to grow your audience and grow that business, obviously you must be thinking, whether you are educating 10 students or over 10 million, feel confident that You've got the easiest technology and best support in the business.
Thinkific has a lot of features. Those who will understand Thinkific better.
You can easily paste your course on Thinkific's site. No HTML coding or java expert is required here, you can easily upload videos, create quizzes, and organize all your learning materials with your own drag and drop builder. All you need to do is set pricing, schedule lessons, and automate your content to curate a learning experience your students will love.
You can showcase your syllabus beautifully. Which Thinkific has been designed keeping this in mind. More broadly speaking, maximize sales with this fully customizable course website designed specifically to sell education. And you can also quickly update one of our themes to match your style or connect your courses to an existing site for a seamless brand experience.
If I tell Thinkific in more depth then this market and sales
You get all the marketing tools, integrations, and payment options you need to promote your business, sell courses, and build an enthusiastic fanbase. And with advanced e-commerce options, you'll join a community that has already earned over $100 million in sales courses on Thinkific.
You can also support your students. When your students flourish, so does your business. Gives you full access to our strong suite of student features, including completion tracking, automated progress email, course discussions, and more, to ensure your students are happy and successful.
Thousands of entrepreneurs here rely on Thinkific to help deliver exceptional student experiences.
Top Features:
You allow best-in-class apps in the thoughtful App Store for those who create your courses.
Customize the course experience easily: Powerful customization – Full control over your content, pricing, and data with the click of a button.
You have the freedom and flexibility to run your course business whichever way you choose. Have complete control over site design, content, course pricing, student information, etc. You get paid instantly and own 100% of your data.
No matter what your expertise: so that you can create exactly what you want. No coding is required. Seamless automation lets you work without any worries. Not that your students get a world-class education every time so that you are free to tackle your bigger goals. Automatic onboarding, student messaging, completion certificates, and more. Make sure
"It seriously couldn't be more impressed than your customer support team. They're the right mix of skill and personality. It's like having their own IT department."
Pricing:
If you go with Thinkific Online Course Platform. So given below is the Pricing following. Yes and the thing to note is that you can try free for Limited courses and unlimited students.
Free Sign Up (Limited courses and unlimited students)
Basic Plan: $49.00 per month (Unlimited courses, students, and content & With 1 site admin accounts)
Pro Plan: $99.00 per month (Unlimited courses, students, and content & With 2 site admin accounts)
Premier Plan: $499.00 per month (Unlimited courses, students, and content & With 5 site admin accounts)
If you sign up with direct annual billing. So you will get 20% off on every plan.
Secure your 1-month free trial of Thinkific's Pro + Growth Plan today.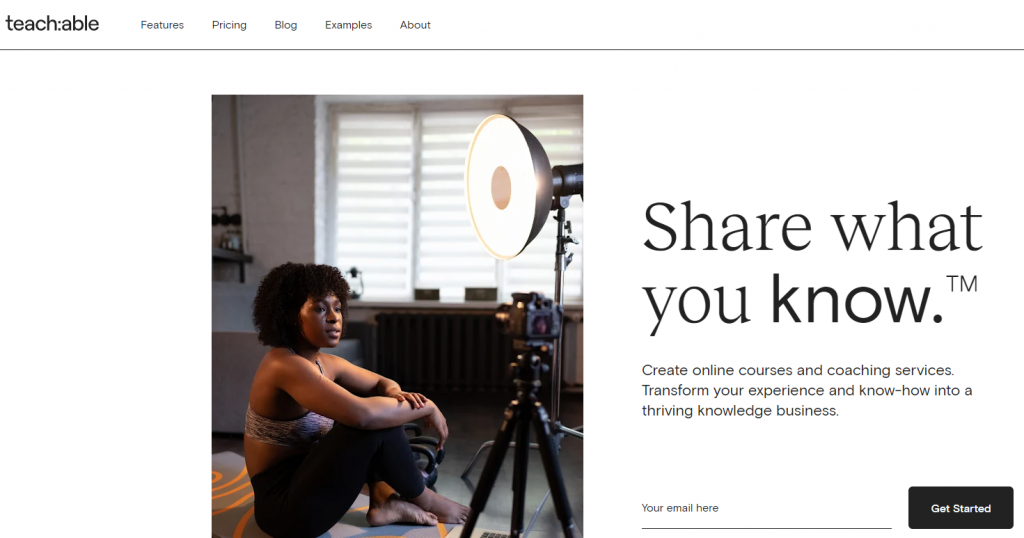 Teachable Online Courses is a fast and easy builder. Which is this trust slow platform. The master of handwriting. Aristotle of Coding. Drone flight rights. From online courses to coaching and beyond, this is where creative entrepreneurs can easily build the future. Teachable has joined over 100,000 creators selling over $1 billion in courses and coaching.
There are many features of Teachable, which you should take a look at. In just a few minutes, you will have access to everything you need to create and sell online courses and coaching which makes it absolutely easy on this platform to stress-free, be it technical skills or no technical skills.
You can showcase your brand's unique POV by using their customization tools to curate and personalize your content.
You didn't go into business to insist on money (the exact opposite) so it's got it covered. The taxes, the payments, the collaborators, the writers, it's their job that you own.
Top Features:
Know your numbers: Track sales and student insights with our comprehensive dashboard.
Sell, Sell, Sell: Build gorgeous, money-making sales pages with our flexible page editor.
Live talk to your students: Run face-to-face sessions with easy-to-make milestones, call hosting, and work features.
Use our domain to connect to your domain: Easily link your existing website to Teachable under Custom Domains.
Customize your online school experience: Use our Power Editor to create engaging, multimedia lectures, videos, and coaching sessions.
Use the tools you want to use: Think of an integration you want to use… we support it! The list of our partners is exhaustive.
Schedule and Host: Take customers seamlessly from booking to intake to scheduling and learning with our native integration with Calendly.
Create success stories: Engage your students with quizzes and course completion certificates and ensure change with curriculum compliance controls that require course completion to proceed.
Spin-Up Support: Easily integrate with Zapier to take support to the next level with Zendesk, Olark, Intercom, and more.
Pricing:
If you go with Teachable Online Course Platform. So given below is the Pricing following.
Basic Plan $29 month: 5% transaction fee, 2 admin users, course creator, drip content, members-only community.
Pro Plan $99/month: Basic features, plus no transaction fees, advanced reports, 5 admin users, and course certificates.
Business Plan $249/month: Pro features, plus advanced coding optimization, bulk student enrollment, 20 admins, and group coaching calls.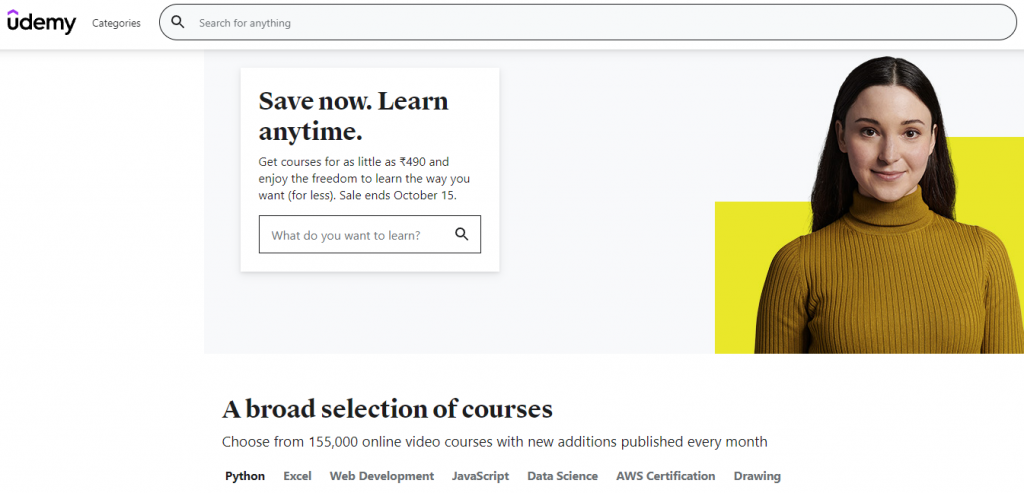 Udemy is one of the best online course platform marketplaces with over 44 million students, 65,000 instructors, and an incredible 86,000+ courses. Initially, you just have to create a course, then the next step is to sign up to become a premium instructor.
If you start with Udemy. So for that you have to create an account, when your account is approved by Udemy, then you can easily create your own great course, the important thing before creating the course is when you create the content. So that content should be over 30 minutes.
Udemy has become one of the world's largest sites for creating and selling courses. It is the learners all over the world starting new careers, advancing in their fields, and enriching their lives.
Udemy always inspires its customers, if you want to learn or share what you know, you've come to the perfect place. As a global destination for online learning, we connect people through knowledge. This Udemy fit us like gloves. Their team creates fresh, up-to-date courses from their market and makes them available to clients.
Ruzuku This is such an online course platform, which can be learned in a few minutes. Here you can create a curriculum in a simple and enjoyable way, which allows creating online courses step by step with PDF and path. Who can easily outline the syllabus? This course is designed in a neat and user-friendly manner for the participants.
The features of Ruzuku are many. your upcoming online course
Absolutely no clutter of unnecessary bells and whistles. Joe this Ruzuku
Says a user of K, I find myself spending time on my course, even when I don't need to be there. It's just so much fun seeing how professional it looks.
Your 100% free trial of Ruzuku includes everything you need to get started creating courses. You can not only create a course – you can actually start accepting registrations and start earning money from your course without paying us a dime during your trial.
You can get started with a 14-day free trial and 30-day money-back guarantee.
LearnDash fits this logo for them. Which is hosting its site on WordPress. And that's what a WordPress plugin is, it's the platform you need to sell a course with a WordPress site.
LearnDash has many features. Which you should take a look at. This is the only platform that those who want to sell their courses from WordPress.
Which This Your Online Course Deserves The Best! And the only WordPress LMS built by e-learning experts. And LearnDash's course content is structured using key online learning principles to maximize your content delivery and increase completion rates.
Top Features:
Superior Quizzing Capabilities: This most powerful quizzing engine in the industry engages students with eight different question types, any form of media supported, graduation levels, automation sequences, and much more!
Immersive Learning Experience: It builds not just the curriculum, but the learning experience, as a seamless extension of itself and its brand. And this your students will learn more and you will look good in the process!
It has been designed with a thought for beginners. It can create additional content layers, split content for micro-courses, group learners into groups, simplify, automate information, and more!
You can get started today with a $40 discount and a 30-day money-back guarantee on their annual plans.
Kajabi Online Course is a popular platform. Where you can consider apps or themes for your customers. Which is one of the SaaS providers.
Kajabi has many specialties. on which they are making progress. Which online course for its customers has been designed by thinking of its customers. It has been introduced to Kajabi in 2010. Which has empowered it to serve 60 million students and over $2.5 billion in sales to more than 40,000 knowledge entrepreneurs in 120 countries.
Top Features:
If it comes to email marketing via the Kajabi platform, then automation pre-sale and drip courses and pre-webinars which is an email marketing component. Which makes Kajabi work better in this.
The best part about Kajabi is that it allows for creating automated marketing campaigns and funnels. Which is a pre-built framework for lead generation.
You can monetize your knowledge no matter what your passion or skill set is when Kajabi can help you turn it into a great, profitable online course.
Whether you want to create a mini-course or create a full-blown signing program, these product blueprints make it quick and easy. And if you want to start from complete scratch? We have you covered, there, too.
Kajabi This mobile app gives customers one-click access from anywhere, without having to remember passwords or rely on a clunky mobile browser. Because more progress for them means stronger testimonials and referrals for you.
Finally Fully Integrated With Your Business, After all, your business is much more than just a curriculum.
If you are an established business and want to try out one of the more advanced platforms on the market, Kajabi is a solid choice.
Start your 14-day free trial of Kajabi today.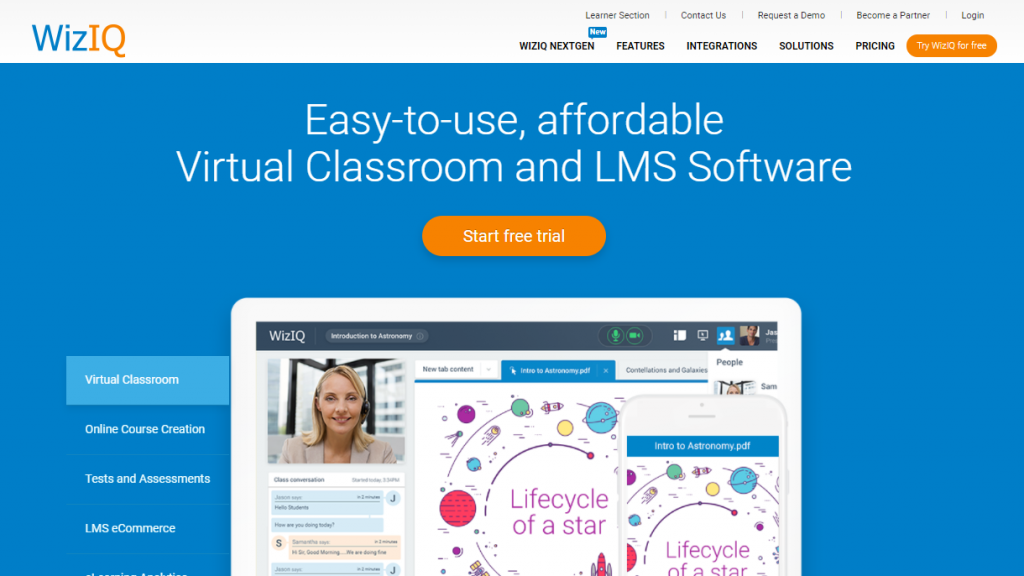 The WizIQ online course platform provides an easy way for teachers to set up virtual classrooms for live interactive online classes.
Many features of WizIQ are included. Which you should take a look at. It can leverage WizIQ to create and sell interactive courses to be used for self-paced or live classes.
You can deploy WizIQ to take your learning tasks online and expand into new markets with minimal investment.
You can expand your reach, enroll students from all over the world, and generate additional revenue streams with MOOCs.
The WizIQ mobile apps for Android and iOS make learning portable and accessible 24/7 on personal, handheld devices.
It allows building a branded learning portal with WizIQ to train its clients on new software through online tutorials or live classes.
You can use WizIQ to train your external stakeholders, partners, franchise owners, promoters, and merchants.
If you're an educator or corporate leader looking to reach your audience anywhere in the world, you can get started with a 14-day free trial.
Podia It is an all-in-one online course platform. And this 2014, they've been committed to creating the most creator-friendly tools out there to help you sell online courses, digital downloads, membership subscriptions, and more to your audience.
The great thing about Podia is that it serves everything you need for courses, webinars, downloads, and selling communities. what we need It's no need to worry about getting a bunch of different tools to talk to each other once Podia is on the platform.
Top Features:
Online courses: Host unlimited files and videos offer paid plans, upsells, quizzes, drip content, and student comments.
Digital Downloads: One-time downloads and sells like audiobooks, ebooks, cheat sheets, PDFs, checklists, and presets here.
Community: You can earn recurring income by bringing your members, discussions, and products together in one place.
Webinars: They charge for one-to-one coaching sessions or one-to-many webinars with Zoom and YouTube Live integration.
Market your work: From pre-launch to post-purchase, powerful marketing tools can boost your sales.
Custom Website: You get a beautiful, modern, mobile-friendly website for your brand. Use a Podia subdomain, or bring your own custom URL.
Email Business: With built-in features like Come Broadcast and Campaigns, you can leave your expensive email platform at the door.
Pricing:
If you go with the Podia online course platform, the following is the pricing given below. And you can do 14-day free testing on all the plans given below.
Mover Plan: $39/month (This will be counted as annual billing.)
Shaker Plan: $79/month (This will be counted as annual billing.)
Earthquaker Plan: $179/month (This will be counted as annual billing.)
Get 14-day free testing on all plans.
Academy of Mine It is a high-end e-learning platform founded on the philosophy of personalized customer success and customization. Which is a customizable e-learning platform built for your organization.
The great thing about Academy of Mine is that it works best in a variety of locations. You can create, manage, and deliver the highest quality educational content in a unique way that works for your business. You can provide your users, customers, partners, or employees with the tools they need to be successful. And increase your brand awareness, and your revenue, you can help your customers retain knowledge, and supercharge your training business.
Top Features:
Academy of Mine has many features. Its support from the AOM team has been fantastic. Not only that, they are responsive, thoughtful, and dedicated to finding the right solutions. As a result, we have been able to build the platform to meet our client-facing and internal needs.
Academy of Mine is a perfect solution for online learning. And its 24/7 technical support is amazing. Whatever you're in the market for, their academy will help you reach your goals just the way you imagine. "
Vocational Training & Development: They are best suited for organizations that wish to pursue vocational training and development, including but not limited to continuing education and healthcare, legal, security training, software, tax, and many other areas.
Simple and Clear Pricing: People flock to My Academy for clear and simple flat-rate pricing.
Award-Winning Support: Their global team is focused on the success of your company 24/7, 365 days a year, no matter how big or small the problem is. Their excellent support and on-demand knowledge base have earned them a My Academy Award from Capterra for ease of use.
If this sounds like the e-learning solution you've been looking for, you can get started with their 30-day free trial today.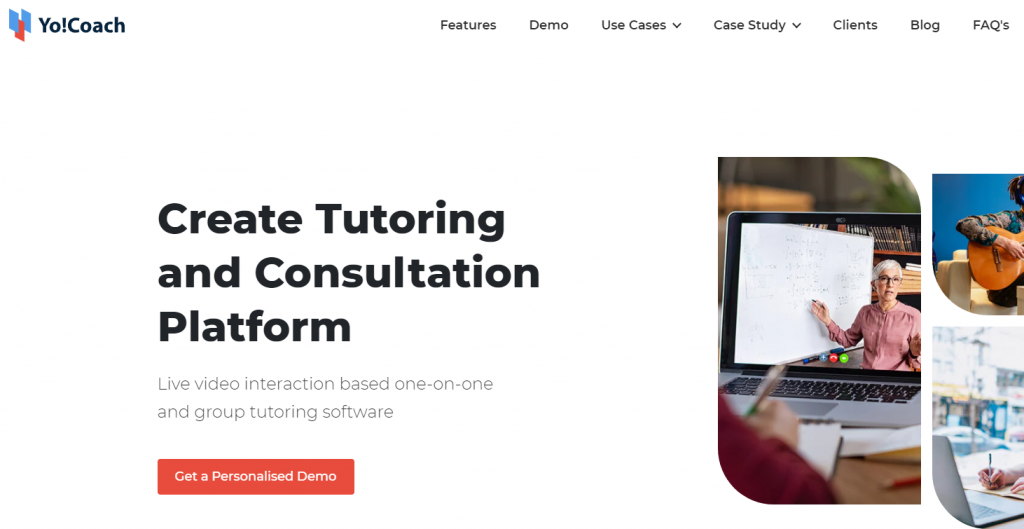 Yo! Coach It has been designed in a face-to-face method of live group teaching. It is designed to launch a state-of-the-art online tutoring and consulting marketplace.
Yo! There are many features of Coach that you should take a look at.
Yo! Coach is a ready-made software to build a tutoring and consulting website based on video conferencing functionality. This allows e-learning software to be fully integrated with a suite of interactive features to enable seamless navigation and workflow for both learners and tutors. which as it's a fully customizable solution,
Top Features:
Yo! Coaches can be deployed to perform a number of common and critical functionalities in platforms such as Verbling, Italki Preply, and Cambi.
These powered online tutoring or consulting websites have a wide reach and incorporate a full-blown marketing module in promoting business.
This software is compatible with online teaching and consulting business areas
The concept of virtual learning or consulting has gained wide currency in various other domains. Which it is all set to meet the growing demand for online platforms in these markets with its customizable and scalable architecture.
It is quite simple to set up an online language school with this software. With a comprehensive set of language learning and teaching features, it helps business owners achieve effective language learning, earn better ROI and ensure the success of their language learning platform.
Accessally here education can help break the stereotypes. As an LMS company, AccessAlly wants to make the world a better place.
Accessally is the most flexible WordPress LMS and membership plugin for today's entrepreneurs. And it's the LMS plugin that pays for itself.
The great thing about Accessally is that it makes it easy to create courses, subscriptions, and digital products on WordPress, so you have the power and flexibility you need.
Accessally it has designed the software from zero ground keeping its user in mind, also supports customers if you are selling online courses or membership sites.
If you've tried other WordPress course plugins before, you may have felt overwhelmed by the number of add-ons needed to perform even the simplest tasks like managing subscriptions, running affiliate programs, or performing LMS gamification.
How overwhelmed and bare-bones is the look and feel of the design options for the many WordPress LMS plugins. it got stuck with a WordPress LMS (Learning Management System) that is designed for a certain industry and doesn't work for what you want to build for your students.
If you want to increase your revenue. You can watch the demo for free today. Which comes with a 60-day money-back guarantee.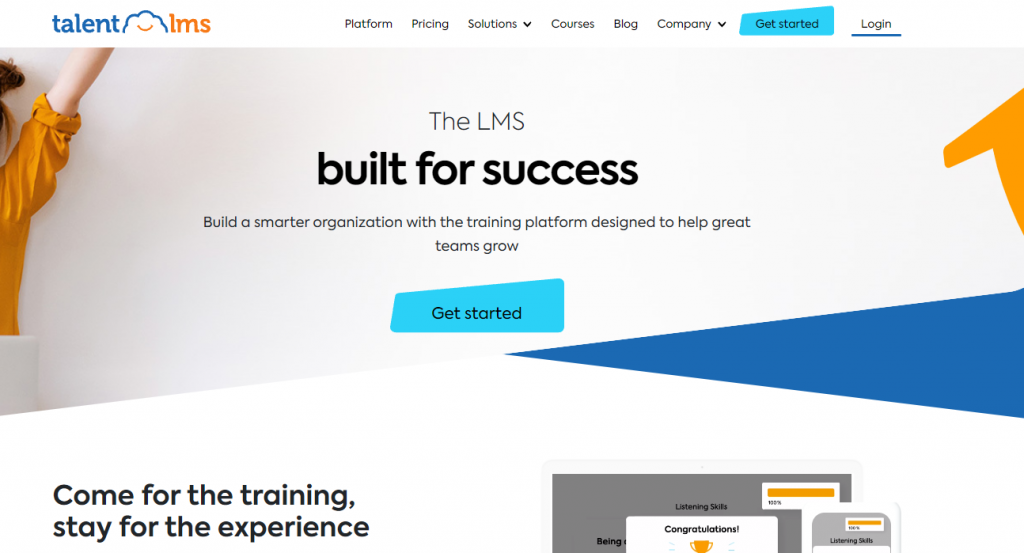 TalentLMS software is designed for the success of each of your websites. Which creates a better organization with a training platform designed to help their great teams grow.
The great thing about Talentlms, which needs to be understood, is that it has an intuitive interface, which means that training feels right from the first click. And with easy access on any device, learners jump anytime, anywhere. It's nice to introduce a tool that people actually use.
Top Features:
TalentLMS features show a lot. Which you should take a look at.
It is always recommended to apply your strategy. Due to this, your training programs fade. It allows users to add, create new courses with a few simple clicks and goes live by the end of the day.
Teams adapt training when relevant. You can personalize their experience to match your branding, and localize the training in the languages ​​of your users who feel like it. That it was made just for them.
In fact, this admin side is really intuitive, really user-friendly, really fast. And people are liking the way it works. And they find it easy.
Pricing:
If you yo! If you are planning to go with a coach, then definitely start your online learning or counseling portal, and get in touch directly.
Starter Plan: $59/month (Up to 40 users & Unlimited courses.)
Basic Plan: $129/month (Up to 100 users & Unlimited courses.)
Plus Plan: $429/month (Up to 500 users & Unlimited courses.)
Premium Plan: $249/month (Up to 1000 users & Unlimited courses.)
The Consultation.
I hope these 13 top Online Course Platforms guides help you to choose the right software. However, You create courses for your product and sell online.
online course platforms are what most everyone is looking for in today's time. Everyone wants to do something better in their life. For which the service that you are looking for is included in everything.
Due to the arrival of COVID-19, 90% of the people have come to the learning online course platform, most of the people have come, following social distancing. And at the same time, those people are also experiencing
I recommend using it on Thinkific, Learnworlds, and Udemy software included in our list.
If you have any questions, feel free to leave a comment.
If you want to contact us now you can connect directly on social media.
Online Learning Websites – FAQ
1. What are online learning websites, and how do they work?
Online learning websites are platforms that offer courses, tutorials, and educational content over the internet. They work by providing access to educational materials, often through video lectures, quizzes, and assignments.
2. Are online learning websites suitable for all types of learners?
Yes, online learning websites cater to various learning styles. They offer options like video lectures, interactive quizzes, written content, and hands-on projects to accommodate different learners.
3. What subjects or topics can I learn on online learning websites?
Online learning websites cover a wide range of subjects, from academic topics like mathematics and science to practical skills like programming, photography, language learning, and more.
4. Are there free courses available on online learning websites?
Yes, many online learning websites offer free courses. These courses often provide fundamental knowledge and can be a great starting point.
5. Can I earn certifications or degrees through online learning websites?
Yes, many online learning platforms offer certificates of completion for individual courses. Some also provide accredited degree programs and certifications.
6. How do I choose the right online learning website for my needs?
Consider factors like your learning goals, budget, preferred learning style, and the reputation of the platform when choosing the right online learning website. Reading reviews and trying out free courses can also help.
7. Can I learn at my own pace on online learning websites?
Yes, one of the advantages of online learning is the flexibility to learn at your own pace. You can revisit content as needed and complete courses on your schedule.
8. Are there online learning websites that offer live, interactive classes?
Yes, some platforms offer live classes with instructors, allowing real-time interaction and Q&A sessions. These are often referred to as "live online courses."
9. How can I track my progress on online learning websites?
Most online learning platforms provide progress tracking tools, including course completion percentages, quiz scores, and access to course materials.
10. Can I interact with instructors or other learners on online learning websites?
Many online learning platforms offer discussion forums, messaging, or live chat for interaction with instructors and fellow learners. This can enhance the learning experience.
11. Are online learning websites suitable for children and teenagers?
Yes, there are online learning websites designed specifically for K-12 students. These platforms offer age-appropriate content and support a variety of subjects and skill levels.
12. Can I access online learning websites on mobile devices or tablets?
Yes, most online learning websites are mobile-friendly and offer dedicated apps for iOS and Android devices, making learning on the go convenient.
13. How do I ensure the legitimacy and quality of courses on online learning websites?
Look for courses from reputable providers, read reviews and testimonials, check for certifications or accreditations, and consider the qualifications of the instructors.
14. Are there financial aid or scholarship options available on online learning websites?
Some online learning platforms offer financial aid or scholarships for eligible students. Check with the platform or the course provider for information on available assistance.
15. Can I switch from one online learning website to another if I'm not satisfied with my current platform?
Yes, you can switch to another online learning website if you're not satisfied with your current choice. Your progress and completion certificates may not transfer, so plan accordingly.
Online learning websites offer an accessible and flexible way to acquire new skills and knowledge. With the right platform and commitment, you can enhance your education and achieve your learning goals.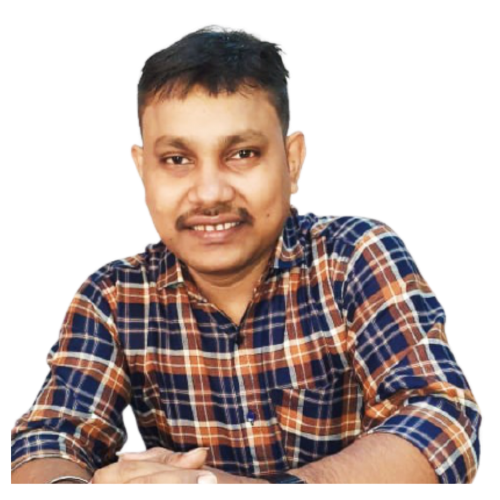 I have completed Study IT. I am a passionate blogger, sharing tips on Blogging, SEO, Business Start-up, SaaS Software Review, Google Ranking, Digital Marketing, Passive Income, Consultant, And Online Business Startup. And I work in the digital field for more than 5 years. Read my short story.